#24/25 Tennessee Lady Vols (15-8, 6-4 SEC) vs. #RV/NR Missouri Tigers (16-8, 6-4 SEC)
Thursday, February 9th, 2017 | 6:02pm CT
Knoxville, TN | Thompson-Boling Arena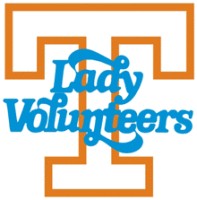 Knoxville, TN – #24/25 Tennessee returns to Thompson-Boling Arena on Thursday in a contest between two of the SEC's hottest teams over the last few weeks, the Lady Vols and the #RV/NR Missouri Tigers.
The game tips off at 6:00pm CT and will be broadcast on SEC Network and will be available online through WatchESPN. Visit WatchESPN.com or download the WatchESPN app to view the game on a computer or mobile device. Paul Sunderland (PxP), Gail Goestenkors (Analyst) and Steffi Sorensen (Reporter) will describe the action between the Lady Vols and the Tigers.
Fans can also tune into their local Lady Vol Network station to catch Mickey Dearstone describing the action.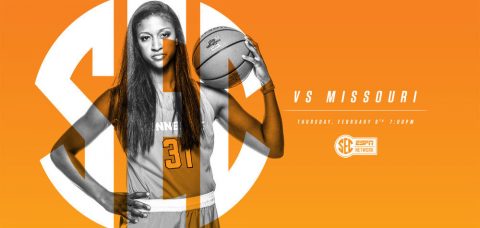 #24/25 Tennessee vs. Missouri
After playing three out of its last four games on the road, #24/25 Tennessee (15-8, 6-4 SEC) is back in Knoxville to host #RV/NR Missouri (16-8, 6-4 SEC) on Thursday night.
The ninth meeting between these schools will tip off at 6:02pm CT in Thompson-Boling Arena in a game televised by the SEC Network.
After playing three games in seven days last week, including two on the road, a pair of home games this week certainly is more appealing.
That said, Missouri comes to town having won five of its past six contests and will attempt to get a leg up on Tennessee in the league standings, where the teams are tied for fourth place.
The Tigers saw a five-game winning streak snapped on Sunday, as they fell to #5/5 Mississippi State in Starkville, 70-53.
The Lady Vols, meanwhile had a four-game victory string broken, suffering an 81-78 double-overtime defeat at Georgia on Sunday afternoon.
Tennessee, though, is 10-2 at home this year, losing on The Summitt to only (then) #4/4 Baylor and (then) #4/4 Mississippi State.
Mizzou has struggled away from the Show Me State, forging a 3-6 road record, including a 2-3 mark in SEC play.
Broadcast Information
Paul Sunderland (PxP), Gail Goestenkors (Analyst) and Steffi Sorensen (Reporter) will describe the action for the Tennessee-Missouri broadcast on the SEC Network.
All of the games included in the SEC Network (SEC Network, SECN+) package and the ESPN package (ESPN, ESPN2, ESPNU) will be available through WatchESPN, accessible online at WatchESPN.com, on smartphones and tablets via the WatchESPN app, and streamed on televisions through Amazon Fire TV, Apple TV, Chromecast, Roku, Xbox 360 or Xbox One to fans who receive their video subscriptions from affiliated providers.
Mickey Dearstone will handle the call for the IMG College/Lady Vol Network radio/online broadcast. Airtime is 30 minutes prior to tip-off on network stations.
Get Your Shooting Sleeves Here
The first 500 students entering the gates at Thursday night's game receive a free Lady Vol shooting sleeve.
Lady Vols Return to Both Polls
As of February 6th and 7th, UT is in both (AP #24/USA TODAY #25) polls in the same week for the first time since the November 28th and 29th editions were released.
After eight weeks in the receiving votes category, UT moved back into the USA Today Coaches Poll on January 31st, checking in at #25. The Lady Vols were #25 on November 29th before dropping out after the loss to Baylor.
After nine weeks outside the AP Poll, UT returned on February 6th at #24. The Lady Vols were ranked #22 on November 28th before dropping out after the Baylor loss.
Nine weeks ties the longest period of time that a Lady Vol squad has been continuously outside the AP Poll.
In her 11th season as head coach here, the great Pat Summitt saw her 1984-85 squad miss polls No. 5 through 13.
In her eighth season, Summitt's squad also spent four weeks (poll Nos. 8-11) on the outside looking in.
Sizing Up the Lady Vols
Tennessee ranks #14 in the most recent NCAA Women's Basketball Rating Percentage Index (RPI).
The Lady Vols stand #2 in the latest NCAA Toughest Schedule Report behind UConn.
With 36 days and numerous key games still to be played before Selection Monday, the NCAA Division I Women's Basketball Championship Sport Committee on Monday provided the second of three regular-season top 16 rankings in seed order.
While UT is not among the 16 teams, it has beaten #3 South Carolina (76-74), #6 Notre Dame (71-69) and #8 Stanford (59-51). UT lost to #2 Baylor (88-66), #4 Mississippi State (74-64) and #11 Texas (72-67).
The latest edition of Charlie Creme's Bracketology has the Lady Vols playing in Louisville, KY, as a No. 5 seed facing #12 seed UALR of the Sun Belt Conference in the first round of the NCAA Oklahoma City Regional.
UT has gone from being a No. 7 seed, to a No. 6 seed, to a No. 5 seed in the past three releases by Creme.
UT has played more ranked teams than any other SEC school (7) and has the second most wins over ranked teams (4) and second most over top-10 teams (3) in the league.
South Carolina is 6-0 vs. AP-ranked teams, while UT is 4-3, Kentucky and Missouri are 2-3, Texas A&M is 2-1 and Mississippi State is 1-1. USC is 4-0 vs. top-10 teams, while UT is 3-2.
Trio of Juniors Leading the Way
Tennessee has been paced by its "Big Three" junior trio of 6-foot-6 center Mercedes Russell, 6-1 guard Diamond DeShields and 6-2 forward Jaime Nared.
Those three players are the team's top scorers and rebounders through 23 games, and they have combined for 24 double-doubles and 62 double-figure scoring games (including 19 20+ efforts).
All three have scored in double figures in 16 of 23 games thus far, including 10 of the past 11.
Highest Scoring Trio in the Nation
Tennessee is the only Power 5 school with three players averaging 15 or more points per game this season, with Diamond DeShields ranking 48th (18.3), Mercedes Russell standing 82nd (16.9) and Jaime Nared at 141 (15.7).
Of all the schools in NCAA Division I women's basketball, only Tennessee, Northern Illinois and Western Illinois have three players averaging 15 or more points per contest.
UT's "Big Three" have combined to score 1,135 of UT's 1,744 points this season, good for 65.1%. That is higher than the trio from WIU (62.9%) and NIU (56.5%).
Key Lady Vols Facts
Tennessee now stands 4-3 vs. ranked teams this season after winning four of its last five games vs. Top 25 opponents (three of whom were top 10).
Tennessee has played the nation's second-toughest schedule, according to the NCAA, after facing a slate ranked the toughest a year ago.
The Big Orange defeated #6/6 Notre Dame, #10/10 Stanford and #17/23 Kentucky at home and #5/4 South Carolina on the road.
UT lost to #4/4 Mississippi State and #4/4 Baylor at home and fell at #17/17 Texas.
The Lady Vols are 14th (third among SEC schools) in the current NCAA Women's Basketball RPI, with valuable wins over current top-50 RPI teams No. 2 Notre Dame, No. 3 South Carolina, No. 12 Stanford, No. 16 Kentucky and No. 26 LSU. UT losses to top-50 RPI teams include #4 Mississippi State, No. 6 Texas, No. 8 Baylor, No. 25 Auburn and No. 44 Virginia Tech.
Tennessee's next two games are against top-40 RPI teams No. 20 Texas A&M and No. 30 Missouri.
One of Four Teams to Beat Three Top-10 Teams
Tennessee is one of only four teams who have beaten three or more top-10 teams this season.
The others are South Carolina (4), UConn (3) and NC State (3).
South Carolina, who UT beat in Columbia, has four top-10 wins, including #7 Ohio State, #4 Louisville, #9 UCLA and #4 Mississippi State.
UConn has beaten three who were ranked in the top-10 at the time, including #2 Baylor, #2 Notre Dame and #4 Maryland.
North Carolina State has beaten #2 Notre Dame, #6 Florida State and #9 Louisville.
UT-MU Series Notes
UT enters the game vs. Missouri with a 7-1 edge in the series, including a 3-0 mark in Knoxville, 3-1 in Columbia and 1-0 at neutral sites.
The Lady Vols have won three straight from the Tigers.
Holly Warlick is 4-1 in the series vs. Missouri, possessing a 2-0 record in Knoxville vs. Robin Pingeton's squad.
A year ago, #12/11 Tennessee defeated #20/RV Missouri in Columbia, 71-55, on Jan. 4, 2016, in the league opener for both schools.
UT held Mizzou to 2-for-21 shooting from the three-point arc in that game while hitting 5 of 15.
The programs had opened the league slate a season earlier in Knoxville, with the #8/9 Lady Vols prevailing, 63-53, on January 2nd, 2015.
In that contest, Tennessee also out-shot the Tigers from long range, connecting on nine-of-24 threes to Mizzou's 7-for-19 marksmanship.
After beating MU, 84-39, in Knoxville on Jan. 10, 2013, in their first-ever SEC meeting, UT has won by an average score of only 63.3 to 59.5 in the past four match-ups.
Prior to 2013, the Lady Vols defeated Missouri as a non-conference foe three times, most recently at the 2010 Paradise Jam tournament in the U.S. Virgin Islands, 82-44, with Holly Warlick serving as UT's assistant coach.
Warlick also has had a hand in two wins in the series as a player for Tennessee.
No. 2-ranked UT defeated the No. 18 Tigers in Warlick's sophomore year, taking a 101-83 victory at former Lady Vol home arena Stokely Athletics Center on January 14th, 1978.
No. 1 Tennessee prevailed over the No. 19 hosts, 74-61, on December 9th, 1978, in Mizzou's Midwestern Classic in Warlick's junior season.
About the Missouri Tigers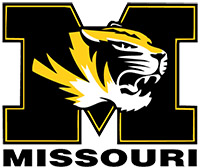 Missouri returned five starters and eight letterwinners from last year's team, which finished 22-10 overall and tied for seventh in the SEC at 8-8.
The Tigers made the NCAA field last season, losing in the first round to Texas, 73-55.
Mizzou was picked to finish seventh by the coaches and eighth by the media in this year's SEC preseason polls.
MU lost returning senior starter and two-time Coaches All-SEC Second Team performer Jordan Frericks before the season began to an ACL tear in her right knee.
Missouri also lost junior forward Bri Porter prior to the season due to a left ACL tear.
Last year's SEC Freshman of the Year and Coaches All-SEC Second Team performer Sophie Cunningham leads Mizzou in scoring at 16.3 points per game.
Sophomore forward Cierra Porter (14.4 ppg., 8.7 rpg.) and senior guard Sierra Michaelis (12.4) also propel the Tigers.
Michaelis (51), Sophie Cunningham (27), Lindsey Cunningham (26) and Jordan Chavis (24) are the leading three-point shooters for a team that has made 157 treys and attempted 472 in 24 games this season.
Head coach Robin Pingeton is in her seventh season in Columbia, directing the Tigers to a 117-97 record. She is 452-254 in 22 seasons as a head coach, with stops at St. Ambrose (1992-2000) and Illinois State (2003-2010) before taking over at Mizzou in 2010-11.
The Last Time These Teams Met
No. 12 Tennessee put together a complete performance to knock No. 20 Missouri from the ranks of the unbeaten with a 71-55 victory on January 4th, 2016, at Mizzou Arena in the last meeting between these programs.
The Lady Vols (10-3) held the Tigers to a season-low 55 points and 2-for-21 shooting from 3-point range to open Southeastern Conference play with a victory for the second consecutive year.
With the win, UT improved to 3-2 against ranked opponents on the season and extended its winning streak to three games.
Tennessee held a seven-point lead at the break, thanks in large part to creating and scoring off of turnovers. The Big Orange forced 10 Missouri turnovers in the first half and generated 14 points from them.
The Lady Vols came out hot in the second half and outscored the Tigers, 20-11, in the third quarter to stretch their lead to 16 heading into the final stanza.
Four different players scored in double figures for Tennessee on the night, led by Jaime Nared's season-high 13 points. The sophomore from Portland, OR, has now scored in double figures in three straight games after missing the first nine contests of the season to injury.
Diamond DeShields and Mercedes Russell chipped in 11 points apiece as well, marking the 10th time that DeShields and Russell have scored in double figures this season. DeShields also led the team with nine rebounds on the night.
Jordan Frericks led Mizzou (13-1) with 11 points and eight rebounds.
The Last Time They Met in Knoxville
Andraya Carter tied her career high with 16 points and No. 8/9 Tennessee surged in the second half to defeat Missouri, 63-53, in its SEC opener on January 2nd, 2015, at Thompson-Boling Arena.
Tennessee hit nine 3-pointers in the win, marking its most since making 10 treys against Florida on January 23rd, 2014.
Jordan Reynolds posted a season high with 10 points and also collected four rebounds and three assists. Ariel Massengale scored 14 points and dished out three assists in the win. Bashaara Graves tied her season high with 11 rebounds and just missed a double-double with eight points.
Missouri's Jordan Frericks posted a double-double with game highs of 23 points and 12 rebounds. The Tigers' Morgan Eye had 18 points and was 5-of-10 from 3-point range.
MSU Stops Streaking Tigers, 70-53
Mizzou Women's Basketball's five-game winning streak was snapped at No. 5 Mississippi State on Sunday, as the Tigers fell on the road, 70-53.
Mizzou's win streak was its longest in conference play since 1990. The Tigers dropped to 16-8 overall and 6-4 in Southeastern Conference play.
Sophomore guard Sophie Cunningham (Columbia, MO) led Mizzou with 19 points and nine rebounds. Cunningham reached double digits for the 17th time thus far in 2016-17.
Mizzou's trio of true freshmen, Amber Smith (Shreveport, LA), Jordan Chavis (Lexington, NC) and Jordan Roundtree (St. Louis, MO) combined to score 19 points off the bench. Roundtree finished with a career-high six points.
Mizzou outrebounded Mississippi State, 43-25, outpacing its opponent on the glass for the 18th time this season. Sunday's defeat marked just the fourth time during the 2016-17 campaign that the Tigers have lost when outrebounding their opponent.
Mississippi State senior guard Dominique Dillingham notched a career-high 24 points and senior Breanna Richardson poured in 13 second-half points to propel the Bulldogs to a win. The fifth-ranked Bulldogs shot 44.1 percent from the field.
Lady Vols Fall in Double OT at Georgia
Despite a season-high 34 points from Diamond DeShields, #RV/25 Tennessee fell short in double overtime against Georgia, 81-78, at Stegeman Coliseum on Sunday.
The Lady Vols (15-8, 6-4 SEC) had two solid looks at the basket in the final seconds of the game, but a three-pointer from Jordan Reynolds rimmed out as time expired.
DeShields' 34 points marked the fifth time in her career she had eclipsed the 30-point plateau. She added six rebounds and four steals on the night. Mercedes Russell posted her 13th double-double this season with 24 points and a career-high 17 rebounds.
Robinson led the Lady Bulldogs (12-11, 4-6 SEC) with 28 points on 13-of-17 shooting from the field. Mackenzie Engram finished with 18 points and 13 rebounds.
Coming Up on the Schedule
After hosting Missouri, Tennessee will welcome Texas A&M to Knoxville on Sunday at 1:00pm CT in a game televised on ESPNU.
After the Mizzou game, the Lady Vols have five regular season games remaining, including three at home (Texas A&M, Arkansas, Florida) and two on the road (Alabama, Mississippi State).
Next up for Missouri, the Tigers return home and play host to Arkansas on Sunday at 5:00pm CT.