#RV/RV Tennessee (16-9/7-5 SEC) at Alabama (15-10/3-9 SEC)
Thursday, February 16th, 2017 | 7:00pm CT
Tuscaloosa, AL | Coleman Coliseum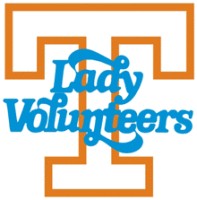 Tuscaloosa, AL – With the SEC Tournament rapidly approaching, #RV/RV Tennessee hits the road again to face Alabama on Thursday night at Coleman Coliseum, as the Lady Vols continue to fight for one of the top-four spots in the conference.
The game tips off at 7:00pm CT (8:00pm ET) and will be available online on SECN+ and through WatchESPN. Visit WatchESPN.com or download the WatchESPN app to view the game on a computer or mobile device. Eli Gold (PxP), former Alabama head coach Rick Moody (Analyst) and Hannah Chalker (Reporter) will describe the action between the Lady Vols and the Crimson Tide.
Fans can also tune into their local Lady Vol Radio Network station to catch Mickey Dearstone describing the action.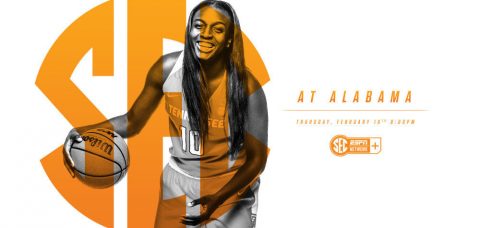 #RV/RV Tennessee vs. Alabama
#RV/RV Tennessee (16-9, 7-5 SEC) hits the road this week for a Thursday game at Alabama (15-10, 3-9 SEC).
The Lady Vols and Crimson Tide will meet for the 53rd time, playing in Coleman Coliseum at 7:02pm CT (8:02pm ET) in a game broadcast online via SECN+.
UT enters the contest on the heels of a disappointing home loss to Texas A&M on Sunday afternoon, 61-59.
That setback was UT's second in its last three, falling at Georgia in OT (81-78) and beating Missouri at home (77-66) before losing the nail-biter to the Aggies.
Tennessee takes a 5-6 road record to Tuscaloosa, including a 3-3 mark in league play. The Tide is 11-5 at home but stands 1-5 in conference games.
Alabama has lost five straight and eight of its last nine after standing 14-2 on January 8th.
The Tide lost to Florida on Sunday, 66-56.
UT stands fifth in the league standings, while UA is 12th.
Broadcast Information
Eli Gold (PxP), former Alabama head coach Rick Moody (Analyst) and Hannah Chalker (Reporter) will describe the action for the Tennessee-Alabama online broadcast on SECN+.
All of the games included in the SEC Network (SEC Network, SECN+) package and the ESPN package (ESPN, ESPN2, ESPNU) will be available through WatchESPN, accessible online at WatchESPN.com, on smartphones and tablets via the WatchESPN app, and streamed on televisions through Amazon Fire TV, Apple TV, Chromecast, Roku, Xbox 360 or Xbox One to fans who receive their video subscriptions from affiliated providers.
Mickey Dearstone will handle the call for the IMG College/Lady Vol Network radio/online broadcast. Airtime is 30 minutes prior to tip-off on network stations.
Tennessee in SEC Play
UT is 374-63 in SEC regular-season games, winning 18 championships through the years and capturing SEC tourney titles on 17 occasions.
During the Holly Warlick era, Tennessee is 57-19 in league games, making Warlick the top-ranked active SEC coach in terms of winning percentage in league play at .750.
South Carolina's Dawn Staley is the next coach behind Warlick at .676 (94-45), followed by UK's Matthew Mitchell at .649 (98-53).
In only her fifth year as a head coach, Warlick already ranks fifth in total league wins among active SEC coaches and has won regular season titles in 2013 and 2015, and a tourney crown in 2014.
Lady Vols Fall from Both Polls
A 1-1 slate last week knocked the Lady Vols from both polls for the second time this season.
UT, however, is receiving votes in both the AP Poll (27th) and USA Today Coaches Poll (27th) in the February 13th and 14th editions.
On February 6th/7th, UT returned to both (AP #24/USA Today #25) polls in the same week for the first time since the November 28th and 29th editions were released.
After eight weeks in the receiving votes category, UT moved back into the USA Today Coaches Poll on January 31st, checking in at #25. The Lady Vols were #25 on November 29th before dropping out after the loss to Baylor.
After nine weeks outside the AP Poll, UT returned on February 6th at #24. The Lady Vols were ranked #22 on November 28th before dropping out after the Baylor loss.
Nine weeks ties the longest period of time that a Lady Vol squad has been continuously outside the AP Poll. In her 11th season as head coach here, even Pat Summitt saw her 1984-85 squad miss polls No. 5 through 13.
In her eighth season, Summitt's squad also spent four weeks (poll Nos. 8-11) on the outside looking in, as Warlick's squad did a year ago in polls 16-19.
Sizing Up the Lady Vols
Tennessee ranks #14 in the most recent NCAA Women's Basketball Rating Percentage Index (RPI).
The Lady Vols stand #2 in the latest NCAA Toughest Schedule Report behind UConn.
With numerous key games still to be played before Selection Monday, the NCAA Division I Women's Basketball Championship Sport Committee on February 6th provided the second of three regular-season top 16 rankings in seed order.
While UT is not among the 16 teams, it has beaten #3 South Carolina (76-74), #6 Notre Dame (71-69) and #8 Stanford (59-51). UT lost to #2 Baylor (88-66), #4 Mississippi State (74-64) and #11 Texas (72-67).
The February 14th edition of Charlie Creme's Bracketology has the Lady Vols playing in Raleigh, NC, as a No. 5 seed facing #12 seed Quinnipiac of the MAAC in the first round of the NCAA Oklahoma City Regional.
UT has gone from being a No. 7 seed, to a No. 6 seed, to a No. 5 seed in the past few releases by Creme.
UT and South Carolina have played the most ranked teams of any SEC schools (7), and UT has the second most wins over ranked teams (4) and second most over top-10 teams (3) in the league.
South Carolina is 6-1 vs. AP-ranked teams, while UT is 4-3, Kentucky is 2-3, Missouri is 2-4, Texas A&M is 3-1 and Mississippi State is 1-1. USC is 4-1 vs. top-10 teams, while UT is 3-2.
UT-Alabama Series Notes
Tennessee holds a 49-3 all-time record vs. Alabama, dating back to January 22nd, 1977.
Against the Tide, the Lady Vols are 18-1 in Tuscaloosa and have never lost in Knoxville (22 consecutive wins).
This will mark the first match-up between these programs in Coleman Coliseum since February 18th, 2010, when the #5/5 Big Orange defeated Bama, 74-67.
The UT women have a 16-0 record there.
From 2011-16, Crimson Tide women's basketball played in Foster Auditorium, where UT was 2-1.
The lone Tennessee loss in that venue came last season on February 25th, 2016, as the Tide ended a 42-game UT win streak, 54-46.
Prior to that victory, the last Alabama win was on March 3rd, 1984, at the SEC Tournament in Athens, GA, by a score of 85-66.
The other came at the 1981 SEC Tournament, as the Tide knocked off #10-ranked Tennessee, 77-71, on January 30th.
Three seasons ago in Tuscaloosa, an upset-minded Crimson Tide squad led by 15 in the first half before UT rebounded for a 64-54 win.
UT went from 15 down in the first half to up 16 in the second half in that game for a 31-point turnaround before winning by 10.
Tennessee's Mercedes Russell posted a pair of double-doubles vs. Alabama last season, registering 12 points and 13 rebounds in Knoxville and a 10/11 effort in Tuscaloosa.
UT's Jaime Nared had a 17/10 double-double at home and a 13/7 effort on the road a year ago.
Diamond DeShields was held scoreless in last year's match-up in Tuscaloosa, finishing 0-for-7 on field goals and 0-for-2 on free throws in 13 minutes of duty.
First-year Tennessee assistant coach and recruiting coordinator Sharrona Reaves played at Alabama (1995 grad.) for (then) head coach Rick Moody.
Milestone Watch
Mercedes Russell has 996 career points and needs four to join the 1,000-point club.
Diamond DeShields needs 71 points to hit 1,000 points at UT. She has 1,577 total combining her totals at Tennessee and North Carolina.
Schaquilla Nunn reached 1,000 career rebounds with her third board vs. LSU on February 2nd. She finished the evening with nine. She now stands at 1,010 for her career, with 910 of those coming at Winthrop, her previous school.
Nunn reached 1,000 career points (including 982 at Winthrop) earlier this season. She stands at 1,092 through the A&M game.
Russell has 708 career rebounds and needs 92 to move into UT's list of players with 800 or more rebounds. There are 17 who've made the cut.
About the Alabama Crimson Tide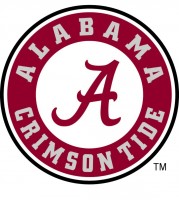 Alabama returned four starters and seven total letterwinners from a squad that went 15-16 last season.
The 2015-16 unit placed 12th in the SEC with a 4-12 record but claimed a win over Tennessee.
Alabama was picked to finish 13th in both the AP and Coaches SEC Preseason Polls this year.
Meoshonti Knight, a 5-foot-8 junior guard, leads a trio of Crimson Tide players averaging double figures in scoring. She tallies 11.6 per game, followed by 6-0 junor guard Hannah Cook at 11.2 and 6-0 sophomore guard Shaquera Wade at 10.2.
Wade leads UA on the boards at 6.1, while 5-7 freshman guard Jordan Lewis dishes out 3.9 assists per game.
Kristy Curry is in her fourth season at Alabama, sporting a 57-61 record. She is 366-210 overall in her 18th year of coaching, with an NCAA Final Four appearance in 2001 while at Purdue.
Brian Johnson, who joined the Alabama staff on May 10th, 2016, as coordinator of player development, recruiting and video operations, previously served on the Tennessee staff as a manager for Holly Warlick.
The Last Time These Teams Met
Bashaara Graves led Tennessee with 15 points, but the Lady Vols could not battle back from an 11-point halftime deficit, falling to Alabama, 54-46, on February 25th, 2016, at Foster Auditorium.
The loss ended Tennessee's (16-12, 7-8 SEC) 42-game winning streak against Alabama (15-13, 4-11) and marked the Lady Vols' first-ever loss in Tuscaloosa. UT's last loss to Alabama entering the game was on March 3rd, 1984.
Graves finished with 15 points and eight rebounds. Mercedes Russell recorded a double-double with 10 points and 11 rebounds. Jaime Nared added 13 points and seven boards.
Alabama's Karyla Middlebrook scored 12 of her 13 points in the first half. Hannah Cook had a double-double with 10 points and 10 rebounds.
Late in the game, Tennessee went on an 8-0 run to pull to within 45-42. Mercedes Russell scored on a fast-break layup with 2:21 remaining to make it a one-possession game. Alabama outscored UT, 9-4, to close the game.
Tennessee struggled in the first half, going 6-of-30 from the floor and 0-of-7 on threes.
Tide Drops 66-56 Decision to Florida
The Alabama women's basketball team fell, 66-56, to Florida on Sunday at Coleman Coliseum in the Crimson Tide's annual Power of Pink/Play4Kay game.
The Tide used a 7-1 run at the beginning of the fourth to cut it to three, 53-50, with 7:22 to go, but that was as close Alabama would get down the stretch.
With the loss, UA fell to 15-10 overall and 3-9 in Southeastern Conference play, while the win lifted the Gators to 13-12 on the season and 4-8 against league opponents.
Alabama was led in scoring by junior Quanetria Bolton, who had 14 points. She was followed by fellow junior Meoshonti Knight and freshman Jordan Lewis, who chipped in 11 apiece.
Junior Ashley Williams was the Tide's top rebounder with seven boards.
Florida had two finish with double-doubles, as senior Ronni Williams collected 19 points and 11 rebounds and freshman Delicia Washington had 12 points and 11 boards.
On the glass, Florida collected 50 rebounds compared to UA's 30.
Aggies Nip Lady Vols in Closing Seconds, 61-59
Texas A&M's Khaalia Hillsman scored the game-winning put-back with four seconds left, as No. 24/25 Tennessee fell to the Aggies, 61-59 on Sunday at Thompson-Boling Arena.
Mercedes Russell led the Lady Vols (16-9, 7-5 SEC) with 17 points and 11 rebounds for her 14th double-double of the season. Texas A&M (19-6, 9-3 SEC) outscored UT 14-5 in the fourth quarter to maintain third place in the conference standings.
Alexa Middleton scored 14 points and recorded four assists, and Jaime Nared added nine points and seven rebounds.
Danni Williams led the Aggies with 18 points. Hillsman logged a double-double with 10 points and 10 rebounds, while Curtyce Knox notched a double-double of her own, finishing with 10 points and 10 assists.
After holding a 20-15 advantage following the first quarter, Tennessee opened the second quarter with a 12-6 run over the first three minutes to build an 11-point lead. Texas A&M kept the score close as the Lady Vols went into the half ahead, 38-32.
Texas A&M started the fourth with a 12-5 run, and Knox knocked down a 3-pointer from the right wing to tie the game at 59 with 2:44 remaining before Hillsman added the finishing touches with four seconds remaining.
Coming Up On the Schedule
The Lady Vols return home following their trip to Tuscaloosa and play host to Arkansas on Sunday at 2:00pm CT (SECN+).
After hosting the Razorbacks, Tennessee closes with Senior Night in Knoxville vs. Florida (February 23rd, 7:00pm, SEC Network) and then wraps up the regular season at Mississippi State (February 26th, TBD).
Alabama heads to in-state foe Auburn next, facing off on February 20th at 6:00pm CT.