Clarksville Police Department

Clarksville, TN – Eric Tyreese Davis is now in custody after fleeing from Clarksville Police.
Around 11:50am, Clarksville Police Officer Evon Parkes was running radar on Warfield Boulevard and clocked a black BMW going 70 mph in a 50 mph zone. Officer Parkes activated his emergency equipment and pulled out behind the car to make a traffic stop.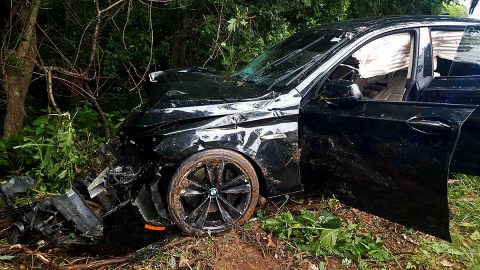 The driver of the BMW made a quick turn onto Mason Way and accelerated.
After acceleration, he lost control of the vehicle, crashed into a tree, and the car overturned.
The driver crawled out of the vehicle and fled on foot. The driver, who had a facial laceration, was located by Officer Brooke Hagewood on the front porch of a residence on Mason Court.
The driver was identified as Eric Davis. He was taken to Tennova Healthcare for medical clearance and then will be transported to the Montgomery County Jail where he will have the Aggravated Assault warrant served.
There will be additional charges for: Speeding, Evading, No Insurance, Driving on Revoked License, Simple Possession (cocaine was found), Failure to Use Due Care, and Leaving the Scene of an Accident. The total bond will be determined after being booked.