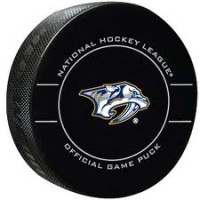 Nashville, TN – The Nashville Predators finally righted the ship with a 3-1 win over the Montreal Canadiens tonight at Bridgestone Arena.
Newly acquired big man Brian Boyle scored his first goal as a Predator and Viktor Arvidsson added to his torrid scoring streak for the victory.
Arvidsson scored his 24th goal of the season tonight, a remarkable feat considering he was injured and didn't return to the lineup until New Years Eve. Nashville wrapped up a three game home stand and snapped a three game losing streak tonight with the win.
The Predators have been having trouble scoring first of late but that all changed tonight when Ryan Hartman put Nashville on the board at 9:49 of the second period.
Hartman found himself in front of the net when he grabbed a juicy rebound and backhanded the puck past Montreal goalie, Carey Price, and the Preds opened up a 1-0 lead. Nashville would take that lead into the second intermission.
Pekka Rinne stood solid in net tonight, keeping his team in this one, especially in the second period when the Montreal pressure was intense. Rinne stopped 34 shots on goal tonight, with 21 in the second period alone.
Montreal would climb back into this one at 5:26 of the final frame when Tomas Tatar took a pass from Andrew Shaw in front of the Nashville net and tapped the puck past Rinne for the only score of the night for the Canadiens. Game tied, 1-1.
But that's when the big man, Brian Boyle would finally break through as a Predator. At 8:36 of the third period, Boyle would fire a laser from the point that raced through the wickets of Price and that would be the game winner for Nashville, leading 2-1.
Viktor Arvidsson who has been on an offensive tear since returning to the team from injury, gave the Predators a two goal cushion at 11:00 of the final period. Arvidsson took a pass from Ryan Johansen and tapped the puck into the net past Price and that would be your final score of the night, 3-1.
Tonight's game would see the return of former Nashville captain Shea Weber who was traded for P.K Subban.
The Predators will now hit the road, heading to Las Vegas for a Saturday night contest with the red hot Golden Knights. They'll then head to Dallas on Tuesday to match up with the Stars.
Nashville returns next Thursday night to host the L.A Kings. Puck drop is at 7:00pm.