Tennessee Lady Vols (16-8 | 5-6 SEC) at Missouri (19-7 | 8-4 SEC)
Sunday, February 17th, 2019 | 4:02pm CT (5:02pm ET)
Columbia, MO | Mizzou Arena | TV: ESPN2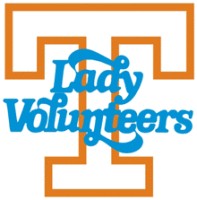 Knoxville, TN – The Tennessee Lady Vols (16-8, 5-6, SEC), hits the road to take on RV/RV Missouri (19-7, 8-4 SEC) on Sunday at Mizzou Arena in Columbia. Tip-off is slated for 4:02pm CT (5:02pm ET) in a contest that is being carried by ESPN2.

Including this match-up, the Lady Vols have five contests remaining during the regular season. Two are at home (South Carolina, Vanderbilt) and three are away (Missouri, Texas A&M, Ole Miss). UT is in the midst of a five-game stint where it plays four of those contests on the road. The final game of that set comes next Thursday when UT is at Texas A&M.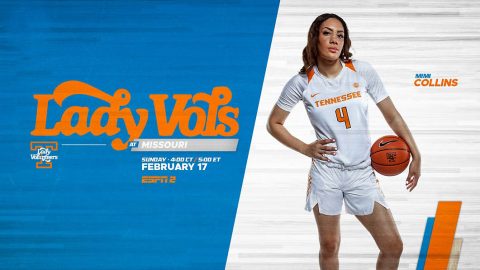 The Lady Vols enter this contest having won four of their past five games, including victories over LSU, Florida, Vanderbilt and Auburn.
The loss was at Mississippi State on February 10th. UT claimed a season sweep over Auburn on Thursday night in Knoxville, grabbing a Valentine's Day win over the Tigers, 73-62.

Mizzou, which is receiving votes in both polls, is coming off a massive upset over No. 5/5 Mississippi State in Starkville. The Tigers' 75-67 win snapped a 30-game MSU home win streak and a 26-game SEC regular season spree. The Bulldogs had last lost on their home court on February 26th, 2017, to Tennessee. The Tigers have won three straight after suffering a spell where they dropped three of four.

Missouri won the first match-up this season between these teams, defeating the (then) No. 10/10 Lady Vols, 66-64, on January 6th in UT's home SEC opener. Interestingly enough, UT is facing Mizzou right after beating Auburn, just as it did back on January 6th.
Broadcast Information
Paul Sunderland (play-by-play) and Steffi Sorensen (analyst) will have the call for the ESPN2 broadcast.
Mickey Dearstone is behind the microphone for IMG College/Lady Vol Network radio/online broadcasts for the 20th season. A link to the live audio stream can be found on each game's Hoops Central page or the Lady Vol schedule on UTSports.com.
Air time for games on the Lady Vol Radio Network generally occurs 30 minutes prior to tip-off.
For UT home games, the Lady Vol Network has a low-power transmitter that makes the game available on the radio at 99.3 FM.
Tennessee Lady Vols – Missouri Tigers Series Notes
The Lady Vols hold an 8-3 all-time record vs. Missouri, dating back to January 14th, 1978, but the Tigers have won two straight in the series.
Against Missouri, the Lady Vols are 4-1 in games played in Knoxville, 1-0 in neutral sites, and 3-2 in Columbia.
Holly Warlick is 5-3 in the series vs. Missouri, possessing a 3-1 record in Knoxville and 2-2 mark in Columbia vs. Robin Pingeton's squad.
The two times UT has surrendered more than 70 points in the series during the Warlick era, the Lady Vols have dropped both contests. Both were in Columbia, including one last season.
In games played in Columbia since the Tigers joined the SEC, UT holds a 65.8 to 65.5 edge in scoring.
In the past eight games, the Lady Vols have outscored the Tigers, 551-486, for an average score of 68.9 to 60.8.
The past two meetings between these schools have resulted in a four-point game in Columbia in 2018 (77-73) and a two-point differential in Knoxville in 2019 (66-64), with the Tigers earning victories each time.
Mizzou has turned in repeat-digit numbers vs. UT in the past four meetings, including 55, 66, 77 and 66 from 2016 to 2019.
Tennessee beat MU, 84-39, in Knoxville on Jan. 10, 2013, in their first-ever SEC meeting. Later that season Mizzou evened the score, defeating UT, 80-63, in Columbia.
Prior to 2013, the Lady Vols defeated Missouri as a non-conference foe three times, most recently at the 2010 Paradise Jam tournament in the U.S. Virgin Islands, 82-44, with Holly Warlick serving as UT's assistant coach.
UT's best performers vs. Mizzou have been Rennia Davis (12.5 ppg. and 6.0 rpg. in two games), Evina Westbrook (12.5 ppg. and 2.5 apg. in two games) and Zaay Green (11.0 ppg. and 4.0 rpg. in one game).
Davis and Westbrook each scored 16 vs. Mizzou in January and tallied nine each in last season's meeting. Cheridene Green had 13 points, 14 rebounds in January vs. the Tigers.
Sophie Cunningham has been a thorn in UT's side, turning in games of 16 pts., 6 rebounds and 3 assists in 2017, 32/5/5 in 2018 and 20/6/6 in 2019. That's an average of 22.7 ppg., 5.7 rpg. and 4.7 apg. in those contests.
About the Tennessee Lady Vols
UT features four players scoring in double figures, including two sophomores and a freshman.
Sophomores
Evina Westbrook
(15.7) and
Rennia Davis
(14.7) lead the way in scoring average, followed by senior
Meme Jackson
(11.5) and freshman
Zaay Green
(10.9).
After seeing Davis mired in a four-game slump, she has reemerged as a go-to player, firing in 24, 19, 17, 29 and 15 points in the past five games to average 20.8 ppg. during that span.
Senior forward Cheridene Green continues to step up, pulling down double-figure totals in rebounds in eight of her past 11 contests after grabbing 11 vs. Auburn.
Freshman Zaay Green has averaged 12.0 ppg. over the past five contests, scoring a career-high 25 vs. Auburn and yanking down a career-high-tying 11 boards vs. Vandy.
Over the long haul, UT has demonstrated that its rebounding is its most consistent strength. The Lady Vols have out-rebounded 20 of 24 opponents, with only Texas, Stanford, Notre Dame and Mississippi State topping the Big Orange.
The Lady Vols have hit .804 from the line over their last five games.
Rennia Davis (.877) and Meme Jackson (.838) are UT's best at the line. Jackson is hitting .938 in SEC play, while Davis is at .912. Evina Westbrook is up to .800 for league play. She shot .513 for the season in all games last year.
With five assists vs. Auburn, Evina Westbrook dished five or more dimes in a contest for the 15th time this year. She now has 122 on the season after totaling 143 as a freshman a year ago in 33 games.
Rennia Davis and Cheridene Green each posted double-doubles vs. Auburn. Green had 16 points and 11 rebounds to log her fifth double-double of the season and seventh of her career. With 15 points and 10 rebounds, Davis recorded her seventh double-double of the season and the 16th of her career. Davis has the second-most career double-doubles of any current underclassmen in the SEC, trailing only AU's Unique Thompson, who has 18.
Last Time Out For Tennessee Lady Vols
Freshman guard Zaay Green logged 19 of her career-high 25 points in the second half, powering the Tennessee Lady Vols past Auburn, 73-62, at Thompson-Boling Arena on Thursday night.
The Lady Vols recorded their third-straight home win, as the duo of senior Cheridene Green (16 points and 11 rebounds) and sophomore Rennia Davis (15 points and 10 rebounds) each tallied double-doubles on the evening. Sophomore Evina Westbrook, meanwhile, dished out 10 assists and added nine points and five rebounds in the victory.
Junior guard Daisa Alexander led Auburn with 22 points. Sophomore Unique Thompson paced the Tigers on the boards with a double-double of 12 points and 13 rebounds, while Janiah McKay also chipped in 12 points.
About the Missouri Tigers
Missouri welcomed back 10 letterwinners, including three starters from last year's squad. Another letterwinner/starter, Cierra Porter rejoined the program midway through the year after initially retiring from basketball following the 2017-18 season.
Among the returnees is senior guard Sophie Cunningham, a three-time All-SEC selection who is averaging 17.4 ppg. and 6.0 rpg.
Junior guard Amber Smith is MU's other double figures scorer, averaging 12.8 ppg. to go with a team-leading 7.2 rpg.
Last season, Missouri went 24-8 overall and finished tied with UT in fourth place in the SEC at 11-5.
The Tigers fell in the first round of the NCAA Tournament to Florida Gulf Coast, 80-70.
In addition to having Sophie Cunningham on the All-SEC Team, Mizzou had Jordan Frericks earning second-team accolades.
Mizzou's Last Game
Mizzou (19-7, 8-4 SEC) recorded one of its best wins in program history, as the Tigers defeated No. 5-ranked Mississippi State (22-2, 10-1 SEC), 75-67, on Thursday night in Starkville, MS. It's the highest-ranked team MU has ever beaten on the road.
Senior guard Sophie Cunningham produced her sixth 20-point game in the last eight contests, and her 12th of the season with 24 points on 4-for-9 shooting from three and 4-for-4 shooting from the free throw line.
Last Time We Met
No. 10/10 Tennessee was edged out by Missouri, 66-64, in its SEC home opener on January 6th at Thompson-Boling Arena.
Tennessee trailed by five points with less than 90 seconds remaining but fought back and had a shot to tie at the buzzer. Rennia Davis' runner in the lane fell short.
Davis and Evina Westbrook led the way for Tennessee (12-2, 1-1 SEC) with 16 points each. Cheridene Green finished with 13 points and 14 rebounds, her second double-double of the season and a (then) career-high mark on the boards.
Missouri (13-3, 2-0 SEC) was paced by senior guard Sophie Cunningham, who finished with 20 points, six rebounds and six assists.
Tennessee Lady Vols Last Time In Columbia
No. 11/11 Tennessee dropped a hard-fought thriller at No. 13/13 Missouri on February 18th, 2018, falling to the Tigers by a score of 77-73 in front of a record crowd of 11,092 at Mizzou Arena.
Senior Jaime Nared led the Lady Vols (21-6, 9-5 SEC) with 25 points, while Mercedes Russell added 10 points and nine rebounds.
UT overcame a 13-point second-quarter deficit and worked the game into a 62-62 tie with 5:18 remaining. However, the Tigers (22-5, 10-4 SEC) used clutch free-throw shooting down the stretch to pull ahead late, including two from Sophie Cunningham with one second remaining that put them ahead by four. Cunningham netted 32 points on 9-of-14 shooting to lead Missouri.
Coming Up for Tennessee Lady Vols
The Tennessee Lady Vols are back on the road again on Thursday, February 21st playing at No. 22/23 Texas A&M. Tip is slated for 8:02pm CT (9:02pm ET) in a game that will be carried by the SEC Network.