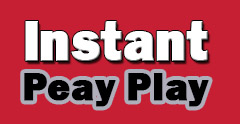 Clarksville, TN – The Austin Peay State University (APSU) football team continues to be one of the best run-stopping defenses in the nation, as this past weekend in Macon, GA, the Governors held the Mercer Bears rushing attack to less than 50 yards from scrimmage.
In giving up just 43 net yards from scrimmage on the ground to Mercer, it marks the third straight week the Govs run defense has allowed their opponents less than 60 total rushing yards net in a contest, with APSU giving up 53 yards to North Carolina Central in the season opener on August 29th and 32 yards to Central Arkansas on September 7th.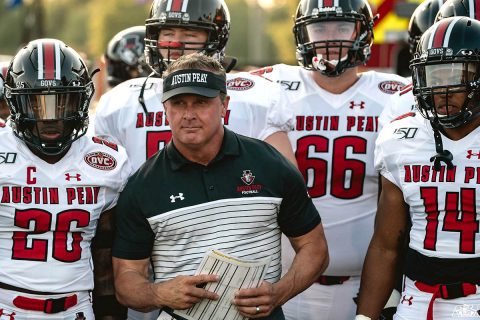 This moves the Austin Peay State University into second place in the nation in run defense, allowing an average of 42.7 yards rushing per game, trailing only Davidson, who has allowed just 34.7 yards on the ground per game after three weeks.
And if you think the Governors (2-1) are just playing teams that aren't good running teams know that Mercer came into the game ranked 30th in the NCAA Football Championship Subdivision averaging 196 yards rushing per game coming into the contest and was held to 1.4 yards per carry on 31 total rush attempts.
The Govs rushing defense has also not allowed a touchdown on the ground this season in 90 opponent rushing attempts so far, with only Illinois State (110), Sacramento State (101), Montana (97) and Hampton (95) having seen opponents rush more times without scoring on the ground this season.
A lot of the praise must go to the Govs up front in snuffing out opponent runners before they can get down field, with nose tackle John Whiteside, defensive tackles Mason Harwell and Josephus Smith and defensive ends Kwame Sutton and Matthew Gayle having accounted for over 40 stops on defense this season.
Then you add to that linebackers like Jack McDonald, Pat Walker and Cameron Miller among others and you have a run defense that has more than answered the call for the Govs through the first three weeks of the schedule.
The Governors run defense will be challenged once again this coming week on September 21st at East Tennessee, as they face a Buccaneers offense that is averaging 5.7 yards per rush and 195.3 total yards on the ground per game.
If the first three games this season by the Govs defense is any indication it may be a long day for the Bucs running backs this weekend.