Brentwood, TN – A program-record 11 Austin Peay State University (APSU) football players earned postseason honors from the Ohio Valley Conference, befitting their status as league champions for 2019.
In addition, Mark Hudspeth became the second Austin Peay State University head coach in three seasons to earn Roy Kidd OVC Coach of the Year honors after the Govs won the league and earned the program's first playoff berth in his first season at the helm.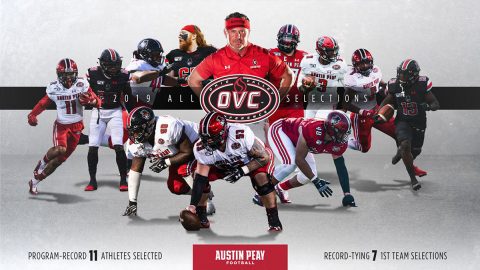 A program-record seven Governors earned first-team All-OVC honors: quarterback JaVaughn Craig, running back Kentel Williams, center Blake Mitchell, offensive tackle Kyle Anderton, defensive tackle Josephus Smith, cornerback Kordell Jackson and safety Juantarius Bryant.
In addition, defensive end Shaun Whittinghill and wide receiver DeAngelo Wilson earned second-team All-OVC honors, with guard Bucky Williams and defensive tackle John Wesley Whiteside earning All-Newcomer honors.
Below is a summation of each individual's season. The Govs take on Furman, 12:00pm, Saturday, in the opening round of the 2019 FCS Playoffs at Fortera Stadium.
In addition to leading the APSU Govs to their first OVC championship since 1977, the program's first-ever nine-win season and their first-ever FCS playoff appearance, Hudspeth's first season has seen the Govs post program single-season records in scoring (424 points), touchdowns (56), passing yards (2,927), passing touchdowns (27), total offense (5,158 yards), yards per game (429.8) and the nation's fifth-ranked run defense (86.5 ypg).
He's the fourth head coach in program history to earn league Coach of the Year honors, joining Bill Dupes (1964), Boots Donnelly (1977) and Will Healy (2017).
When pressed into action after Jeremiah Oatsvall was lost for the regular season, the senior responded with a monster final campaign, throwing for 2,567 yards and 22 touchdowns on 180-of-318 through the air, and rushing for 547 yards on 105 carries and eight scores as a complementary threat out of the backfield.
His 141.0 pass efficiency led the conference and ranked 31st in the NCAA, while his 22 scores ranked second and 21st, respectively. He also averaged 14.3 yards per completion, 12th in the NCAA and first in the league. He's the first APSU quarterback since Sonny Defilippis in 1980 to earn first-team All-OVC honors.
Signature Moment: Threw for 294 yards and five touchdowns at Tennessee Tech, adding an additional 84 yards and two scores on the ground in a 58-21 win which earned him OVC, Tennessee Sports Writers Association and College Football Performance Award honors.
Austin Peay State University's versatile back excelled and finished third in the OVC with 773 rushing yards despite missing much of three games due to injury. His nine rushing touchdowns ranked second among league runners, and he supplemented those efforts with 26 catches for 192 yards and two more touchdowns receiving, setting or tying career highs in all three categories.
A consensus top-five rusher in Austin Peay State University history, Williams is less than 200 yards on the ground from becoming the third player in program history with 3,000 career rushing yards.
Signature Moment: On a day when the Govs had struggled to get going, Williams blew up for 118 yards on 17 carries and three touchdowns against UT Martin, setting the tone with a 67-yard jaunt in the second quarter and adding touchdown runs in the third and fourth quarters to put the game away.
Two of the line stalwarts for a unit which leads the OVC in scoring (35.3 ppg), total offense (429.8 ypg), third-down conversions (43.3 percent) and fourth-down conversions (63.6 percent), Mitchell and Anderton also anchored a line which allowed just 0.67 sacks per game, ranking fourth nationally.
Anderton is the first Govs offensive lineman with two All-OVC honors in his career since Charles Tucker (1980, 1982), while Mitchell marks the second-straight season an Austin Peay center has been honored (Byron Glass, 2018).
Signature Moment: In addition to holding Tennessee Tech without a sack and to just two total tackles for loss, the duo helped the Govs pile up 614 yards total offense— the sixth-highest total in program history with 318 rushing and 296 passing—en route to a comfortable 58-21 win.
Smith set the program single-season record with 19.5 tackles for loss. Seemingly every game, the Leeds, Alabama native was in the backfield causing mayhem, rolling up seven contests with multiple stops behind the line of scrimmage and serving as the focal point for a run defense which led the OVC and ranked fourth nationally with just 86.5 yards per game allowed.
It marks the third straight year an Austin Peay State University defensive lineman has earned All-OVC honors, but if we're making the distinction, he's the first who has operated primarily as a defensive tackle since Dee Peeler in 2009.
Signature Moment: Earned OVC Defensive Player of the Week honors after a havoc-inducing 2.5 tackle, 2.0 sack day against UT Martin as the Govs held the Skyhawks to minus-25 yards rushing for the day—the third-best FCS single-game effort in 2019.
The ball found its way into Kordell Jackson's hands often in 2019. The Birmingham, Alabama native led the OVC with seven interceptions, more than double the next-closest finisher, and also added a fumble recovery. Jackson's 159 interception return yards both led the OVC in 2019 and ranked second in program history behind only Howell Flatt's 1966 campaign. When he wasn't providing lockdown protection, Jackson could often be found in the opposing backfield, with six of his 34 tackles coming for loss.
He's Austin Peay State University's first defensive back to earn first-team All-OVC honors since Amius Smith in 2011.
Signature Moment: It's hard to come by a more signature moment than Jackson's two pick-six day at Mercer, where he became just the 33rd player in FCS history with multiple interception returns for a touchdown in the same contest. On top of that, he added a strip-sack late in the game.
After a second-team nod a year ago, the senior captain garnered first team All-OVC honors in his final season in Clarksville, finishing second among Govs in tackles (90) and third in pass break-ups (4). Whether stuffing the run or providing protection over top, the versatile safety proved he could do it all in a new scheme; alongside Jackson, the duo are the first APSU teammates to earn first-team All-OVC honors in the defensive backfield since Mike Betts, Lynn Hailstock and Joe Grimsley in 1977.
Signature Moment: Recorded eight tackles and broke up two passes on a night when the defense needed him most at Mercer.
In many other seasons, Wilson's eye-popping numbers (68 catches, 1,246 yards and 12 touchdowns) would have him not just as a first-team lock but on the short list for Offensive Player of the Year.
Alas that the best receiving season in program history should come in such a pass-happy time for the league, but don't let that diminish program single-season records in yards and receiving touchdowns.
Wilson's All-OVC honor is the first by an Austin Peay State University receiver since Jared Beard in 2016.
Signature Moment: The North Carolina Central game was a good omen of things to come for the Bowling Green native; he hauled in six catches for 106 yards and three touchdowns in the 2019 opener, setting career-highs in receptions and touchdowns (he would later eclipse the reception number with a nine-catch outing at ETSU).
Few roads have been as winding as Shaun Whittinghill's, but it's culminated in a second-team All-OVC nod and a spot in the FCS playoffs for the fifth-year senior from Louisville. Once he cracked the rotation, he couldn't be removed and closed the regular season with authority, recording 2.5 of his four sacks and 7.5 of his 10 tackles for loss in the season's last five weeks.
He's the first APSU defensive lineman to earn second-team honors since Peeler in 2009.
Signature Moment: A career-best seven tackles, including 1.5 for loss via sack, a forced fumble and a hurry made for a busy day against Southeast Missouri in Austin Peay State University's toppling of the 20th-ranked Redhawks.
Much of what was said about Anderton and Mitchell could apply to Bucky Williams, with one additional caveat. While that duo both missed time due to injury and illness, Williams was a rock in the middle of the line, playing all 12 games to provide consistency. He's the second offensive lineman to earn All-Newcomer honors in three years, joining Anderton in 2017.
Signature Moment: In games without Mitchell or Anderton (Mercer and Jacksonville State), Williams anchored a line that improved its average rush yards per game (207.0).
A transfer from the Citadel, Whiteside is APSU's first-ever defensive lineman to earn All-Newcomer honors. They're well-deserved accolades for the Dalton, Georgia native, who formed one of the most physically imposing defensive tackle tandems in FCS alongside Josephus Smith, making 41 tackles on the season.
Signature Moment: Another Governor defender who enjoyed his time in Macon, Whiteside rang up nine tackles, including 3.0 for loss, at Mercer, leading the Govs in both categories.