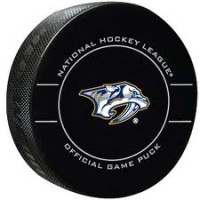 Nashville, TN – In the blink of an eye, the Nashville Predators saw victory snatched from their grip by the Las Vegas Golden Knights, who tied the game in regulation with under one second on the clock, then won the contest in the extra frame, 4-3.
The Predators appeared to have the game in hand, leading 3-2 with under one minute remaining, when Las Vegas grabbed the puck in the Predators' zone and Max Pacioretty slammed home the equalizer with .03 seconds on the clock to tie it 3-3.
Then in the overtime period, Las Vegas grabbed the loose puck on a wide open two man break against Juuse Saros in goal for Nashville for the easy game winner.
The Bridgestone Arena crowd was stunned and stumbled onto lower Broadway shaking their heads wondering what just happened.
Nashville had dug themselves a hole early in the game when Mark Stone scored at 7:33 of the first period for the 1-0 lead, then Reilly Smith gave the Golden Knights the two goal cushion at 6:22 of the second period and Las Vegas held a 2-0 lead.
Mikael Granlund scored for Nashville at 7:01 of the second period to bring Nashville to within a goal, 2-1. Then Ryan Ellis fired a backhand into the net past Vegas goaltender, Malcolm Subban to tie the contest, 2-2.
Matt Duchene then gave Nashville the lead at 1:23 of the third period with a quick wrist shot to give Nashville the lead, 3-2. The Predators kept control of the game through the third period until Pacioretty scored the back breaking goal as time expired.
Into overtime, it didn't take Vegas long to close the deal as Paul Stastny scored the game winner and the Golden Knights stole the game and the extra point.
This was a devastating loss for the Predators who had just begun to pull themselves out of a six game losing streak with back to back wins over the St. Louis Blues.
Nashville will hit the road to face the Carolina Hurricanes on Friday night. Puck drops at 6:30pm.