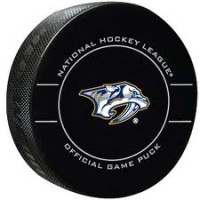 Nashville, Tn — The Nashville Predators fell to the Dallas Stars tonight at Bridgestone Arena in an all too familiar fashion. Lack of scoring and goal tending. If this is any indication of what the upcoming Winter Classic will be like, then Nashville has a lot of work to do before the New Year's day event.
Once again, the Predators outshot their opponent, only to fall short in scoring goals. Nashville fired 38 shots on goal to just 22 for the Stars. Pekka Rinne continues to struggle in net, giving up all four goals tonight.
Austin Watson put the Predators on the scoreboard first, deflecting a Dan Hamuis shot on goal for the early marker, giving Nashville the 1-0 lead. But that would be all she wrote for the Predators.
Goals from Blake Comeau, Roope Hintz, Jamie Oleksiak and Andrew Cogliano would give Dallas the 4-1 final and leave Nashville fans wondering just what is wrong with this team.
Nashville and Dallas are set to square off in the annual NHL Winter Classic at the Cotton Bowl on New Year's Day.
The arena was half full early into the third period, causing some of the Predators to comment how embarrassing it was to be playing like that in front of the home town crowd.
Head coach Peter Laviolette spoke highly of Colin Blackwell and Yakov Trenin who had been called up from Milwaukee for their effort, but also noted that his team has to find a way to score goals, and play better defense.
Nashville will now embark on a four-game road trip Monday night when they visit New York to play the Rangers.
Nashville was without Mikael Granlund who is day to day with a lower body injury and the Predators are still without Viktor Arvidsson who is also recovering from a lower body injury.