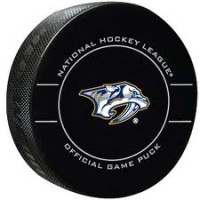 New York, NY – The Nashville Predators sweep their back-to-back series tonight with a convincing win over the New York Islanders, 8-3. Head coach Peter Laviolette juggled his lines tonight and may have found the magic his team has been missing so far this year.
Nashville played two nights of convincing hockey with wins over the Rangers, and tonight, the Islanders. Scoring was NOT the issue tonight.
Craig Smith got things started when he gave the Predators the 1-0 lead at 4:39 of the opening frame on a wrist shot that beat starting goaltender Thomas Greiss. Greiss wouldn't finish the game in net.
The Islanders would answer that goal at 2:55 of the second period when Brock Nelson tied the game on a wrist shot from the far side that beat Nashville goalie Pekka Rinne, and the game would be tied, 1-1.
New York began to pour it on the Predators after that, when Derick Brassard scored at 4:43 of the second and then Casey Cizikas scored a short-handed goal at 8:11 and suddenly the Islanders held a two goal lead, 3-1.
Unfortunately for New York, that would be the last goal of the night for the Islanders.
Filip Forsberg would answer right back at 8:38 on a power-play goal of his own, taking a pass from Mattias Ekholm and firing a short-sided wrist shot to bring Nashville to within a goal, 3-2.
Craig Smith would score his second goal of the night at 10:58 an a quick snap shot that beat Greiss on the high side and the game was tied, 3-3.
The floodgates would open up at this point as Nick Bonino tipped in a goal at 18:24 of the second period, then Rocco Grimaldi scored at 19:12 and the Predators held a 5-3 lead at the end of the second period.
New York would replace Greiss in goal to begin the final frame with Semyon Varlamov, but it wouldn't make any difference. The offensive onslaught by the Predators was a welcome sight to Nashville fans as they've been lacking in their offense for the last several weeks.
Into the third period, Callie Jarnkrok, Roman Josi and Ryan Johansen would fill the net with markers and ultimately the final score of 8-3.
Nashville beat a team that's been virtually unbeatable at home winning 12 of the last 13 home games under former Nashville coach, Barry Trotz. Ironically, Nashville was out-shot in this game, 30-24. Pekka Rinne got the start in goal and got the win for Nashville.
The Predators will travel to Ottawa on Thursday before wrapping up this road trip in Boston on Saturday night.
The Predators return home on Monday night December 23rd to host the Arizona Coyotes. Puck drop will be 7:00pm.