APSU Women's Basketball

Murray, KY – Austin Peay women's basketball team will seek an end to its four-game losing streak when it meets Murray State in a 1:15pm, Saturday contest at CFSB Center.
The Lady Govs have lost each of their four games since returning from the Christmas Break. That streak includes Thursday's 78-54 loss at UT Martin, which saw Austin Peay shooting just 30.3 percent from the field. The Lady Govs trailed by just five points at halftime, but scored only 26 points in the second frame while making 9-of-34 (26.5 percent) of their field goals.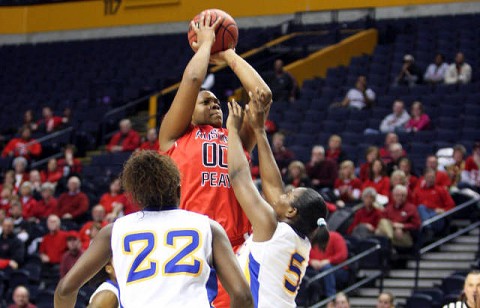 Junior Whitney Hanley returned to the Lady Govs lineup and led the team with 11 points and five assists while also grabbing four rebounds. However, she was just 4-of-16 from the field, including a 3-of-11 effort from three-point range. Senior Dalila Thomas added 10 points while junior Jasmine Rayner chipped in seven points and a team-best 11 rebounds.
Murray State saw its two-game winning streak stopped with a 60-57 loss to Tennessee State, Thursday. The game featured 10 lead changes and 13 ties and was ultimately decided in the final minutes, TSU securing the victory with nine seconds remaining courtesy a layup. The Racers shot just 32.8 percent (22-of-67) from the field, while allowing the Tigers to make 40.4 percent (23-of-57) of their field goals.
Junior Kayla Lowe led the Racers with 12 points and 10 rebounds in the loss. Sophomore Tessa Elkins added 11 points off the bench. Sophomore Mariah Robinson fell just shy of a double-double, finishing with eight points and eight rebounds.
An Austin Peay Win Would …
End its four-game losing streak. End its five-game road losing streak.
Be its second true road victory this season (2-9) and third win away from the Dunn Center (3-10). 
Make it 19-19 in December under head coach Carrie Daniels. 
Be Daniels' 53rd career victory, improving her record to 53-90 overall. 
Make the Lady Govs 404-562 overall since 1976-77.
An Austin Peay Loss Would …
Be its fifth-straight loss.
Be its sixth consecutive road loss.
Be its fifth consecutive road loss.
Drop it to 2-11 away from the Dunn Center this season.
Make it 18-20 all-time in December under head coach Carrie Daniels.
Drop Daniels' record to 51-91 overall.
Make the Lady Govs 402-563 overall since 1976-77.
About Austin Peay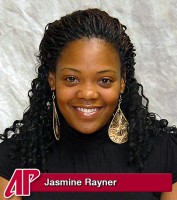 Junior Jasmine Rayner – a preseason All-OVC selection – has had trouble maintaining her consistency this season. She scored 10 or more points in six of APSU's first 12 games this season. Rayner saw her 45-game scoring streak stopped against Bowling Green, December 11th, as she went 0-for-5 from the field. She has bounced back since that shutout, averaging a double-double (10.7 ppg, 10.3 rpg) in her last six games.
Junior Whitney Hanley is the only Lady Govs scorer to average double-digits through 17 games, scoring 13.1 points per outing. She has taken over one-fifth of the teams field-goal attempts, averaging 12.9 attempts per game (team is averaging 56.8 attempts per game).
The Lady Govs defense continues to be one of their biggest concerns. Austin Peay was ranked 312th (out of 333 teams) in field-goal percentage defense the NCAA's Jan. 3 rankings, allowing opponents to make 43.9 percent of their field goals. APSU was 298th (out of 333 teams) in field-goal percentage defense among all Division I programs last season.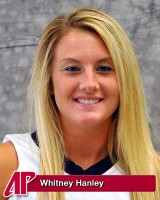 Austin Peay had another dismal non-conference season, finishing its 12-game slate with just one victory for the second consecutive year. The Lady Govs lone non-conference victory was a November 20th win against Utah Valley in the Preseason WNIT Consolation Round. That win ended a 13-game non-conference losing streak. APSU finished this season's non-conference slate with eight consecutive losses.
APSU was picked to finish third in the Ohio Valley Conference's preseason poll of head coaches and sports information directors. The Lady Govs lost two starters, both their leading scorer (Ashley Herring) and leading rebounder (Nicole Jamen), from last season's squad that finished third in the regular-season race.
The Lady Govs have won the last two Ohio Valley Conference women's basketball tournament crowns and have won six of the last 10 OVC tournament titles.
Quickly About Murray State
Murray State opened the season with consecutive home victories before losing its next nine contests. They Racers bounced back with consecutive home victories against IUPUI and SIUE before losing Thursday to Tennessee State.
The Racers are just one of seven Division I squads that do not have a senior listed on this season's roster. Murray State has just nine years of Division I experience among its 15-person roster. Only UT Martin (two years) and Eastern Illinois (eight) have less experience on their rosters (APSU has lost to both of those teams on the road this season).
Sophomore Mariah Robinson leads the Racers in scoring (12.5 ppg) and is second on the team in rebounding (5.9 rpg). Junior Kayla Rowe follows her in both categories, averaging 11.7 points and 5.7 rebounds. Redshirt freshman Jessica Winfrey is chipping in 9.5 points and 8.6 rebounds per outing.
Key Notables From Lady Govs at UT Martin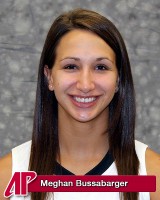 Junior Whitney Hanley returned to the APSU lineup and led the Lady Govs in scoring for the seventh time this season, finishing with 11 points on 16 field-goal attempts.
Junior Jasmine Rayner fell shy of her season's third double-double, scoring seven points and grabbing 11 rebounds. She played just 16 minutes after suffering foul trouble.
Sophomore Meghan Bussabarger did not make a field goal (6 FGA) and finished with one point and four rebounds.
Senior Dalila Thomas (10 points) and sophomore Neika Smith (nine points) paced the bench's 28-point effort. It's third-highest output this season.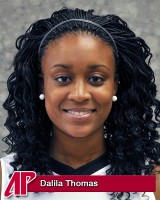 Austin Peay was out-rebounded by a conference opponent for the first time this season, losing the rebounding battle at UT Martin by a 44-38 margin. It was just the sixth time this season APSU has been out-rebounded and they are 1-5 in those games.
Austin Peay was held below 60 points for the fourth consecutive game and is averaging just 53 points per game during its current four-game losing streak.
UT Martin made 45.9 percent of its field goals, becoming the 14th APSU opponent this season to make more than 40 percent of its field goals in a game.
Austin Peay blocked a season-best six shots, seniors Brooke Faulkner and Thomas each blocking two shots.
Next Up: Tennessee State
It will be a week between games before Austin Peay and Tennessee State face off in a 5:30pm, Saturday, January 15th contest in Nashville. It will be the 52nd meeting between the two programs, which are separated by 50 miles.
Schedule Change: January 20th
The tipoff of the Lady Govs January 20th contest against Tennessee Tech has been moved to 8:15pm to accommodate the men's game which will be played at 6:00pm and aired on ESPNU.
Next Carrie Daniels Show, Wednesday
The Carrie Daniels Show returns with a 6:00pm, Wednesday, January 12th, show live from Edwards Steakhouse on Franklin Street in Clarksville.
Hosted by Brian Rives for the third consecutive season, the show will air live on WVRY 105.1 FM and be simulcast over the internet at www.LetsGoPeay.com.