Austin Peay Lady Govs vs. Southern Illinois
Friday, November 11th, 2011 | Tipoff: 7:00pm
Clarksville, TN | Winfield Dunn Center (7,257)

Clarksville, TN – Austin Peay opens the 2011-12 regular-season campaign with a 7:00pm, Friday contest against Southern Illinois at the Dunn Center. The Lady Govs are 20-15 (.571) all-time in home openers, but lost last season's home opener to Middle Tennessee.
Austin Peay is 2-3 in home openers under head coach Carrie Daniels.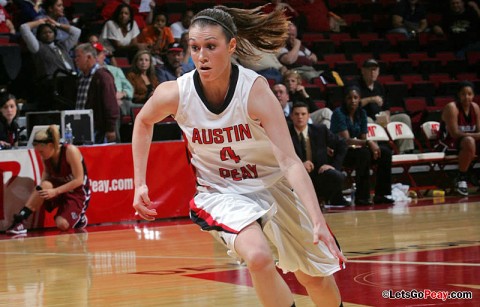 Who To Watch For: Kristen Stainback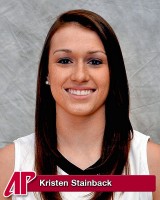 Freshman guard Kristen Stainback has been penciled in by head coach Carrie Daniels to start Friday's contest against Southern Illinois. If she starts the contest she will become the third freshman to begin the season in the starting lineup during Daniels' tenure.
She would join Ashley Herring and Emily Pollock on that exclusive list. Stainback showed her chops in Monday's exhibition contest, leading APSU with 15 points, including a trio of three-point field goals.
Lady Govs Seek To End Non-Conference Home Losing Streak
Austin Peay enters its 2011-12 season opener with a nine-game losing streak against non-conference teams at the Dunn Center. The Lady Govs have not won a home non-conference game since defeating SIU Edwardsville, December 13th, 2008. Austin Peay was 0-5 in non-conference home games in 2009-10 and lost each of its three non-conference home tilts last season.
Lady Govs Last Time Out
Austin Peay def. Cumberland, 62-48 (Exhibition) • November 7th, 2011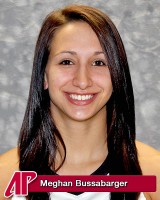 Austin Peay put 11 players on the court in its only exhibition and all the new faces and combinations led to a sloppy contest. The Lady Govs shot just 35.7 percent (20-of-56) from the field and committed 21 turnovers in the contest. Kristen Stainback led the Lady Govs with 15 points, making 6-of-12 field goals and 3-of-7 from three-point range.
Junior Meghan Bussabarger recorded an 11-point, 10-rebound double-double performance. Senior Whitney Hanley scored nine points but filled out the box score with six assists, three rebounds and three assists.
About Southern Illinois
The Salukis return seven letterwinners, including four starters, from last season's team that posted a 2-28 overall mark – those wins coming against Austin Peay and at Murray State – and was winless (0-18) in Missouri Valley Conference play. Only two returning starters – junior guard Teri Oliver and sophomore point guard Brooke LeMar – started in Southern Illinois' exhibition victory against Christian Brothers, November 1st. Sophomore guard Antishia Wright – who transferred from West Virginia – scored a team-best 23 points in that exhibition contest.
Lady Govs-Salukis Last Meeting
Southern Illinois def. Austin Peay, 76-64
November 28th, 2010 • Carbondale, IL.
Southern Illinois never trailed in the contest, fending off four Austin Peay attempts to take the lead in the first nine minutes of the contest before a six-minute scoring drought allowed SIU to build an 18-point, 33-15, lead with 5:28 remaining in the first half. The Salukis were unflappable at the free-throw line, making a season-best 28-of-24 (82.4 percent).
Whitney Hanley led Austin Peay with her second-straight 20-point performance. Jasmine Rayner came off the bench to score 16 points and grab a team-best six rebounds. Southern Illinois had five players reach double-digit scoring territory, led by Sidney Goins' 22-point effort off the bench.
Additional Broadcast Information
Friday's contest will not be broadcast on the WVRY 105.1 FM – the radio home of Austin Peay athletics – due to a scheduling conflict. The game will be broadcast by GovTV, produced by the APSU Mass Communications department, with Barry Gresham providing the play-by-play and former Lady Govs player Dalila Thomas providing analysis. The broadcast can be seen locally and on OVCSports.TV.
Fast Break Points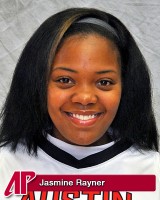 Senior guard Whitney Hanley enters her senior season 45 points shy of recording her 1,000th career point. Senior forward Jasmine Rayner has a little more work to do, needing 157 points to reach the 1,000-point mark. Entering this season, only 13 Lady Govs players had scored 1,000 points.
Austin Peay returns its four leading scorers from last season's team: Hanley (12.2 ppg), Rayner (10.5 ppg), junior forward Bussabarger (8.0 ppg) and sophomore guard Nicole Olszewski (8.0 ppg).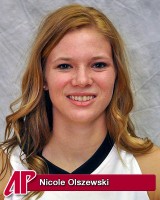 Hanley was named to the Preseason All-OVC team after receiving second-team All-OVC honors last season.
Austin Peay is 18-46 (.281) against non-conference teams under head coach Carrie Daniels, including a current eight-game losing streak.
The Lady Govs are 7-23 (.233) in November under Daniels.
An Austin Peay Win Would
Be its second season-opening victory during the Carrie Daniels era… make it 3-3 in home openers under Daniels… be its second-straight home win… end its eight-game losing streak to non-conference opposition… end its eight-game home losing streak to non-conference competition… be its first win against a non-conference opponent at the Dunn Center since December 13th, 2008 vs. SIU Edwardsville (74-52)… improve Daniels' record to 64-94 overall… make the Lady Govs 417-567 overall since 1976-77.
An Austin Peay Loss Would
Be its third straight season-opening loss and 12th in the last 14 seasons… make it 2-4 in home openers under Daniels… be its ninth-straight non-conference loss… be its ninth consecutive non-conference loss at the Dunn Center… make it 8-4 in March under head coach Carrie Daniels… drop Daniels' record to 63-95 overall… make the Lady Govs 416-568 overall since 1976-77.
Hanley Receives Preseason Nod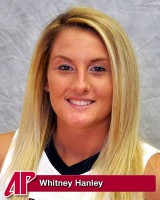 Senior guard Whitney Hanley was the lone Lady Govs player selected to the Ohio Valley Conference's preseason squad. Hanley, a second-team All-OVC selection last season, was one of 11 players named to the Preseason All-OVC team.
She returns after leading Austin Peay in scoring (12.2 ppg), three-point field-goals made (62) and assists (2.8 apg).
Wealth Of Experience Returns
Austin Peay returns just seven letterwinners from last season's 13-woman squad. However, that septet played a significant portion of the team's minutes. Led by Hanley's team-high 983 minutes played in 2010-11, the five returnees accounted for nearly 58 percent (3,825 of 6,600 minutes) of all minutes played last season. In addition, five of the seven started at least one game.
Scoring Punch Also Returns
Among the Lady Govs seven returning letterwinners are its four leading scorers from last season's team. Hanley (12.2 ppg), senior forward Jasmine Rayner (10.5 ppg), sophomore guard Nicole Olszewski (8.0 ppg) and junior forward Meghan Bussabarger (8.0 ppg) combined to average 38.0 of the team's 61.8 points per game last season.
Freshman Impact?
Austin Peay added five newcomers to replace the six letterwinners lost from last season's team. Among those fresh faces are four freshmen who each join the Lady Govs after respective heralded prep careers. With only one starting position open from last season's starting five, will any of the freshmen earn their way into an opening-day start? Only twice during the Daniels Era has a freshman appeared in the opening-day lineup: Ashley Herring (2007) and Emily Pollock (2008).
Lady Govs Picked Fourth In OVC Preseason Poll
Austin Peay, which returns four starters among seven returning letterwinners, was picked fourth in the preseason OVC poll of head coaches and sports information directors, collecting 142 points. The Lady Govs were picked behind reigning regular-season champion Tennessee Tech, picked to win the conference race in receiving 193 points and 13 of 22 first-place votes. Defending tournament-champion UT Martin was picked to finish second with the nine remaining first-place votes and 187 points. Eastern Illinois was picked to finish third with 159 points.
Next Game: Lady Govs Travel to Lipscomb
Austin Peay begins a four-game road trip with a 7:00pm, Monday contest at Lipscomb. It is the fourth consecutive season the Lady Govs and Lady Bisons have met and will be the 23rd meeting in the series all-time.