Austin Peay Lady Govs at Belmont
Sunday, December 18th, 2011 | Tipoff: 2:00pm (CT)
Nashville, TN | Arena: Curb Event Center (5,000)

Clarksville, TN – After a week off for finals, Austin Peay returns to the court to wrap up its four-game road trip with a 2:00pm, Sunday contest at Belmont. Both teams enter the contest seeking to end losing streaks. Austin Peay brings an eight-game skid into the affair while Belmont has dropped its last three contests.
It will be just the second meeting between the two schools during the Carrie Daniels era, Austin Peay winning a 49-48 contest in Clarksville during the 2008-09 season. Sunday's affair also will be a preview of an upcoming conference battle as Belmont joins the OVC next season.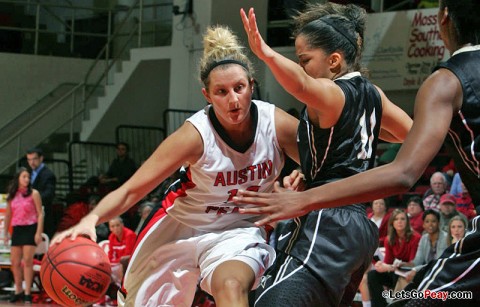 After committing 46 turnovers in its two previous games (20 at MTSU and 26 at Bowling Green)Austin Peay was charged with just 16 miscues at Ball State – two below its season average (18.1 pg). The Lady Govs defense was credited with just six steals, the third time this season they have been held below 10 steals in a game.
Austin Peay was held below 60 points for the fifth time this season and it has not won any of those five outings. The Lady Govs won the rebounding battle at Ball State, 41-35, thanks to a furious 16-8 push over the game's final nine minutes.
It is only the second time APSU has won a rebounding battle after winning the boards on opening night against Southern Illinois. Austin Peay lost its eighth consecutive contest, its longest losing streak since losing nine straight games twice during the 2007-08 campaign.
About Belmont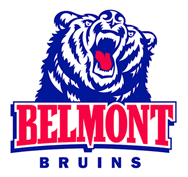 Belmont brings a three-game losing streak into Sunday's contest after a 75-42 loss at Chattanooga, Thursday. The Bruins had a rough start to their season with an 0-5 start highlighted by losses at Memphis, at Auburn and against Indiana. Belmont is 0-2 against OVC teams this season with a 67-48 season-opening loss at UT Martin and a 60-46 loss at Eastern Kentucky, December 6th.
The Bruins returned only five letterwinners (three starters) from last season's team that posted an 11-20 overall record and finished eighth in the Atlantic Sun race.
As Cold As Ice
Austin Peay continues to struggle with its shooting during the season's opening third, entering Sunday's contest shooting an ice-cold 36.2 percent this season. The Lady Govs are averaging just 20.3 made field goals per game and averaging a paltry 57.2 points per game. Currently, the ignominious "record" for lowest field goal percentage in a season is 37.1 percent  held by the 1978-79 squad – the first team whose records are available.
Fast Break Points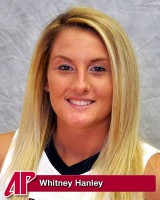 Austin Peay continues to search for the right starting five combination. Sunday's starting lineup at Ball State was the seventh different starting lineup head coach Carrie Daniels has used this season. Sophomore guard Nicole Olszewski, who started the previous nine games, did not start at Ball State (coach's decision). This is the second consecutive year a single player has not started every game.
Senior guard Whitney Hanley became the 14th Austin Peay women's basketball player to reach the 1,000-point plateau with her 21-point performance at Lipscomb, November 14th. Her 1,085 career points ranks 12th all-time. Her 22-point effort at Ball State, December 11th, moved her into a tie with current head coach Carrie Daniels (1991-96) at 12th all-time with 1,118 points.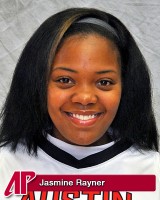 Senior forward Jasmine Rayner has a little more work to do – needing 90 points to reach the 1,000-point mark.
Austin Peay returns its four leading scorers from last season's team: Hanley (12.2 ppg), Rayner (10.5 ppg), junior forward Meghan Bussabarger (8.0 ppg) and sophomore guard Nicole Olszewski (8.0 ppg).
Hanley was named to the Preseason All-OVC team after receiving second-team All-OVC honors last season.
Austin Peay is 20-54 (.270) against non-conference teams under head coach Carrie Daniels.
The Lady Govs are 11-27 (.289) in December under Daniels.
An Austin Peay Win Would…
End its current eight-game overall losing streak… be its first victory since  November 14th at Lipscomb… end its six-game losing streak away from the Dunn Center, improving to 2-6 in road contests this season… be its second consecutive win against Belmont, its first back-to-back wins against the Bruins since 1998… improve Daniels' record to 66-103 overall… make the Lady Govs 419-576 overall since 1976-77.
An Austin Peay Loss Would…
Be its ninth consecutive loss – its longest losing streak since a pair of nine-game losing streaks during the 2007-08 season… be its seventh consecutive loss away from the Dunn Center and make it 1-7 on the road this season… drop Daniels' record to 65-104 overall… make the Lady Govs 418-577 overall since 1976-77.
Last Time Out
Austin Peay Lady Govs at Ball State
December 11th, 2011
Muncie, IN – Austin Peay dominated the game's final nine minutes but could not complete a come-back effort in a 59-55 non-conference loss to Ball State, Sunday afternoon at Worthen Arena.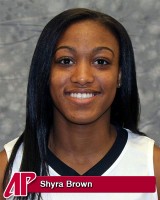 Ball State (5-5) built a nine-point, 52-43, lead on Brittany Carter's three-pointer with 9:17 remaining. It was the last field goal the Cardinals would make in the contest as they missed on their final seven attempts – only a 7-of-12 effort at the free throw line prevented a complete collapse the game's remainder.
Austin Peay (2-8) had plenty of opportunities in those final nine-plus minutes as it dominated every aspect of the game. The Lady Govs posted a 16-6 rebounding edge down the stretch, including eight offensive rebounds. However, Austin Peay could not find the bottom of the net making just four field goals in 15 tries and scoring four of its seven free throws.
The Lady Govs closed to within one point, 56-55, on Shyra Brown's layup with 2:41 left but could not covert on their next three possessions committing two turnovers and missing a jumper. Ball State made one of two free throws with 19 seconds remaining to extend its lead to two points. On the ensuing possession, Austin Peay lost control of the ball eight feet from the basket and fouled with 1.3 seconds remaining. Ball State's Mercedes Miller converted each of the free throws to seal the victory.
Austin Peay opened the game with two three pointers and led by seven points, 19-12, with 10:30 remaining in the opening period. But Ball State erased that lead with a 15-3 run over the next 5:44 to take a 27-22 lead at the 4:46 mark. The Cardinals would nurse that advantage to halftime and led 34-29 at the break.
Both teams had long scoring runs in the second half's opening minutes. APSU opened the period with an 8-2 run that lasted 3:49 to take a one-point, 37-36, lead. That lead stood for nearly two minutes before BSU's Brittany Carter hit a three-pointer at the 14:54 mark and ignited a 13-2 run over the next 3:18 that gave BSU its first double-digit lead, 49-39 with 13:38 left.
Senior Whitney Hanley led the Lady Govs with 22 points on 7-of-15 shooting and a 6-of-6 effort from the free-throw line.
Junior Leslie Martinez recorded her season's second double-double – a 10-point, 11-rebound performance.
Last Meeting With Belmont
Austin Peay Lady Govs vs. Belmont
November 25th, 2008
Clarksville, TN – Driving the length of the court in 4.8 seconds, sophomore Ashley Herring's lay-up proved decisive as Austin Peay stunned Belmont, 49-48, Tuesday night, at the Dunn Center.
Belmont believed Amber Rockwell's three-point field goal with 6.8 seconds remaining would allow them to escape with a win. However, after a Bruins timeout, Herring drove the length of the court with a defender hounding her and put up her shot with three defenders around her. The shot just cleared the rim and went down for the winning margin.
The late heroics by both teams livened up otherwise dull offensive performances by both squads. The two teams combined for one field goal – by APSU junior Nicole Jamen – in the game's opening six minutes. Belmont finally found pay dirt with Rachel Swishers three-point field goal with 13:54 remaining, ending a game-opening drought of 6:06 during which the Bruins committed six turnovers.
Austin Peay opened the second half without a field goal in the opening 3:17, as four turnovers hampered its offensive flow. Meanwhile, Belmont pushed its lead to eight points, 29-21, less than two minutes into the period, before its offense stalled, going six minutes without a field goal.
That allowed the Lady Govs to take their first lead of the half, 30-29, with 12:29 remaining. The two teams traded baskets for the next three minutes, before Austin Peay scored five straight points to take its largest lead of the game, 39-34 with 8:02 remaining.
Austin Peay would push its lead to seven points, 44-37, with 2:35 remaining but could not maintain that advantage as it made only one of its six free throws in the final two minutes. Belmont got a three-point field goal from Holliday to slash the lead to two points and, after a Thomas field goal, a Jessica Bobbit layup set up the game's final moments.
Herring finished with 16 points, eight rebounds and four steals. Thomas posted the Lady Govs first double-double with 13 points and 10 rebounds. Austin Peay won the rebounding battle, 37-25, including a 15-6 margin on the offensive glass.
Carrie Daniels Show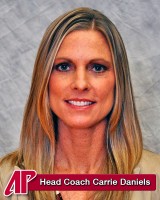 The Carrie Daniels Show airs at 6:00pm, each Wednesday, live from Edwards Steakhouse on Franklin Street in downtown Clarksville.
Hosted by Brian Rives for the fourth consecutive season, the show will air live on WVRY 105.1 FM and be simulcast over the internet at LetsGoPeay.com.
Next Game
Hustling And Bustling Before Christmas
Sunday's contest is the first of three in a four-day span for Austin Peay. The Lady Govs return to the Dunn Center for back-to-back games before Christmas. Austin Peay will host Florida A&M, of the Mid-Eastern Athletic Conference, in a 7:00pm, Tuesday contest.
The Lady Govs then close out the non-conference portion of their schedule with a 5:15pm, Wednesday contest against Alabama A&M, of the Southwestern Athletic Conference.