Austin Peay Lady Govs vs. Vanderbilt Commodores
Wednesday, November 28th, 2012 | 7:00pm (CT)
Nashville, TN | Memorial Gymnasium (14,326)

Clarksville, TN – Austin Peay women's basketball team concludes a three-game road trip when it meets Vanderbilt in a 7:00pm, Wednesday contest at Memorial Stadium.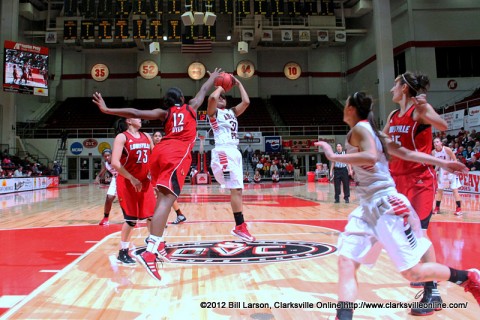 Both teams enter the contest amidst losing streaks, the Lady Govs lost both games at the UTSA Thanksgiving Classic, last weekend, to account for its current two-game losing streak while the Commodores lost a road outing and two games at the San Juan Shootout and bring a three-game losing streak back to Memorial Gym where they are unbeaten in two tries this season.
Austin Peay and Vanderbilt do share a common opponent this season – UAB. Austin Peay suffered a 72-54 opening-day loss at UAB while Vanderbilt posted a 69-54 home victory against the Blazers six days later.
Lady Govs Season To Date
Austin Peay's lone win this season has been sandwiched between a pair of two-game losing streaks, including its current losing stretch. The Lady Govs are shooting a respectable 39.1 percent from the field this season, but are allowing opponents to shoot a gaudy 49.5 percent.
Nine APSU players have played in all five contests and head coach Carrie Daniels has used the same starting lineup in each game. Austin Peay has won the turnover battle in its last three outings and now owns a plus-2.2 turnover margin.
The Lady Govs have not won a rebounding battle this season and suffer a minus-12 rebounding margin through five games. Seven players are averaging five points per game and the Lady Govs 64.0 points per game is only 2.6 points per game behind last season's pace.
Vanderbilt Commodores
Vanderbilt is amidst a three-game losing streak, but those losses have come at Dayton (6-0), and on a neutral court to both Virginia (4-1) and Florida State (5-0) – three teams receiving votes or ranked in this week's Top 25 polls.
The Commodores lost SEC Sixth-Woman of the Year winner Stephanie Holzer to a knee injury suffered in their exhibition contest. Vanderbilt has been trying to recover and has not topped the 70-point mark in their last five games, posting a 2-3 mark.
Junior guard Christina Foggie, who scored 25 points against APSU last season, is leading Vanderbilt with 15.7 points and 3.3 assists per game this season. Senior forward Tiffany Clarke, who grabbed a team-best 10 rebounds in last season's meeting, has grabbed a team-best 7.3 rebounds and is averaging 13.3 points per game.
An Austin Peay Win Would
Be its first road win this season, ending a four-game road losing streak that dates back to last season… snap a 13-game losing streak against Vanderbilt. Be its first win against the Commodores since December 10th, 1977. End a six-game losing streak at Memorial Gymnasium, dating back to December 3rd, 1976… improve Daniels' record to 74-120 overall. Make the Lady Govs 427-593 overall since 1976-77.
An Austin Peay Loss Would
Be its fifth consecutive road loss dating back to last season. Be its 14th consecutive loss to Vanderbilt, dropping it to 2-15 all-time against the Commodores. Be its seventh consecutive loss at Memorial Gymnasium… drop Daniels' record to 73-121 overall. Make the Lady Govs 426-594 overall since 1976-77.
Lady Govs Add St. Catharine To Schedule
Austin Peay women's basketball team has added St. Catharine College to its 2012-13 schedule in a game to be played at 4:00pm, Sunday, December 9th at the Dunn Center. The game replaces the December 15th contest against Christian Brothers which was cancelled due to a scheduling conflict.
Austin Peay season ticket holders who have a ticket for the December 15th contest may use that ticket for the December 9th game.
Freshman Trio Eating Up Minutes Early
The freshman trio of Tiasha Gray (19.2 mpg), Jennifer Nwokocha (15.0 mpg) and Alexis Hardaway (22.2 mpg) have found themselves heavily involved in the Lady Govs first five contests, combining for 282 of the team's 1000 minutes (28.2 percent).
Their inexperience has shown in the early going, as they have combined to score 78 points (5.2 ppg) and grab 39 rebounds (2.6 rpg).
Charity Stripe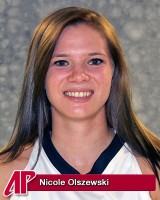 After opening the season making just 16 of its first 30 free throws (53.3 percent), Austin Peay has made a bee-line to the stripe in its last three outings and has made its opponents pay.
The Lady Govs have attempted at least 20 free throws in each of those three games and is 55-of-80 (68.8 percent) during that span. The burst has helped the Lady Govs push their season free-throw percentage to 64.5 percent, but still ranks 10th among OVC teams.
Head Coaches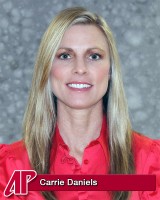 Austin Peay – Carrie Daniels (Austin Peay, 1996) is 73-120 (.378) in her seventh season as a head coach at Austin Peay.
Vanderbilt – Melanie Balcomb (Trenton State, 1984) is 241-96 (.715) in her 11th season at the school and 404-200 (.669) in her 20th season as a head coach.
Series
Vanderbilt leads, 14-2 (VU 6-1 in Nashville) | Streak: Vanderbilt, 13 wins | Daniels vs. VU: 0-2
Live Stats
www.VUCommodores.com | Live Audio: www.LetsGoPeay.com | ipTV: www.VUCommodores.com