Tennessee Titans (1-0) vs. Houston Texans (1-0)
Sunday, September 15th, 2013 | Noon CDT
Reliant Stadium | Houston, Texas | TV: CBS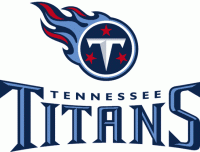 Nashville, TN – The Tennessee Titans (1-0) travel to Houston this week for a clash with the reigning AFC South Champion Houston Texans (1-0). Kickoff at Reliant Stadium (capacity 71,054) is scheduled for noon CDT on Sunday, September 15th.
This week's game will be televised regionally on CBS, including Nashville affiliate WTVF NewsChannel 5. Kevin Harlan will handle play-by-play duties while Solomon Wilcots provides analysis.
The Titans Radio Network, including Nashville flagship 104.5 The Zone, will broadcast the game across the Mid-South with the "Voice of the Titans" Mike Keith, analyst Frank Wycheck, sideline reporter Cody Allison and game day host Larry Stone.
Last Week At Pittsburgh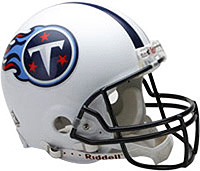 The Titans opened the regular season last week at Pittsburgh, where they rode a stubborn defense and a ball-control offense to a 16-9 victory over the Steelers.
After giving up a rare safety on the opening kickoff to fall behind 2-0, the Titans did not allow another Steelers point until less than two minutes remained in the fourth quarter. The Steelers did not cross midfield from the eight-minute mark in the first quarter until there were less than four minutes remaining in the game.
During that time, the Titans defense sacked Ben Roethlisberger five times, led by defensive tackle Jurrell Casey and linebacker Zach Brown with two each. Cornerback Alterraun Verner recorded an interception, and linebacker Moise Fokou notched a fumble recovery to help the Titans finish plus-two in turnover ratio.
Meanwhile, the Titans offense moved methodically, churning out 112 rushing yards on 42 carries. Chris Johnson led the unit with 25 rushing attempts for 70 yards, while Jackie Battle had eight carries for 21 yards, including Tennessee's only touchdown, a three-yard score in the second quarter.
Titans quarterback Jake Locker was asked to pass the ball only 20 times. His 11 completions resulted in 125 yards, and the third-year signal caller avoided throwing an interception against a defense that ranked first overall and first against the pass in the NFL in 2012.
The Texans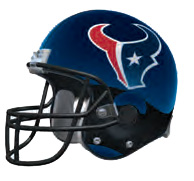 Led by Gary Kubiak, who enters his eighth season as head coach, the Texans are coming off their second consecutive AFC South title, and their 12 wins in 2012 set a new franchise record.
Last year's squad was ranked seventh in the NFL in total offense, eighth in rushing and 11th in passing. The group is spearheaded by quarterback Matt Schaub, in his sixth season with the Texans, topped 4,000 yards passing for the third time in his career and garnered his second career Pro Bowl selection.
Schaub's top targets once again include wide receiver Andre Johnson, who became the fifth active player and the third-fastest NFL player in history to reach 11,000 receiving yards (11,254) in 2012. Also, former University of Tennessee running back Arian Foster earned his third consecutive Pro Bowl appearance with 1,411 rushing yards and an NFL-best 15 rushing touchdowns in 2012.
Likewise, the Texans defense produced a seventh-overall ranking in the NFL in 2012. One of the unit's primary cogs is defensive end J.J. Watt, the 2012 Associated Press Defensive Player of the Year. Watt became the ninth player in NFL history to reach 20 sacks (20.5) in a season in 2012, and he added 16 passes defensed, the league record for the most in a season by a defensive lineman.
Titans-Texans Series At A Glance
Overall series (regular & postseason): Titans lead 14-8
Regular season series: Titans lead 14-8
Postseason series: None
Total points: Titans 472, Texans 471
Current streak: Two wins by Texans
Titans at home vs. Texans: 7-4
Titans on road vs. Texans: 7-4
Longest winning streak by Titans: 7 (2005-08)
Longest losing streak by Titans: 2 (2004, 2008-09, 2012)
Titans vs. Texans at LP Field: 7-4
Last time at LP Field: TEXANS 24 at Titans 10 (12/2/12)
Titans vs. Texans at Reliant Stadium: 7-4
Last time at Reliant Stadium: Titans 14 at TEXANS 38 (9/30/12)
First time: Texans 10 at TITANS 17 (11/10/02)
Mike Munchak's record vs. Texans: 1-3
Gary Kubiak's record vs. Titans: 6-8
Mike Munchak's record vs. Gary Kubiak: 1-3
A Titans Victory Would
Improve Mike Munchak's career record as a head coach to 17-17.
Give Jake Locker a 6-7 career record as a starting quarterback.
Give the Titans wins in their first two road games of the season for the first time since 2010 (at N.Y. Giants, at Dallas Cowboys) and two wins in the first two games of the season overall since 2008 (Jacksonville Jaguars, at Cincinnati Bengals). It would be the second time in franchise history the
Titans won back-to-back road games in Weeks 1 and 2 (1981).
What To Look For This Week
This week marks the first time since 1994 that the franchise has opened the season with two consecutive road games.
RB Chris Johnson can record the 34th 100-yard rushing game of his career.
RB Chris Johnson
needs 42 rushing yards to become the third player in franchise history to reach 7,000 career rushing yards, joining Eddie George (10,009) and Earl Campbell (8,574).
RB Chris Johnson needs two touchdowns to become the fourth player in franchise history with 50 touchdowns, joining Eddie George (74), Earl Campbell (73) and Charlie Hennigan (51).
RB Chris Johnson (8,633 combined net yards) needs 72 more combined net yards to pass Ernest Givins (8,704) for fourth place on the team's all-time list.
QB Jake Locker needs 157 passing yards to reach 3,000 for his career.
WR Nate Washington can extend his streak of consecutive games with at least one reception to 80 (66 games with the Titans).
Titans-Texans Series History
The Titans-Texans rivalry is in its 12th year since the expansion Texans began play and the AFC South was formed in 2002. In 22 games, the Titans are 14-8 against the Texans, including identical 7-4 marks at LP Field and Reliant Stadium.
The Texans took both games in 2012. On December 2nd, the teams squared off at LP Field, and despite 309 passing yards from Jake Locker and an advantage in total yards by the Titans (354 to 332), the Texans forced six turnovers to pull away with a 24-10 win. Locker was sacked six times, while Texans quarterback Matt Schaub was not sacked at all during a 21-of-35 performance with a pair of passing touchdowns.
The last time the Titans and Texans met in Houston was September 30th, 2012. Schaub passed for two touchdowns, and the Houston defense returned a pair of interceptions for touchdowns to defeat the Titans 38-14.
The Titans have separate winning streaks of four games and seven games in the series, the latter of which was ended at Reliant Stadium on December 14th, 2008.
The Titans franchise has a rich and storied history with the city of Houston. Under owner K.S. "Bud" Adams Jr., the Titans existed as the Houston Oilers from 1960-96. In Houston, the Oilers won the first two American Football League Championships and made a total of 15 playoff appearances.
Nine players that wore a Houston Oilers uniform are enshrined in the Pro Football Hall of Fame, including most recently former quarterback Warren Moon, defensive tackle Curley Culp and offensive lineman Bruce Matthews, who currently serves as Titans offensive line coach.
The team moved to Tennessee in 1997 and in 1999 adopted the "Titans" moniker. Adams still makes his home in Houston.
Titans-Texans: The Last Meeting
Houston Texans 24 at Tennessee Titans 10
Sunday, December 2nd, 2012
LP Field, Nashville, Tennessee
| | | | | | |
| --- | --- | --- | --- | --- | --- |
| | 1 | 2 | 3 | 4 | Final |
| Houston Texans | 14 | 7 | 3 | 0 | 24 |
| Tennessee Titans | 3 | 0 | 7 | 0 | 10 |
In Week 13 of the 2012 season, the Texans forced six turnovers and defeated the Titans 24-10 at LP Field. Houston picked up its sixth consecutive win, while Tennessee suffered a loss for the second consecutive week and for the fourth time in the last five weeks.
The Texans jumped out to an early lead and never allowed the Titans to substantially close the gap. They victimized Titans quarterback Jake Locker throughout the day, intercepting three passes and recovering two fumbles by the second-year signal caller, who was making his seventh career start. The Titans' one additional turnover came on a Chris Johnson fumble.
The Titans out gained the Texans 354 yards to 332, and in the second half, the Titans defense limited their opponents to 110 total yards and three points. Locker passed for 309 yards, completing 21 of 45 pass attempts.
Nevertheless, the Texans scored 10 points off turnovers, had another touchdown set up by their special teams, and did not commit a turnover themselves. They sacked Locker six times—the most sacks given up by the Titans since October 30th, 2005 against the Oakland Raiders. Their quarterback, Matt Schaub, was not sacked and was an efficient 21-of-35 for 207 yards and two touchdowns (95.8 rating).
It took little time for the Texans to jump out to an early lead. On their first drive, facing a third-and-eight, Schaub found wide receiver Lestar Jean for a 54-yard touchdown pass.
The Titans responded, moving 59 yards in seven plays. Johnson's 26-yard run set up a 37-yard field goal by Rob Bironas.
Late in the first quarter, the Texans got a 42-yard punt return from Keshawn Martin. After converting a fourth-and-one, they scored on a five yard touchdown pass from Schaub to fullback James Casey.
In the second quarter, the defense helped extend Houston's lead to 21-3. A pass from Locker was tipped by nose tackle Shaun Cody and then intercepted by linebacker Tim Dobbins at the Tennessee 10-yard line. Dobbins returned the ball to the three-yard line, and two plays later, running back Arian Foster scored on a two-yard run.
Midway through the third quarter, the Titans committed their fourth turnover of the game. On third-and-10, Locker rushed for 15 yards. However, before Locker was down, the ball was knocked loose by defensive end Antonio Smith and then recovered by linebacker Whitney Mercilus at the Tennessee 28-yard line. It resulted in a 50-yard field goal by Shayne Graham.
The Titans finally reached the end zone later in the third quarter.
Taking over at their own 20-yard line following a Texans punt, Locker found Kenny Britt for a six-yard pass, Jared Cook for a 12-yard gain and Kendall Wright for a 38-yard completion. A holding penalty sent them backwards to negate a long pass to Cook, but on the next play, Locker and Britt connected for a 34-yard touchdown.
Trailing by 14 points in the fourth quarter, the Titans had two drives into Houston territory. On both occasions, however, they failed to convert on fourth downs to prolong their chances of scoring. First, a 49-yard completion by Locker to Nate Washington helped get the Titans deep in scoring position. But on fourth-and-three from the seven-yard line, Locker was sacked and fumbled (recovered by Dobbins).
Then, on their next series, Locker and Washington connected again for 28 yards. But consecutive passes to Wright on third and fourth down fell incomplete, and on two separate possessions, the Texans were able to run out the majority of the game's final four-and-a-half minutes.