APSU Sports Information Office

Clarksville, TN – Austin Peay State University's 12 professional baseball players have largely enjoyed a successful 2014 campaign with their respective clubs.
As the season nears its midpoint, three Govs alumni have been named to their All-Star teams at the minor league level.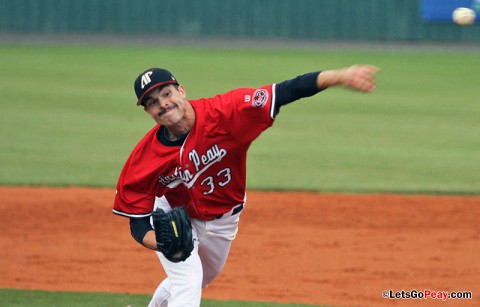 Infielder Jordan Hankins was the first selection, being named to the Midwest League All-Star Team. Pitcher Casey Delgado followed with his selection to the Frontier League All-Star Game. Finally, pitcher Jack Snodgrass earned a spot in the Eastern League All-Star Game.
Hankins, a member of the Chicago Cubs organization, began his season with Class A Kane County and batted .322 with 34 RBI in 50 games.
That effort saw him named to the Midwest League All-Star Game where he saw action off the bench. It was his last day in the Midwest League, as he was promoted to Advanced-A Daytona in the Florida State League where he has played his last 10 games.
Delgado, who is toiling in the independent Frontier League, has posted a 5-2 record and 2.35 earned-run average for the Traverse City Beach Bums.
He opened 2014 with three straight wins before suffering his first loss, which came in an 11-strikeout performance. Delgado was named to the East Division All-Star squad and will play in the Frontier League All-Star Game, July 16, at GCS Ballpark in Sauget, Illinois – outside St. Louis.
Snodgrass, a member of the San Francisco Giants organization, will make his second appearance in the Eastern League All-Star Game which will be held July 16 at Peoples Natural Gas Field in Altoona, Pennsylvania. He has an 8-2 record and 3.39 earned-run average with the Class AA Richmond Flying Squirrels and owns a franchise-record 20 career wins at Richmond.
In addition, Austin Peay continues to have three alumni listed on Major League 40-man rosters: A.J. Ellis, of the Los Angeles Dodgers, Shawn Kelley, of the New York Yankees and Matt Reynolds, of the Arizona Diamondbacks.
Ellis, the Dodgers's No. 1 catcher, has battled through an injury-plagued campaign and has played just 34 games in 2014. He has bounced back from a slow start and is batting .240 with a .394 on-base percentage as the season reaches the All-Star break. Ellis was behind the plate for Clayton Kershaw's no-hitter, June 18th, the first no-hitter he has caught during his six-plus years in the major leagues.
Kelley, a middle reliever for the Yankees, also has missed time due to back injury in 2014. He has made 27 appearances this season, posting a 1-2 record and 4.26 earned-run average while recording four saves in five opportunities. Kelley returned from his stint on the disabled list, June 12th, and has a 5.40 ERA and 15 strikeouts in 11 appearances since his return.
Reynolds, a reliever for the Diamondbacks, has not played in 2014 as he continues his recovery from Tommy John surgery last season. He is slated for a September return to the Diamondbacks and threw his first bullpen session June 10 in that effort.
Elsewhere in the minors…
Ryne Harper, who is in the Atlanta Braves organization, is the second Govs player at the Double A level (along with Snodgrass) and has played the entire season with the Mississippi Braves. The middle reliever has compiled a 6-3 record and 3.16 earned-run average in 32 appearances. Harper has recorded 65 strikeouts in 51.1 innings and has won his last three outings – each lasting more than two innings.
Tyler Rogers, who is in the San Francisco Giants organization, began the year at Class A Augusta where he needed just nine appearances to earn a promotion. He posted an impressive 1.02 earned-run average in those nine outings, striking out 11 in 17.2 innings. Rogers was promoted to Class A-Advanced San Jose where he has a 3-0 record and 2.70 ERA in 24 outings. He has struck out 38 batters in 36.2 innings at San Jose and now has moved four levels in less than two full seasons.
Lee Ridenhour, who is in the Philadelphia Phillies organization, has spent the first half of 2014 with the Class A-Advanced Clearwater Threshers. He has bounced back from a slow start to compile a 2-5 record with six saves and a 3.89 earned-run average in 27 appearances. In his last 10 outings, Ridenhour has five saves, a 1-1 record and 2.31 ERA.
Reed Harper, who is in the Atlanta Braves organization, began the season at Class A Rome where he played just six games before suffering a hand injury, April 13th. He missed more than two months due to the injury before being sent to a rehab assignment in the Gulf Coast League. In his July 3rd return to Rome, Harper batted in the leadoff spot as the designated hitter. He has three hits in the four games he has played since his return.
Craig Massoni, who is in the San Francisco Giants organization, did not see his season begin until the formation of the short-season Class A clubs in June. He began the campaign with the Salem-Kaiser club and batted .244 with 12 RBI in 21 games. Massoni was promoted to Class A Augusta, July 6th, where he has played three games.
Greg Bachman is enjoying a nomad's life with the Frontier League's Frontier Greys – a traveling team with no home field. He is batting .217 in his third professional season with 10 RBI (fourth-most on the club) in 36 games.