BenBella Publication Includes Songwriting Tips From Music City Elite; Available In Stores September 9th
Nashville, TN – A hit song resonates across generations, genders and backgrounds. These #1s become "our songs." They are the soundtrack to our lives. The songs themselves become timeless, and the stars who sing them become legends. Every song tells a story and, in his new book "Nashville Songwriter"
(The Inside Stories Behind Country Music's Greatest Hits), music biographer Jake Brown reveals these stories – and one of Music City's best-kept secrets. The book will be available September 9th from BenBella Books, at popular online retail outlets including Amazon and in major book retail chains nationwide including Barnes&Noble, IndieBound, !ndigo and Books-A-Million.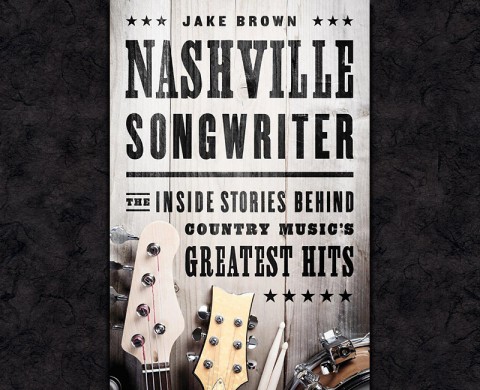 The book exposes the fact that the majority of hits were written or co-written by an elite club of Music City songwriters, 20 of whom are exclusively interviewed within its 300-plus pages.
Presented in one volume are the "stories behind" many of the most memorable songs of our lives.
Writers featured include Craig Wiseman, Dean Dillon, Bob DiPiero, Bill Anderson, Sonny Curtis, Tom Shapiro, Kelley Lovelace, Rivers Rutherford, Tom T. Hall, Wayne Carson, Chris Dubois, Dallas Davidson, David Lee Murphy, Freddy Powers, Jeff Silbar, Brett James, Ashley Gorley, Lee Thomas Miller and Neil Thrasher.
As a bonus, exclusive commentary from Country music superstars Willie Nelson, Merle Haggard and John Rich is included.
"Nashville Songwriter" features American classics like "Always On My Mind" (performed by Willie Nelson), "Jesus Take the Wheel," taken to the top by Carrie Underwood, and the Tim McGraw release, "Live Like You Were Dying."
Additional artists / titles explored are:
Kenny Chesney "The Good Stuff," "Living in Fast Forward," "Summertime," "Out Last Night," "When the Sun Goes Down," "There Goes My Life"
Brooks & Dunn "Ain't Nothing 'Bout You"
George Strait "Blue Clear Sky," "The Best Day," "Famous Last Words of a Fool," "I've Come to Expect It From You," "Ocean Front Property," "Give It Away," "Living and Living Well"
Rascal Flatts "Fast Cars and Freedom"
Lady Antebellum "We Owned the Night," "Just a Kiss"
Brad Paisley "Remind Me," "Then," "Ticks," "Online," "Whiskey Lullaby," "When I Get Where I'm Going," "Mud on the Tires"
George Jones
"Tennessee Whiskey"
Luke Bryan "Play It Again," "Crash My Party," "That's My Kinda Night"
Jason Aldean "Big Green Tractor"
In addition to these never-before-revealed stories behind the songs, aspiring songwriters will find countless gems of wisdom about the craft and career of songwriting itself.
A few samples from the book:
"To be successful in songwriting, you have to write because you love it, not because you're driven to get rich doing it."

– John Rich of Big & Rich
"When I hitchhiked down here when I was 18 years old, it wasn't because I thought I'd get rich off of it, it was because I loved it. As far as advice to the next generation of songwriters: write, write, write, write and write some more. I'll leave you with this: I can promise you that your 500th song will be better than your first one."

– Dean Dillon, 2013 BMI Icon Award winner
"When you write a lot, you do get better at it. You learn about yourself, you push yourself, you grow, and if you do it a lot, too – a lot of it is to just do it."

– Craig Wiseman, "Nashville Songwriter"s Association International 2009 "Songwriter of the Decade"
"A good title and a good melody and some honesty – there's your formula for a hit right there."

– Dallas Davidson, 2013 & 2012 ACM Songwriter of the Year
About Jake Brown
Award-winning Music biographer Jake Brown has written 35 published books since 2001, featuring many authorized collaborations with some of Rock's biggest artists, including 2013 Rock & Roll Hall of Fame inductees Heart (with Ann and Nancy Wilson), living guitar legend Joe Satriani, Heavy Metal pioneers Motorhead (with Lemmy Kilmister), late Hip Hop icon Tupac Shakur (with the estate), celebrated Rock drummer Kenny Aronoff, late Funk pioneer Rick James, superstar Country music anthology "Nashville Songwriter" (featuring interviews with Willie Nelson, Merle Haggard, etc.) and the all-star Rock producers anthology Behind the Boards, among many others.
Brown has also appeared as the featured biographer of record on Fuse TV's Live Through This series and Bloomberg TV's Game Changers series, and received national press in Rolling Stone Magazine, CBS News, The Hollywood Reporter, USA Today, MTV.com, Guitar World Magazine, Billboard, Huffington Post, Yahoo News, etc. In 2012, Brown won the Association for Recorded Sound Collections Awards in the category of Excellence in Historical Recorded Sound Research.