Tennessee (10-11, 3-5 SEC) vs. #20/#19 Kentucky (16-5, 6-2 SEC)
Tuesday, February 2nd, 2016 | 7:03pm ET/6:03pm CT
Knoxville, TN | Thompson-Boling Arena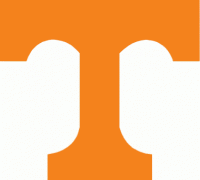 Knoxville, TN – For the 219th time, Tennessee meets Kentucky on the hardwood when the two programs square off at Thompson-Boling Arena on Tuesday night. Tipoff between the Vols and 20th-ranked Wildcats is set for 7:00pm ET/6:00pm CT and will be televised on ESPN as part of Super Tuesday.
Tennessee (10-11, 3-5 SEC) will be looking for its second win over a ranked opponent this season and its 68th win all-time against Kentucky — the most of any other collegiate program in the country. The Vols' all-time record against the Wildcats is 67-151, a mark that includes a 47-52 record in Knoxville. Twenty-one of Tennessee's 67 wins have come against a ranked UK squad.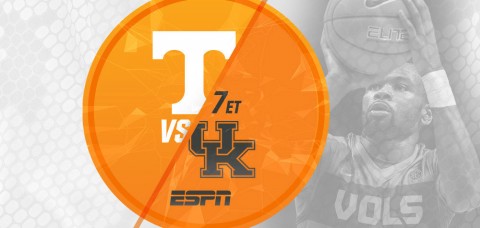 Senior guard
Kevin Punter
Jr. leads the Vols into Tuesday's meeting averaging 23.0 ppg — the second-best mark in the SEC.
He finished with 24 points in UT's loss at TCU on Saturday, giving him 15 games of 20-plus points this season. Robert Hubbs III follows Punter at 11.8 ppg and Armani Moore rounds out the Vols' double-digit scorers at 11.7 ppg.
Moore is also Tennessee's leader in rebounds at 8.0 rpg and assists at 3.95 apg. In conference games, Moore ranks inside the SEC's top 10 in four statistical categories: blocked shots (3rd, 2.1 bpg), steals (5th, 1.7 spg), rebounding (8th, 7.9 rpg), and assists (8th, 4.4 apg).
Kentucky (16-5, 6-2 SEC) saw its three-game winning streak snapped at No. 4 Kansas on Saturday during the Big 12/SEC Challenge. The Wildcats took the Jayhawks into overtime before falling 90-84 in the extra period. Sophomore guard Tyler Ulis led UK with 26 points and eight assists and freshman guard Jamal Murray added 15 points. For the season, UK is led by Murray's 17.4 ppg and Ulis' 16.1 ppg.
For the season, UK leads the SEC in field goal percentage at 47.4 percent. On the defensive side, UK is the league's top shot-blocking team, averaging 5.8 blocks per game. That figure ranks 10th in the country.
Tuesday's game pits the SEC's two winningest head coaches against one another. Tennessee coach Rick Barnes has 614 career victories to his name while Kentucky headman John Calipari has 609.
UT is back on the road this coming Saturday when it travels to Fayetteville to face Arkansas. That game is scheduled for an 8:00pm ET/7:00pm CT tip on the SEC Network.
With 23.0 ppg, Tennessee senior point guard Kevin Punter Jr. is the nation's ninth-leading scorer. He had a team-high 14 points against UK last season.
Tuesday's game features the two winningest active head coaches in the SEC (total wins). Rick Barnes has 614 Division I wins, and John Calipari has 609. Barnes (2) and Calipari (3) also are the only two college coaches to produce multiple 2016 NBA All-Stars—combining for five.
A Win Would
Give the Vols a 10-2 home record this season. Snap Tennessee's current two-game losing streak.
Give UT its second victory over a ranked opponent this season. Give Rick Barnes 95 career head coaching victories over teams ranked in the AP Top 25.
Mark the 18th time an unranked Tennessee team has beaten a ranked Kentucky team.
About the Kentucky Wildcats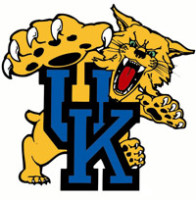 Kentucky is 16-5 (6-2 SEC) in its seventh season under coach John Calipari. Its RPI stands at No. 18. Kentucky is ranked No. 20 in the current AP Top-25 poll and is No. 19 in the coaches' poll. Kentucky ranks 12th nationally in blocked shots (5.8 bpg), 31st in rebound margin (+6.8), 39th in field-goal percentage (.474) and 41st in the country in scoring margin (+10.7).
Senior forward Alex Poythress is a native of Clarksville, Tennessee, and has three double-doubles on the season. Sophomore point guard Tyler Ulis needed just 17 games to reach the 100-assist mark this season, and he has scored at least 20 points in eight of UK's last 10 games. Ulis had 26 points and eight assists in Kentucky's overtime loss at fourth-ranked Kansas Saturday.
Freshman and leading scorer Jamal Murray has made at least one 3-pointer in every game this season.
Kentucky's roster features four former McDonald's All-Americans (Poythress, Ulis, Isaiah Briscoe and Marcus Lee).
Last Meeting with Kentucky
The undersized and undermanned Vols battled the top-ranked team in the nation before dropping a 66-48 decision in front of a sold-out Thompson-Boling Arena crowd Tuesday, February 17th, 2015.
Junior guard Kevin Punter Jr. led the Vols with 14 points, while senior guard Josh Richardson tallied 10. Kentucky was led by Devin Booker, who netted 18 points, despite shooting 5-of-16 from the floor and 2-of-9 from 3-point range. Andrew Harrison added 14 points for the Wildcats.
Tennessee's defense played havoc with Kentucky all night. The Wildcats shot just 41.5 percent from the floor, including 37.5 percent in the second half. UK made 5-of-22 3-pointers, 1-of-9 in the second half.
The Vols were within seven points for the game's first 31 minutes. They cut their deficit to four points on three different occasions midway through the second half, bringing the crowd to a fever pitch. Punter finished a layup off a baseball pass from Richardson with nine minutes left to bring the Vols to within 48-44.
Kentucky took firm control with a 10-0 run to take the first double-figure lead of the game with less than seven minutes to go on a Karl-Anthony Towns 3-point play. The layup, which was Towns' first shot attempt of the game, extended the Wildcats' lead to 55-44 with 6:54 left in the game. Trey Lyles' putback with five minutes put UK up 58-44.
Despite its size disadvantage, UT battled the Cats to a deadlock on the boards, 35-35.
Series Notes
The Kentucky series is UT's oldest and most-played among SEC opponents. The Vols and Wildcats first met on February 5th, 1910, and have clashed 218 times over the years.
Since the AP poll was established, an unranked UT team has beaten a ranked Kentucky team 17 times. No program in college basketball has logged more wins over Kentucky than Tennessee (67).
Kentucky is one of only three SEC schools (along with Alabama and Missouri) to lead its all-time series against the Volunteers. Four Tennessee All-Americans were Kentucky natives: Allan Houston, Chris Lofton, Danny Schultz and Paul "Lefty" Walther.
Rivalry Restored
SEC Tweaks "Permanent Opponent" Scheduling Structure
In May, the SEC announced a new scheduling model beginning in 2015-16 that features three permanent opponents. Tennessee's three permanent opponents are Kentucky, South Carolina and Vanderbilt.
The new scheduling format restores the historic Tennessee-Kentucky rivalry back to an annual home-and-home series. In 2013-14, Kentucky did not visit Knoxville for the first time since 1953.
And last season, the Vols did not play in Lexington for the first time since 1953. Prior to this season, Tennessee's only "permanent" (home/away) SEC opponent was in-state rival Vanderbilt.
Each SEC team now faces the other 13 teams at least one time during league play. They will then play their three permanent opponents a second time (essentially making the permanent opponents an annual home/away matchup), and the remaining two games will be scheduled on a rotating basis.
Big Orange Thorn in John Calipari's Side
Since UK coach John Calipari returned to the college game in 2000-01, Tennessee has dealt him six losses. No other program has more wins over Calipari-coached teams during that span.
Broadcast Information
TV | ESPN
Play by Play: Brad Nessler
Analyst: Sean Farnham
Reporter: Shannon Spake
Producer: Bo Garrett
---
Radio | Vol Network
Play by Play: Bob Kesling
Analyst: Bert Bertalkamp
Engineer: Tim Berry
---
Satellite Radio
Sirius: N/A
XM: Channel 190 (UT feed)
---
Online/Mobile
wwww.UTsports.com
Free audio stream only
www.WatchESPN.com
Free video stream