Nashville, TN – The National Hockey League brought their Fan Fair and All-Star Weekend to Nashville, Tennessee during the last four days of January. This city and league had been preparing for this much anticipated event for over fifteen months and expectations were high as the greatest show on ice descended on Music City.
"What an incredible setup, what an incredible beginning to All-Star Weekend," gushed NHL Commissioner Gary Bettman at the opening ceremonies on Thursday, January 28th, 2016. "The planning that the city of Nashville with the Predators and the local organizing committee and Bridgestone have done is nothing short of phenomenal. People are going to be thrilled to be part of this weekend."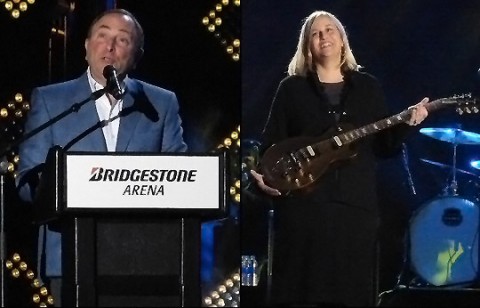 With the benefit of hindsight his words were prophetic as Nashville proceeded to deliver an unforgettable action-packed weekend that will go down in history as one of the greatest All-Star style events ever and one that will be studied by sports marketers and journalists alike for years to come.
Next up on the big stage emerged Mayor Megan Barry who made a point to thank former city boss Phil Bredesen for setting the ball – or puck – in motion by bringing the idea of a downtown arena to the city over two decades ago. The current mayor was soon joined by music legend Vince Gill who himself was named honorary mayor for the four days of the hockey hoe-down. Together, they proceeded to present Bettman with a shiny Gibson guitar before turning the stage over to the first of numerous musical stars that would shine during the weekend.
Country duo Big & Rich kicked off the festivities with the catchy "Comin' to Your City" flowing into a feisty "I Came to Git Down". Their one-hour set featured hits along with a number of new songs.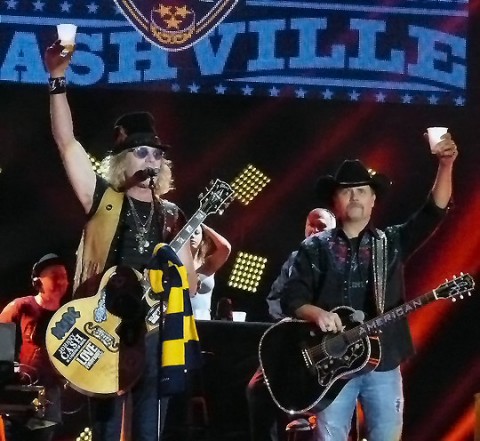 "It's one of the greatest things about country music that we always remember whose shoulders we're standing on," stated John Rich as he pointed to the Country Music Hall of Fame. They also paid their respects to the men and women in the armed forces. Big & Rich found a Vietnam Veteran in the crowd who also happen to be working security. They asked him to sit at the bar on stage as they dedicated "8th Of November" to those who serve and sacrifice. They shared that the song was based on a bartender telling them about his tour in Nam.
They toasted the military and freedom. This was the perfect time to ask for phone lights as everyone sang "God Bless America". Big & Rich welcomed Cowboy Troy a country rapper to sing on a number of tunes including the animated "Save A Horse (Ride A Cowboy)". Surprise guest Lee Greenwood joined them for a moving "God Bless the USA" that folks also sang along to.
From there we headed over to the Music City Center where Fan Fair was in full swing. Four days of music was also scheduled inside the convention center kicking off with local favorites Lonestar and LOCASH who both impressed with upbeat rockin' moments of music.
On Saturday, the viewing area in front of the Honda Stage was packed to capacity as stars from the hit ABC television show "Nashville" had their time to shine. Lennon and Maisy, Clare Bowen and Charles Esten each had a turn to showcase their talent during a two and a half hour concert that truly was a fan favorite.
Once inside the Music City Center fans were treated to a hall of hallowed hockey history and happenings. On display was the cherished Stanley Cup and other sought after hardware. Current and legendary players were available for autographs including the great New Jersey Devil and current NHL Network analyst Scott Stevens. The event was geared towards all ages with interactive games, various rinks with skill challenges, the Ultimate Fan Cave and many various vendors.
On Saturday, June 30th, 2016 we strolled out from Music City Center to the Winter Park set up on the village green just across from the Bridgestone Arena. Here was another set of free and premium activities was made available to the hockey aficionados.
There was an outdoor skating rink, a VIP club and several sessions of the National Hockey League's "Mascot Showdown" presented by EA Sports NHL 16. Twenty-six NHL Mascots including the Predators Gnash showed off their athletic "prowess" and hockey skills.
On the outdoor stage the winner of Nashville Star Season 4 Chris Young was performing and proved that his ascension to the top of the country charts was no fluke. His set was immediately followed by the gala and red carpet reception for the forty-four All-Star players who made their way into the arena for the evening's skills challenge.
Nashville served as a perfect host for an event as extensive and exciting as the NHL All-Star weekend. The close proximity of arena, exhibition hall and hotels along with all the restaurants and bars on Broadway made it easy for fans to transition from hockey to honky tonk in just a few short strides.
On Sunday, January 31st, 2016 the big show took place. The host team the Predators wanted to mix things up a bit so they lobbied for a change in the way the showcase game was played and they adopted a fast-paced three-on-three tournament and the result was thrilling – especially for one unlikely hockey hero.
It's true that many come to Nashville in the hopes of making their dreams comes true. For longtime NHL journeyman John Scott, what started as a nightmare for him unfolded as a true Music City Miracle. In short, the man was initially voted onto his squad as a joke by the fans. He was then traded to the minors only two weeks prior to the game. He felt unwanted and unsure if he should even attend the events.
But attend he did, along with his family and very pregnant wife. His team won the Million Dollar game and he was voted the game's MVP. The Honda mini-van that came with the prize couldn't have come at a more convenient time for the blue collar family man whose household is on the brink of expanding. Search for his story online. It's a great read.
It's true. Nashville has produced one more memorable and inspiring hit. This time it just happened in a rink and not a recording studio.