Nashville Sounds Baseball
Nashville, TN – The Nashville Sounds Baseball Club, in conjunction with the Oakland Athletics, has announced its tentative Opening Day roster. The Sounds begin the 40th anniversary season on Thursday when they open Pacific Coast League play in Round Rock, Texas.
Led by the 21-year-old number one prospect Franklin Barreto, the Sounds have nine players listed among Oakland's top prospects (according to Baseball America). The list includes INF Matt Chapman (No. 3), INF Chad Pinder (No. 7), RHP Daniel Gossett (No. 8), C Bruce Maxwell (No. 10), INF/OF Matt Olson (No. 17), INF/OF Renato Nuñez (No. 18), RHP Paul Blackburn (No. 23), and RHP Bobby Wahl (No. 26).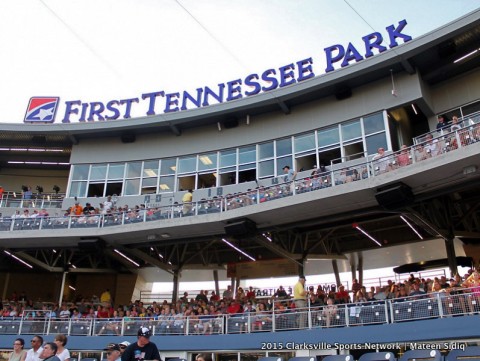 Sixteen of the 25 players on the tentative Opening Day roster spent time with the 2016 Sounds, who went a PCL-best 83-59.
Barreto was acquired in 2014 in the trade that sent All-Star Josh Donaldson to the Toronto Blue Jays. In 123 games in 2016, the Texas League mid-season and post-season All-Star hit .284 with 53 RBI, 65 runs, 40 extra-base hits and 30 stolen bases.
Chapman, 23, was drafted by the Athletics in the first round (25th overall) of the 2014 MLB First-Year Player Draft. The slick-fielding third baseman blasted 36 home runs in 2016 and was named Texas League Player of the Year.
Both Barreto and Chapman finished the 2016 season in Nashville after being called up from Double-A Midland in late August.
Pinder, 25, returns to Nashville after spending the majority of his 2016 season in Music City before being called up to Oakland. Drafted by the Athletics in the Competitive Balance Round of the 2013 MLB Draft, Pinder was a mid-season PCL All-Star last year.
Gossett, 24, was drafted by the Athletics in the second round of the 2014 MLB Draft. The right-hander went 10-6 with a 2.69 ERA in 27 starts between Double-A Midland and Nashville on his way to being named a MiLB.com organizational All-Star.
Maxwell, 26, began the season in Nashville and hit .321 with 41 RBI in 60 games before being called up by Oakland. The 2012 second round pick was named a 2016 MiLB.com organizational All-Star.
Olson, 23, and Nuñez, 23, spent the entire 2016 season with the Sounds and combined to drive in 135 runs while clubbing 54 doubles and 40 home runs.
Blackburn, 23, was acquired by the Athletics in an offseason trade with the Seattle Mariners. The right-hander went 9-5 with a 3.54 ERA in 26 games and was named a 2016 Southern League All-Star.
Wahl, 25, was drafted by the Athletics in the fifth round of the 2013 MLB First-Year Player Draft. The hard-throwing right-hander went 1-1 with a 2.65 ERA in 45 games across three levels in 2016. He finished the year in Nashville and led the Oakland farm system with 14 saves.
Lipscomb University alum Josh Smith will be a member of Nashville's bullpen. The right-hander attended Lipscomb from 2006-2010 and was named First Team Atlantic Sun Conference his senior year.
Other position players include Jaff Decker, Andrew Lambo, Ryan Lavarnway, Matt McBride, Chris Parmelee and Kenny Wilson. Lambo and McBride spent time with the Sounds in 2016, and all but Wilson have major league experience.
Aside from Gossett and Blackburn, other starting pitchers include right-handers Jesse Hahn, Zach Neal and César Valdez. Hahn and Neal pitched for Nashville during the 2016 season while Valdez went 12-1 with a 3.12 ERA with Triple-A Fresno.
Joining Wahl and Josh Smith in the bullpen will be right-handers Michael Brady, Simon Castro, Tucker Healy, Aaron Kurcz and Chris Smith. Left-hander Ross Detwiler is the lone southpaw on the roster.
Brady and Castro are new to the Athletics organization while Healy, Kurcz, Chris Smith and Detwiler all pitched for the Sounds in 2016.
Beginning the season on the disabled list is 2016 Sounds MVP Jaycob Brugman. Joining him are right-handed pitchers Tyler Sturdevant and J.B. Wendelken, and left-hander pitcher Felix Doubront. All four remain at the A's extended spring training camp in Mesa, Arizona to start the season.
The Sounds will be led by Manager Ryan Christenson who is in his first year managing at the Triple-A level after managing the Double-A Midland RockHounds to back-to-back Texas League titles in 2015 and 2016.
His coaching staff will consist of pitching coach Rick Rodriguez, hitting coach Eric Martins, athletic trainer Brad LaRosa and strength and conditioning coach Henry Torres. All except Torres were with the Sounds in 2016.
The 2017 season will be the Sounds' 40th in franchise history and their third as the Oakland Athletics' top affiliate. Opening Day is scheduled for Tuesday, April 11th as the Sounds host the Oklahoma City Dodgers at 6:35pm at First Tennessee Park.
Season ticket memberships are available now by calling 615.690.4487 or by visiting www.nashvillesounds.com