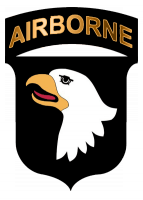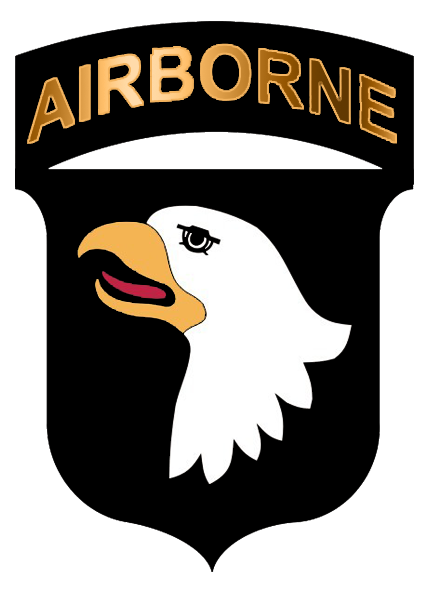 Fort Campbell, KY – Fort Campbell civilian employees, Soldiers, community leaders, Family members and friends filled the seats of Wilson Theater to witness Command Sgt. Maj. Jason W. Osborne's assumption of responsibility as the garrison senior enlisted adviser during a ceremony December 1st, 2017.
Colonel Joseph P. Kuchan, Fort Campbell garrison commander, led the ceremony by introducing Osborne to those in attendance.
"[Osborne] communicates well. He's a natural conversationalist. He quickly cuts to the essence of a matter and he underpins it all with standards and responsibility," Kuchan said. "These qualities will serve him exceptionally well as the garrison command sergeant major. This is the type of leadership and focus that we need right now."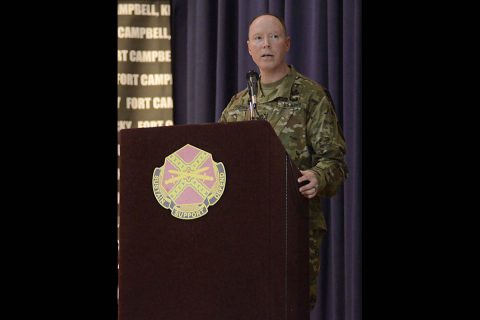 Osborne's Army career began 25 years ago. His first duty station was in Wuerzburg, Germany. After three years in Germany he was stationed at Fort Bragg, North Carolina. He also briefly served at Fort Polk, Louisiana before returning to Fort Bragg.
In 2011, Osborne was assigned to the 101st Airborne Division as the Information Operations sergeant major. While at Fort Campbell, he deployed to Afghanistan 2013-2014. While deployed he served as the division's military deception officer. Between Iraq and Afghanistan, Osborne has deployed eight times.
In 2014, Osborne returned to Fort Bragg to serve as the 9th Psychological Operations Battalion command sergeant major until 2016. He then served as the 5th Battalion, 1st Special Warfare Training Group command sergeant major until now.
Osborne said he and his wife, Donna, who both grew up in East Tennessee, are happy to return to Fort Campbell, especially because they are closer to their Family. Although he spent many years at Fort Bragg, he is a Screaming Eagle through and through, Osborne said.
"Fort Campbell is home," Osborne said. "The 101st Airborne Division made it home in my heart the first time I came out here in 2011. The local communities here – Hopkinsville and Clarksville – they took very good care of my Family during the time we were out here."
The installation holds a special place in Osborne's heart because his father, a Vietnam veteran, served his last year in the service at Fort Campbell.
During his tenure as the garrison command sergeant major, Osborne said he intends to focus on Soldier and Family issues, especially mission readiness. He wants to give Soldiers peace of mind while they are deployed by ensuring their Families are taken care of at home. This second line of effort strongly influences the lives of Soldiers and their readiness. "The best way to prepare Soldiers for their wartime mission is to ensure Soldiers are being taken care of on this end," he said.
Kuchan is confident Osborne will be successful in his new role, as mission readiness is imperative to the installation, he said.
"That's exactly what we need here now as we face an increasingly dangerous world where the Army is engaged in conflict in Iraq and Afghanistan, threats from Russia and China, and increasingly elevated threats from North Korea. Soldiers here at Fort Campbell are preparing for war every single day," Kuchan said. "The garrison must provide facilities and services to the Soldiers and their Families that allow them to focus on warfighting."
Osborne also plans to help operationalize the civilian workforce by streamlining efforts, he said, adding he will be a strong advocate for the civilian workforce.
"Learning the role of garrison command sergeant major is much different than leading an organization in a tactical operation," Osborne said. "People tell you there aren't any troops, however there is a large civilian counterpart. I think of [troops and civilians] in the same terms … how I would take care of [civilians] like I would a tactical unit."
Osborne said he appreciates the support he has received from the garrison, including Jonathan B. Hunter, deputy to the garrison commander. Thanks to them, Osborne's transition into the garrison command sergeant major position has been seamless, he said.
As the ceremony drew to a close, Osborne took a moment to acknowledge his children, Kelzie, 25, and Karson, 9.
"Thank you for always putting up with Dad and all of the adventures I go on," he said. Then he turned to his wife, and thanked her for her continuing support over the years.
"Every time I ask you to pick up one more rock and put it in your ruck, you do and you keep moving. I love you and thank you," he said.
For Osborne's complete biography including awards and decorations, visit www.campbell.army.mil/Installation/Pages/USAGCMDGRP.aspx
* Mari-Alice Jasper, Fort Campbell Courier staff, contributed to this news release.
Biography
CSM Jason W. Osborne
Garrison Command Sergeant Major
U.S Army Garrison, Fort Campbell, KY
Home of the 101st Airborne Division (Air Assault)
Command Sergeant Major Jason W. Osborne is a native of Rockwood, Tennessee. CSM Osborne entered the United States Army in July 1992 and attended basic training at Fort Leonard Wood, Mo. and Advanced Individual Training at Fort Sam Houston, Texas. He was then assigned to 67th Combat Support Hospital in Wuerzburg, Germany from 1992 until 1999. Follow on assignments included 32nd Medical Logistics Battalion, Fort. Bragg, North Carolina from 1996 until 1999.
In 1999 he reclassified his military occupational specialty as a Psychological Operations Specialist at Fort Bragg, N.C. Upon graduation he was assigned to the 9th Psychological Operations Battalion as a tactical PSYOP team leader until 2000 and then served as detachment sergeant until early 2002. He was then assigned to Headquarters Support Company, 9th Battalion, as assistant Operations NCO in the S-3 Air position until November 2002.
CSM Osborne was further assigned to the Special Operations Training Detachment, Joint Readiness Training Center as an Observer/Controller until 2005. He then served again as a tactical PSYOP Detachment NCOIC, 9th PSYOP Battalion, and was selected to serve as the First Sergeant of Bravo Company, 9th PSYOP Battalion until 2009. CSM Osborne served as the Operations Sergeant Major of the 3rd PSYOP Battalion until 2011.
In 2011 CSM Osborne was assigned to the 101st Airborne Division as the G-7 Information Operations Sergeant Major, and served as the Division's military deception officer while deployed in 2013. He then served as the 9th PSYOP Battalion command sergeant major from June 2014 until June 2016 followed by an assignment as the 5th Battalion, 1st Special Warfare Training Group command sergeant major.
In addition to completing NCO professional development training at every level, CSM Osborne's military education includes: Basic Airborne Course; Jumpmaster Course; Air Assault School; Air Movement Operations Course; Joint Firepower Course; Battle Staff; First Sergeants Course; Basic Instructor Course and Combat Lifesaver Course.
His awards and decorations include: the Bronze Star Medal (2 Oak Leaf Clusters); Defense Meritorious Service Medal; Meritorious Service Medal (4OLC); Army Commendation Medal (4OLC); Army Achievement Medal (3OLC); Joint Meritorious Unit Award (4OLC); Presidential Unit Citation; National Defense Service Medal; Global War on Terror Service Medal; Afghanistan Campaign Medal (3 Stars); Iraqi Campaign Medal (3 Stars); Humanitarian Service Medal (2nd Award); Army Good Conduct Medal (7th Award); Noncommissioned Officer Professional Development Ribbon (5); Army Service Ribbon; Overseas Service Ribbon; North Atlantic Treaty Organization Medal (2nd Award); Combat Action Badge; Expert Field Medical Badge; Master Parachutist Badge and the Air Assault Badge.
CSM Osborne is married and has two children.