#23 Tennessee vs. Texas A&M
Saturday, January 13th, 2018 | 5:00pm CT
Knoxville, TN | Thompson-Boling Arena | TV: SEC Network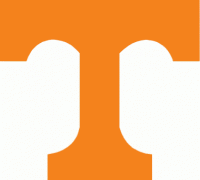 Knoxville, TN – The 23rd-ranked Tennessee Volunteers will look to extend their two-game winning streak Saturday with a victory over Texas A&M at Thompson-Boling Arena. The game will tip at 5:00pm CT and will be televised live on SEC Network and streamed online via WatchESPN.
After dropping its first two conference games, Tennessee (11-4, 2-2 SEC) used a second-half comeback to down No. 17 Kentucky last Saturday in front of a sold-out UT crowd. The Vols followed up that performance by going on the road and rallying from a 10-point halftime deficit to beat in-state rival Vanderbilt on Tuesday.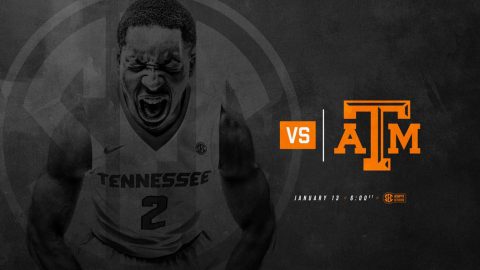 Grant Williams went off in the contest, dropping a career-high 37 points on 12-of-20 shooting from the field to go along with seven rebounds, three blocks and a pair of assists. It was the most points scored by a Vol since SEC Player of the Year Ron Slay posted 38 vs. New Mexico on January 4th, 2003.
Admiral Schofield has taken his game to another level recently, posting 20-point performances in back-to-back games for the first time in his career (20 vs. Kentucky, 22 at Vanderbilt). He's also been the team's leading rebounder in five of the last six games, averaging 8.3 rpg during the span.
The Aggies (11-5, 0-4 SEC) enter the contest on a four-game skid after starting the season 11-1, including wins over West Virginia at a neutral site and on the road at USC. Texas A&M was picked to finish third in the SEC for a reason, though, boasting a very experienced and talented roster, which has been banged up to begin SEC play. Center Tyler Davis has stepped up as A&M's top player, averaging 14.6 ppg on 61 percent shooting, 8.2 rpg, 1.6 apg and 1.4 bpg on the season.
After Saturday's showdown, the Vols then head to Missouri for a 8:00pm CT tip against the Tigers and former Tennessee head coach Cuonzo Martin. Tennessee stays on the road, heading to the other Columbia in the SEC to take on Frank Martin and the South Carolina Gamecocks at Colonial Life Arena on January 20th at 5:00pm CT.
The Series
Overall: UT leads, 6-5
In Knoxville: Series tied, 3-3
In College Station: Series tied, 2-2
Neutral Sites: UT leads, 1-0
Current Streak: UT has won one
Last Meeting: UT won, 73-63, in College Station, 12/29/16
Rick Barnes vs. Texas A&M: 26-8
Rick Barnes vs. Billy Kennedy : Barnes leads, 3-1
Right Now
In SEC games, Grant Williams leads the league with a scoring average of 22.3 ppg. Grant Williams' 37 points on Tuesday were the most by a Vol since Ron Slay scored 38 vs. New Mexico on January 4th, 2003.
The Vols are rated No. 15 in the NCAA RPI and own the nation's third-rated SOS, per ESPN. UT ranks 22nd nationally in offensive efficiency, per KenPom.
A Win Would
Give Rick Barnes 27 career wins over the Aggies. He's only beaten Texas Tech (33) and Baylor (30) more times.
Give the Vols their first three-game SEC win streak since last Jan. 21-31.
Give Tennessee a winning record in SEC play after starting 0-2 with losses at Arkansas and vs. Auburn.
About Texas A&M Aggies

Billy Kennedy and the Aggies (11-5, 0-4 SEC) were ranked as high as No. 5 two weeks ago, but a four-game skid to begin SEC play has Texas A&M in a tough spot heading into Knoxville this weekend.
The Aggies boast ranked wins over West Virginia at a neutral site and at USC from their non-conference slate. They also picked up wins over Penn State and Oklahoma State at the Legends Classic in Brooklyn, while their only other loss this season came against Arizona. In the last two games, Texas A&M lost by just one point, with LSU hitting a contested, NBA-range 3-pointer as time expired and a turnover in the final seconds costing them a win in Rupp Arena against Kentucky on Tuesday night.
A&M was picked to finish third in the SEC for a reason, boasting a very experienced and talented roster. Preseason first-team All-SEC selection Robert Williams (8.7 ppg, 9.8 rpg) struggled early in the season, missing five games already because injuries. However, the 6-10 forward has averaged 12.7 ppg and 9.0 rpg over his last three outings.
With Williams out, 6-10 center Tyler Davis stepped in as A&M's top player, averaging 14.6 ppg on 61 percent shooting, 8.2 rpg, 1.6 apg and 1.4 bpg. The preseason second-team All-SEC selection has also posted five double-doubles on the year while being the only Aggie to start every game.
Despite missing three game, small forward D.J. Hogg has been the best all-around player for Texas A&M, tallying 14.0 ppg, 6.5 rpg, 2.5 apg, 1.2 spg and 1.1 bpg in 32 minutes of action per game to earn him a spot on the Julius Erving Small Forward of the Year Award Watch List.
Admon Gilder (12.8 ppg) and Duane Wilson (12.1 ppg) round out the double-digit scorers for A&M on the season. Gilder missed nearly a month of action before returning to post 14 points against Kentucky, while Wilson has missed the last three contests because of injury.
Barnes Very Familiar with A&M
As a head coach, Rick Barnes has faced Texas A&M 34 times, compiling a 26-8 (.765) record.
His Texas teams went 23-7 vs. the Aggies from 1999-2015, and he also led Clemson to a 2-0 record against A&M in the mid-90s.
The only teams Barnes has faced more than the Aggies are Oklahoma (41 meetings), Oklahoma State (40), Baylor (39) and Texas Tech (37).
Last Meeting with Texas A&M
Tennessee had four players finish in double figures and Grant Williams tied the single-game school record for blocked shots as Tennessee earned a 73-63 win at Texas A&M in the SEC opener on December 29th, 2016.
Williams stuffed the stat sheet for the Vols with 12 points, five rebounds and six blocks. Those six swats matched the most ever recorded in a game by a Volunteer.
Lamonté Turner led Tennessee in scoring with 14 points on the night while Detrick Mostella finished with 13. Shembari Phillips chipped in with 10. Turner, Mostella and Phillips combined for 11 of UT's 16 assists on 23 made field goals. Mostella's four assists matched his career-high.
The two teams played to a 29-29 deadlock in the first half, but the Vols used a 20-5 second-half run to break the game open. UT would lead by as many as 20 late in the period as it handed Texas A&M its second home loss of the season.
Williams kick-started the decisive spurt, completing a three-point play to give the Vols a 37-34 advantage near the 13:30 mark in the second half. Phillips would add baskets on each of the next two possessions and the lead finally reached double digits when Robert Hubbs III got into the lane for two of his six points. Kyle Alexander added a one-handed slam while Mostella and Jordan Bowden each knocked down 3-pointers during the flurry, capped by Alexander's free throw that made the score 57-39 with 7:25 to play.
Tennessee forced 16 Texas A&M turnovers—the most committed by the Aggies in a game to that point in the season. And the Aggies' .344 shooting percentage also was their lowest up to that point.
Memorable Vol Performances against Texas A&M
In the longest game in Tennessee basketball history, the Vols posted an epic 93-85 four-overtime win at Texas A&M Feb. 23, 2013, in the first game between the teams as conference foes. Trae Golden tallied 32 points for the Vols, while Jarnell Stokes totaled 20 points and 16 rebounds, and Jordan McRae scored 23.
Tony White posted the highest points total by a Vol in the series when he scored 34 vs. the Aggies in an 88-70 UT home win on December 7th, 1985.
Herb Neff (13 pts, 14 rebs) and Charlie Hipsher (11 pts, 12 rebs) each logged double-doubles for Tennessee as the Vols downed Texas A&M 60-52 in the first-ever meeting between the programs on December 15th, 1951, in Knoxville
Houston native Brandon Crump averaged 16.0 points, 9.0 rebounds and 2.0 blocks in two career games against the Aggies. His three blocks against A&M during an 83-66 loss in College Station on December 4th, 2002, are the most by a Vol in the series.
Saturday Marks Barnes' 1,000th Game
Head coach Rick Barnes—who is in his third season at Tennessee but his 31st season as a Division I head coach—is approaching a milestone.
The Vols' game against Texas A&M Saturday will be Barnes' 1000th career game as a college head coach. His 646 wins rank eighth among active Division I head coaches.
Vols Remain in Top 25
Tennessee on December 4th made its first appearance in the AP top-25 poll since 2010—nearly seven full years. The Vols landed at No. 24 in that week's AP poll.
Prior to that week, the last time UT appeared in the top 25 was December 20th, 2010 (19th AP, 18th coaches).
Tennessee's best AP ranking this year was No. 19, on December 25th. This week, UT stands at No. 24 in the AP poll and No. 23 in the coaches poll.
UT in Rare Ranked Company
Tennessee is one of four schools whose men's and women's basketball teams are both ranked in the latest Associated Press top-25 poll.
The Vols are ranked 24th, and the (15-1) Lady Vols are ranked sixth under coach Holly Warlick.
Other schools with two ranked hoops squads (AP poll) are Duke, Florida State and West Virginia.