UT Athletics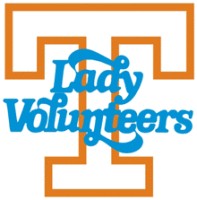 Knoxville, TN – The 2019 women's basketball schedule was announced by the Southeastern Conference office in Birmingham, AL, providing dates for Tennessee's league games this season.

SEC play will begin on Thursday, January 3rd, and run through Sunday, March 3rd. The schedule consists of a single round robin (10 games) and home and away with one permanent opponent (2 games) and two rotating opponents (4 games).

The conference's permanent opponents for women's basketball are Alabama-Auburn, Arkansas-Missouri, Florida-Georgia, Kentucky-South Carolina, LSU-Texas A&M, Ole Miss-Mississippi State, and Tennessee-Vanderbilt. UT's two rotating foes this season are Auburn and Missouri.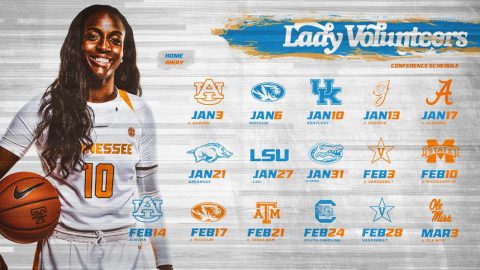 This marks the 10th year of the 16-game schedule for women's basketball and the seventh with 14 teams. Each team will play eight home games and eight away games.
During the week of January 20th-27th, SEC member institutions will participate in the eighth annual "We Back Pat" Week. The initiative is focused on bringing awareness and recognition to the Pat Summitt Foundation, a fund of East Tennessee Foundation, and its fight against Alzheimer's disease.
The regular season will be followed by the 2019 SEC Women's Basketball Tournament, which will be held for the third time at Bon Secours Wellness Arena in Greenville, SC. The tournament will include all 14 teams and begins on Wednesday, March 6th, and concludes with the championship game on Sunday, March 10th.
The women's basketball television schedule will be announced at a later date, as will tip times for all games.
The Lady Vols open SEC action at Auburn on January 3rd before welcoming Missouri to Thompson-Boling Arena on January 6th. The Tigers are rated No. 11 in Charlie Crème's ESPN.com Way-Too-Early Top 25.
In addition to Mizzou, Tennessee will face ranked SEC foes in a home game vs. No. 15 South Carolina (February 24th) and road contests at No. 8 Mississippi State (February 10th), No. 11 Missouri (February 17th), No. 13 Georgia (January 13th) and No. 22 Texas A&M (February 21st).
The remaining home schedule includes Kentucky (January 10th), Arkansas (January 21st), LSU (January 27th), Florida (January 31st), Auburn (February 14th) and Vanderbilt (February 28th). The Arkansas, LSU and Florida contests are in the midst of a four-game home stand that includes a non-conference tilt with defending NCAA champion Notre Dame on January 24th.
Other road trips include stops at unranked opponents Alabama (January 17th), Vanderbilt (February 3rd) and Ole Miss (March 3rd).
Tennessee released its non-conference slate on August 17th. The Lady Vols host Carson-Newman in an exhibition on November 5th followed by home bouts with Presbyterian (November 11th), UNC Asheville (November 14th), Florida A&M (November 18th), Stetson (December 5th), Stanford (December 18th), East Tennessee State (December 21st), Murray State (December 28th), Belmont (December 30th) and Notre Dame (January 24th).
The Lady Vols also have neutral-site, non-league games vs. Clemson and either Oklahoma or UAB at the Junkanoo Jam in Bimini, Bahamas, on November 22nd-24th and road contests at Oklahoma State (December 2nd, SEC/Big 12 Challenge) and at Texas (December 9th).
UT Lady VOL Schedule Notes
UT will open Southeastern Conference play on the road for the fourth time in Holly Warlick's seventh season as head coach.
The Lady Vols are 3-0 in SEC away openers under Warlick and 14-3 all-time.
Tennessee is slated to play nine regular-season games vs. teams ranked in Charlie Crème's espnW Way-Too-Early Preseason Top 25, including four at home.
Those games are vs. No. 1 Notre Dame, vs. No. 6 Stanford, at No. 8 Mississippi State, at No. 10 Texas, vs./at No. 11 Missouri, at No. 13 Georgia, vs. No. 15 South Carolina and at No. 22 Texas A&M.
The Lady Vols will play 17 regular-season games vs. teams that saw postseason action in 2017-18, including 14 at Thompson-Boling Arena.
UT plays two teams that made it to the 2018 NCAA Final Four, including NCAA champion Notre Dame and runner-up Mississippi State.
In addition to Notre Dame and Mississippi State making the NCAA Final Four, South Carolina was a 2018 Elite Eight team, while Stanford, Texas and Texas A&M advanced to the Sweet 16 round.
Other opponents (or potential foes) making the NCAA field in 2018 were Belmont (First Round), Georgia (Second Round), LSU (First Round), Missouri (First Round), Oklahoma (First Round) and Oklahoma State (Second Round).
Alabama (Quarterfinals), East Tennessee State (First Round) and UAB (Second Round) played in the WNIT last season, while Stetson (First Round) and UNC Asheville (First Round) made the WBI.
UT is playing Murray State, Presbyterian and UNC Asheville for the first time ever and is meeting Belmont for the initial time since 1979 (when Holly Warlick was a junior point guard for the Lady Vols). BU leads the series, 6-3.
The Lady Vols are making their third regular-season trip outside the U.S. during the Warlick era, with UT winning the Lucaya Division of the Junkanoo Jam in Freeport, Bahamas, in 2013-14, and the Riviera Division of the Cancun Challenge in Mexico during the 2017-18 season.
Tennessee will play Oklahoma State in Stillwater (December 2nd) for the first time.
The Lady Vols will host a lone exhibition game vs. Carson-Newman on November 5th.