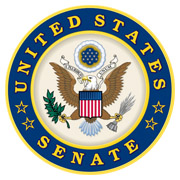 Washington, D.C. – Millions of rural Americans and their businesses are falling behind because they lack access to high speed internet. Earlier this year, I introduced the bipartisan Internet Exchange Act to offset the costs of establishing and maintaining broadband connections.
The legislation will provide a series of grants reserved exclusively for unserved rural areas. In a bid to gain my colleagues' support, I took to the Senate floor to discuss just how critical this legislation is for rural Americans.
To ensure the Beltway establishment heard my call to expand rural broadband, I also wrote an op-ed on the subject for the Washington Times.
Songwriters deserve to be compensated for their incredible creativity and talent; but currently, radio stations are allowed to circumvent the copyright system and not pay songwriters whose work they choose to spin on air.
The AM-FM Act will reward singers, songwriters, and musicians by modernizing existing copyright law to ensure these artists are fairly compensated when their music is played on the radio. As we say in Music City, it all begins with a song.
Months after the first protesters took to the streets, the world remains captivated by the grit and commitment to freedom displayed by the Hong Kong freedom fighters. My PROTECT Act passed Congress this week alongside Senator Marco Rubio's (R-Fla.) Hong Kong Human Rights and Democracy Act, which I co-sponsored.
It is my hope that the Senate's unanimous support for these measures sent a strong message to the rest of the world that the United States will play no part in communist China's attempt to quell peaceful protests and crush dissent. You can watch my speech on the Senate floor urging action here.
Most women will tell you they know of a female friend or acquaintance who has experienced the horrors of sexual assault or domestic violence. Through my work at shelters, the one thing I constantly hear is that victims need more than just moral support; they need an advocate.
The Violence Against Women Reauthorization Act of 2019 will increase funding for counselors, and support shelters and other safe havens. It also incorporates my legislation to make sure female genital mutilation can continue to be prosecuted as a federal crime.
he situation in Syria continues to destabilize. Reports that Turkey is using air and drone strikes against Kurdish ground forces are causing concern in the international community, and forcing our military to take a second look at the U.S.'s role in the region. I joined Senator Chris Van Hollen (D-Md) to address a gathering of the Washington Kurdish Institute, and reassured the crowd that ensuring the safety of our Kurdish partners remains a priority.
ICYMI: In the News
The House's impeachment hearings are nothing more than the culmination of a three-year, coordinated effort to remove a duly-elected President from office.

This week on Fox News, I gave an update on Adam Schiff's kangaroo court.

Violent Islamist terrorist groups run rampant in Africa, and our presence on the ground remains key to ensuring their influence is not allowed to spread.

After reflecting on my recent trip to visit our brave service members in the Horn of Africa, I wrote an op-ed in the Washington Examiner examining our efforts to combat terrorism.
Stay In Touch
As a reminder, you can reach any of my six offices in Tennessee to share a concern or request assistance with a federal agency. The phone number for my Washington D.C. office is 202.224.3344, the same number previously used by Senators Bob Corker and Bill Frist.
Be sure to follow my work on behalf of Tennesseans on social media:
Facebook: facebook.com/marshablackburn
Twitter: @MarshaBlackburn
Instagram: @MarshaBlackburn
My Best,
Marsha
Sections
Politics
Topics
Adam Schiff, Broadband, China, Hong Kong, Hong Kong China, Internet, Internet Exchange Act, Marsha Blackburn, U.S. Senator, United States, Washington D.C.