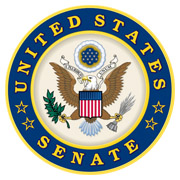 Washington, D.C. – At this week's Senate Judiciary hearing, I asked the FBI's Inspector General Michael Horowitz why the nation's most elite law enforcement abused its surveillance powers under FISA to spy on an American citizen who was a member of President Donald Trump's campaign. The report was the first look into the surveillance state at work.
Next, the Senate will look at an even bigger picture of what happened at the FBI, at other intelligence agencies, and around the world in a new report from U.S. Attorney John Durham, which has broader investigative authority.
A Year Focused On Tennesseans
Just last weekend, I heard from a gal who pleaded with me to keep Washington out of her life and pocketbook. While the mainstream media focuses on the latest, shiny story of the day, Tennesseans prioritize keeping their communities safe and defending their freedoms.
With that in mind, I spent my first year in the Senate working on the issues that matter most to my fellow Volunteers:
Supporting Our Troops
This week, Congress took a key step to fully funding our military next year.
The bill we crafted in the Senate Armed Services Committee funds key priorities like taking care of our troops and their families. It will help rebuild the military, provide our men and women in uniform their first raise since 2010, eliminate the "Widow's Tax," and provide much-needed oversight of the Privatized Military Housing Program.
Tennessee is proud to be home to multiple military bases. The sacrifices made by our military members can never be repaid, and it is essential that we provide them and their families with the support they need.
Next week, I'll vote to send this bill to President Trump's desk. Read more here.
Ensuring Freedom From China's Surveillance State
On my recent trip to Djibouti, in the Horn of Africa, I saw firsthand the influence of China's surveillance state. China claims that they've created a "smart city" in Djibouti City, but in reality, they've simply placed a camera on every street corner, sending 24-hour footage straight to Beijing.
Chinese companies are also creating smartphone apps like TikTok to trick our children into giving up sensitive information. On the Senate floor, I spoke of the importance of ensuring we protect our freedoms from Communist China.
Marsh's Round Up
Perjury. Leaking classified information. Lying to federal investigators. Intending to defraud the US government—these are all criminal charges that can be filed against the perpetrators of this awful surveillance state.
I will defend every American's right to live free from the fear of being snooped on. For more, watch my interview on
Fox News @ Night
with Shannon Bream.
It's always great to catch up with Tennesseans! This week we were blessed to meet with friends from all across the state — including over 40 students from Knoxville.
The application for the 2020-21 White House Fellowship is now open, click here for more information.
Stay In Touch
As a reminder, you can reach any of my six offices in Tennessee to share a concern or request assistance with a federal agency. The phone number for my Washington D.C. office is 202.224.3344, the same number previously used by Senators Bob Corker and Bill Frist.
Be sure to follow my work on behalf of Tennesseans on social media:
Facebook: facebook.com/marshablackburn
Twitter: @MarshaBlackburn
Instagram: @MarshaBlackburn
My Best,

Marsha