Austin Peay Lady Govs vs. Alabama A&M
Saturday, December 28th, 2012 | 3:00pm (CT)
Huntsville, AL | T.M. Elmore Gymnasium (6,000)

Clarksville, TN – Following an eight-day break for Christmas, Austin Peay women's basketball team returns to action with a 3:00pm, Saturday contest against Alabama A&M at Elmore Gymnasium.

It will be the final non-conference test for the Lady Govs, who are still seeking their first road win this season.

Austin Peay head coach Carrie Daniels also will be coaching her 200th career game. Alabama A&M enters the contest looking to end an eight-game losing streak dating back to its season-opening win against Division II Miles.

With the tip-off of Saturday's contest, head coach Carrie Daniels, who is in her seventh season, will become only the second  head coach to lead the Lady Govs in 200 contests. She joins former head coach Susie Gardner who coached 205 games during her seven-year career (1996-03).
Lady Govs Ledger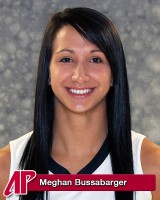 All of Austin Peay's four wins have come in the friendly confines of the Dunn Center (3-1) as it has not posted a win away from home this season (0-6)/ The Lady Govs haven't shot the ball well this season, making just 39.3 percent of their shots during the season, but have topped 40 percent six times.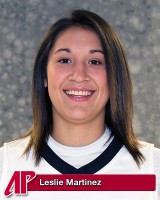 Rebounding also has been a concern in the early going, with the team racking up a minus-7.3 rebounding margin. Nine APSU players have played in every contest. Austin Peay has won the turnover battle in seven games and owns a plus-2.4 turnover margin.
Seven players are averaging five or more points per game, with two players averaging double figures (Meghan Bussabarger and Leslie Martinez at 11.5 and 10.5 points per game, respectively).
Bulldogs Bark
Alabama A&M brings an eight-game losing streak into Friday's contest. The Bulldogs won a season-opening contest against Division II Miles, November 9th. AAMU recently traveled to Las Vegas where they dropped three contests, opening with a loss to nationally-ranked Notre Dame before losses to host UNLV and Old Dominion.
The Bulldogs are 0-1 against OVC opponents this season, dropping a 69-54 decision at Murray State, December 16th. Junior forward Jasmine Sanders has been the team's leading scorer in four of the last five contests and is averaging 12.2 points per game during that span, bringing her season average up to a team-best 9.6 points per game.
Junior guard Alyssa Strickland (8.4 ppg) and senior center NaDra Robertson (8.3 ppg) are the team's next two leading scorers, Robertson also averaging a team best 7.4 rebounds per game.
An Austin Peay Win Would
Be its first back-to-back wins this season… be its first win away from the Dunn Center this season… end its six-game losing streak in true road games and seven-game losing streak away from the Dunn Center… make it 1-6 away from the Dunn Center… be its second straight win at Alabama A&M… be its fifth non-conference win, the most during the Daniels era… make it 4-2 in December… improve Daniels' record to 77-123 overall… make the Lady Govs 430-596 overall since 1976-77.
An Austin Peay Loss Would
Keep it winless away from the Dunn Center this season (0-7)… be its seventh straight loss in true road games and eighth straight loss away from Clarksville… be its second straight loss to Alabama A&M, leveling the series record at 2-2… make it 3-3 in December… drop Daniels' record to 76-124 overall… make the Lady Govs 429-597 overall since 1976-77.
Christmas Break Leftovers?
The first game following the Christmas holiday has been a tough one for the Lady Govs who are 2-4 in the previous six games that wrapped up the pre-Christmas schedule. Friday's contest will be the third straight road game following the Christmas break and they are 0-2 in the two previous affairs – falling at Pittsburgh in 2010-11 before dropping its conference opener at Tennessee State last season.
70 For The Win?
Austin Peay has breached the 70-point barrier four times this season, posting a 3-1 record in those contests. The Lady Govs lone loss came in an 88-76 loss to William & Mary while they posted wins against Ball State, Binghamton and St. Catharine.  Conversely, Austin Peay has been held below the 70-point mark five times this season and is win less in those contests.
Home Sweet To Lady Govs
The Lady Govs have enjoyed more success at home, winning four consecutive games and posting a 4-1 record this season at the Dunn Center. During the Daniels era, the Lady Govs are 43-41 (.512) at home with a winning mark in four of Daniels six previous seasons.
W's Sparse In Non-Conference Action
Austin Peay has found wins hard to come by in non-conference play during the Daniels era, posting a 16-60 (.211) record all time when stepping out of league play. The Lady Govs 3-7 record this season is one win shy of the best non-conference win total during the Daniels era (4-7 in 2008-09).
Previous Meeting Against Alabama A&M
Clarksville, TN – Austin Peay State University women's basketball team had few answers for a hot-shooting Alabama A&M squad in an 80-68 non-conference loss, Wednesday night at the Dunn Center.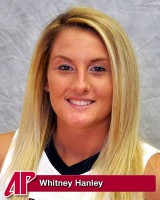 Austin Peay (3-10) got off to a hot start from the floor, making three threepointers, and led 9-6 at the 16:51 mark. Senior Whitney Hanley had the first and last three pointers in the group.

Alabama A&M (5-4) called a timeout after the third three-pointer and switched to a man-to-man defense. That change had the desired effect as the Lady Govs did not score for the next four minutes. The Bulldogs used that brief lapse to score seven straight points and lead 15-9 with 13:26 left.

The Bulldogs further extended their lead as the Lady Govs went the final 5:38 without making a shot. Alabama A&M closed the period with an 11-6 run and led by eight points, 37-29, at the break.

Austin Peay attempted to charge back in the second half for the third consecutive game. But as was the case in Tuesday's loss to Florida A&M, the Lady Govs were unable to complete the comeback and could not maintain their intensity on the defensive end of the court.

The Lady Govs closed within two points after junior Kaitlyn Hill made a pair of free throws at the 10:56 mark. But Austin Peay would get no closer as a 10-4 Alabama A&M run later in the half pushed the lead to double digits, 69-59, for the first time with 5:52 remaining and the Lady Govs would not recover.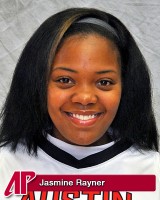 Senior Jasmine Rayner led the Lady Govs with 21 points, converting 11-of-12 from the free-throw line. Hanley added 18 points and her 4-of-4 effort at the free-throw line extended her consecutive free throws made streak to a school-record 25.
Whiquitta Tobar led all scorers with 26 points, making 11-of-12 at the free-throw line. Jasmine Sanders added 19 and NaDra Robertson chipped in 18. Alabama A&M finished the game making 49.1 percent (27-of-55) of its field goals.
Last Time Out
Austin Peay Defeats Lipscomb
December 21st, 2012
Clarksville, TN – Austin Peay State University women's basketball team led nearly wire-to-wire en route to a 69-42 non-conference win against Lipscomb, Friday night, at the Dunn Center.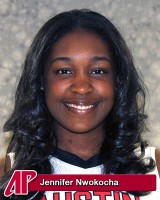 Austin Peay (4-7) trailed for only 18 seconds in the entire contest. Lipscomb grabbed its only lead, 20-19, after a pair of Mallory Charpentier free throws at the 6:05 mark capped a 7-0 run. The Lady Govs regained the lead, 21-20, at the 5:47 mark thanks to a pair of free throws by Jennifer Nwokocha.
Those free throws sparked an 11-0 Austin Peay run over the next three minutes. Senior Leslie Martinez and junior Nicole Olszewski chipped in three-pointers while freshman Amber Howard added a conventional three-point play. That run put the Lady Govs ahead 30-20 with 2:51 left and they would not look back, taking a 33-23 advantage into halftime.
Austin Peay put the game away with a 15-4 run in the second half – pushing the lead to 19 points, 52-33, with 11:12 left. The Lady Govs extended the lead to 26 points late in the game as freshman Tiasha Gray hit a three-pointer that gave APSU a 63-37 lead with 3:28 left.
Martinez led Austin Peay with a 12-point, eight-rebound, five-steal performance. Bussabarger added 11 points and Nicole Olszewski chipped in 10 points. Eleven Austin Peay players scored in the contest.
Lipscomb's Hannah Phillips led all scorers with 17 points.
Game Notes
Radio: WAPX 91.9 FM (Josh Stephenson, play-by-play, Ethan Schmidt, analysis)
Live Stats: www.AAMUSports.com
Live Audio: www.LetsGoPeay.com
ipTV: Not Available
Head Coaches: Austin Peay – Carrie Daniels (Austin Peay, 1996) is 76-123 (.382) in her seventh season as a head coach at Austin Peay. Alabama A&M – Altherias Warmley (UAB, 1991) is 110-128 (.462) in her 10th season at the school and as a head coach.
Series: APSU leads, 2-1 (APSU 1-0 in Huntsville) | Streak: AAMU, one win | Daniels vs. AAMU: 0-1
Carrie Daniels Show Airs Wednesdays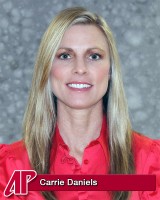 The Carrie Daniels Show airs at 6:00pm, each Wednesday, live from Edwards Steakhouse on Franklin Street in downtown Clarksville. Hosted by Brian Rives for the fifth consecutive season, the show will air live on WVRY 105.1 FM and be simulcast over the internet at www.LetsGoPeay.com.
Due to the holiday season the next broadcast will be January 9th.
Second Season Begins At Southeast Missouri
Austin Peay women's basketball team opens Ohio Valley Conference play against Southeast Missouri with a 2:00pm, Saturday, January 5th contest in Cape Girardeau, MO. The Lady Govs are 5-1 OVC openers under head coach Carrie Daniels, three of those wins coming against Southeast Missouri, including two at the Show Me Center.
Sections
Sports
Topics
Alabama A&M, APSU, APSU Athletics, APSU Dunn Center, APSU Sports, APSU's 91.9 WAPX-FM, Austin Peay State University, Ball State, Binghamton, Brian Rives, Bulldogs, Cape Girardeau MO, Carrie Daniels, Carrie Daniels Show, Christmas, Clarksville TN, Edward's Steakhouse, Ethan Schmidt, Franklin Street, Huntsville AL, Jasmine Rayner, Jennifer Nwokocha, Josh Stephenson, Kaitlyn Hill, Lady Govs, Leslie Martinez, Meghan Bussabarger, MILES, Murray State, Nicole Olszewski, Notre Dame, Ohio Valley Conference, Old Dominion, OVC, Pittsburgh, Show Me Center, Southeast Missouri, St. Catharine, Susie Gardner, Tennessee State, Tiasha Gray, UNLV, Whitney Hanley, William & Mary, WVRY 105.1 FM