APSU Sports: Austin Peay Baseball

Clarksville, TN – When Major League Baseball opening its regular season today, three Austin Peay State University baseball alumni will be on big-league rosters.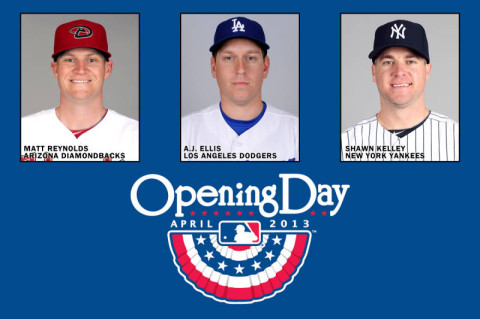 A.J. Ellis ('03) begins his second his season as the starting catcher for the Los Angeles Dodgers. In his first full season behind the plate, Ellis hit .270 with 13 home runs and 52 RBI in 133 games for the Dodgers in 2012.
He will catch Dodgers Opening Day starter Clayton Kershaw against the San Francisco Giants in a 3:00pm (CT) start on ESPN; Ellis and Kershaw have developed a rapport off the diamond as well, filming 'Between Two Palm Trees', a parody of comedian Zach Galifianakis' 'Between Two Ferns' episodes.
Shawn Kelley ('07) is now a New York Yankee. After spending his first four seasons with the Seattle Mariners, who drafted him in the 13th round of the 2007 Amateur Draft, Kelley signed a one-year deal to join the Yankees bullpen for 2013. A career 10-9 with a 3.52 ERA in 120 appearances, the Louisville native will be relied on to set-up Hall of Fame closer Mariano Rivera in New York. Kelley and the Yankees get underway at noon (CT) against the Boston Red Sox, also on ESPN.
Kelley's former teammate Matt Reynolds ('07) also joined a new team in the offseason, moving to Arizona after spending three seasons with the Colorado Rockies. Reynolds is 5-3 with a 3.93 ERA in 165 career appearances, pitching in more than 70 games in each of the last two seasons. The lefty is one of two southpaws in the Arizona bullpen. The Diamondbacks host St. Louis, 9:00pm (CT), on ESPN2.
Other Govs could be on big-league rosters before the season is over. George Sherrill ('99) is in the Kansas City Royals organization while he recovers from Tommy John surgery, while Ryne Harper ('11), brother of current Govs shortstop Reed Harper, is scheduled to start the season with Double-A Mississippi in the Braves organization.