Seacaucus, NJ – Four Austin Peay State University baseball student-athletes were selected, Saturday, on the third day of the Major League Baseball First-Year Draft.
Along with senior closer Tyler Rogers, who was picked in Friday's action, the five APSU players drafted this season is a program record.
Junior infielder
Jordan Hankins
began the day when he was picked by the Chicago Cubs in the 11th round (318th overall pick). He was followed by junior starting pitcher
Lee Ridenhour
who was nabbed by the Philadelphia Phillies in the 16th round (481st).
Senior second baseman Reed Harper will join his brother Ryne in the Atlanta Braves organization after being picked in the 25th round (763rd).  Junior first baseman Craig Massoni joined the group in the 34th round (1002nd) when he also was picked by the San Francisco Giants.
Jordan Hankins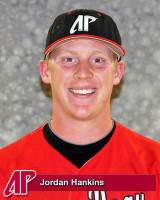 Hankins, of Wentzville, MO, has compiled 236 career hits in three seasons, the most by any Austin Peay player in their first three seasons.  This season, he posted a .352 batting average and was second on the team with 11 home runs.
However, Hankins earned a team-high 39 walks during the campaign and amassed a .452 on-base percentage. All of that despite a late season move from second to third base where he played the season's final 16 games. He was a two-time NCAA Regional all-tournament selection and a two-time first-team All-Ohio Valley Conference pick.
Lee Ridenhour
Ridenhour, of Lenexa, KS, was a junior college transfer who amassed an 8-1 record and 2.27 ERA in his first season at Austin Peay. He wrapped up his campaign with a victory against Valparaiso in the NCAA Tournament's Bloomington Regional last weekend.
He missed the regular season's final four weekend's to rest his throwing arm, but still was awarded first-team All-OVC honors after posting OVC wins against Jacksonville State, Tennessee Tech and Southeast Missouri.
Reed Harper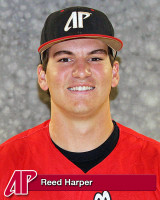 Harper, of Clarksville, TN, will leave Austin Peay as its all-time hits leader after amassing 286 hits. He proved himself an ironman as he did not miss a game during his four-year career, a streak of 237 games setting both the APSU and OVC records for games started and played.
This season, Harper concluded the season with a 15-game hit streak that pushed his average to a career-best .346 with 59 RBI and 14 stolen bases. A two-time first-team All-OVC selection (2011 and 2013), Harper was named the OVC Tournament's Most Valuable Player in 2013 after posting six hits and seven RBI in the tourney's three games.
Craig Massoni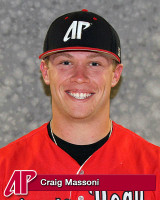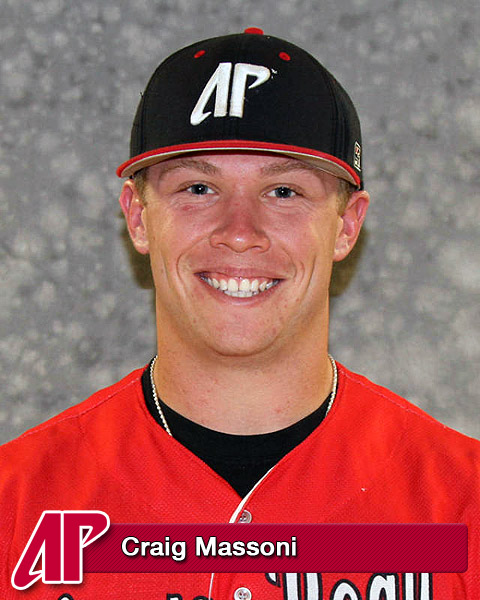 Massoni pieced together one of the finest season's in Austin Peay history.
The junior college product from Danville, CA, challenged for the OVC's Triple Crown down the stretch and became Austin Peay's first OVC Player of the Year honoree since 1996.
Massoni led the OVC in batting average (.385), home runs (16) and finished second in RBI (68), three off the leader's pace.
Massoni also led the league in slugging percentage (.661) and on-base percentage (.475).
---
The five players selected in the 2013 MLB Draft topped the mark of four set in the 2007 draft. That season, first baseman Jake Lane was selected along with pitchers Shawn Kelley, Matt Reynolds and Ben Wilshire.
Kelley and Reynolds began this season pitching in the major leagues with the New York Yankees and Arizona Diamondbacks, respectively.