Tampa, FL – Former Austin Peay State University coach Bill Schmitz has died at the age of 59. His death was confirmed Monday following an apparent suicide jump from the Sunshine Skyway Bridge in Tampa.
A longtime coach, Schmitz had a lengthy coaching resume that included stops at Cincinnati, Rice, Vanderbilt and Eastern Michigan before getting his first head coaching job with the United States Coast Guard Academy.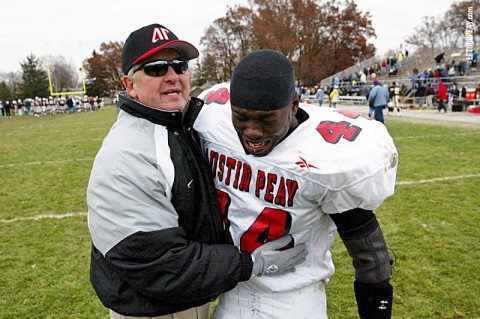 He left that position to take over as head coach at Austin Peay in 1997 when the Governors began their non-scholarship era. His similar non-scholarship background at the Coast Guard helped land him APSU's job. He ushered APSU into the Pioneer Football League in 2001. He remained as head coach until 2002.
The Governors were 19-46 in his tenure, including a first-year 0-10 season that saw the mostly non-scholarship Govs play against an Ohio Valley Conference-dominated schedule. He led the Govs to a 7-5 in his final season—APSU's first winning season since 1974.
Under the offensive-minded Schmitz, quarterback Brian Baker rewrote APSU's passing record book. In addition, running back Jay Bailey earned first-team Associated Press All-America honors in smashing APSU's single-season rushing record. The Governors also saw linebackers Justin Schrader and Dustin Wilson earn national honors under Schmitz as well as wide receiver Michael Farrell.
His post-Austin Peay career included positions as an offensive assistant at UAB and Penn, as well as high school stints at Jesuit High School and Land O' Lakes in Florida. Schmitz's most recent position with the school included coaching track and teaching history.
Schmitz is survived by his wife, Lynn, and two children, Allison and Matt, a head high school football coach in Kentucky. In fact, Matt Schmitz played quarterback for his father and directed the 7-5 2002 team. Also surviving is his brother Jim, who is the head baseball coach at Eastern Illinois.
"I am devastated about the news—it is just shocking," said APSU basketball coach Dave Loos, who served as Athletics Director during much of Schmitz's tenure. "He was the man the University chose to lead the football program from the scholarship era to non-scholarship and the PFL. I have always said that from a technical standpoint that Bill had one of the best offensive minds around—he really knew the offensive game.
"As we come to grips with this, our thoughts and prayers are with his family."