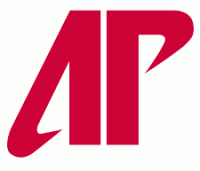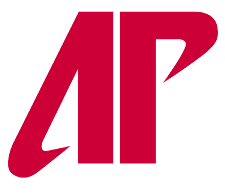 Atlanta, GA – James "Boots" Donnelly, the only coach to lead Austin Peay State University football to an Ohio Valley Conference championship was inducted into the 2013 National Football Foundation (NFF) Division College Hall of Fame, Wednesday night.
The enshrinement ceremony was held at Omni Hotel at CNN Center in Atlanta. It was the first time the event was held in Atlanta, the new home of the Hall of Fame.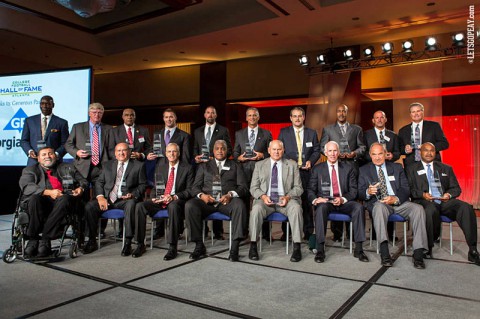 Joining Donnelly in being honored were 23 other college football legends: Charles Alexander (LSU), Otis Armstrong (Purdue), Steve Bartkowski (California), Hal Bedsole (Southern California), Dave Casper (Notre Dame), coach Frank Cignetti (West Virginia, Indiana [Pa.]), Ty Detmer (BYU), coach Jess Dow (Southern Connecticut State), coach Phillip Fulmer (Tennessee), coach Jimmy Johnson (Oklahoma State, Miami [FL]), Shelby Jordan (Washington University in St. Louis [MO]), Tommy Kramer (Rice), Joe Micchia (Westminster College [PA]), Art Monk (Syracuse), Greg Myers (Colorado State), Jonathan Ogden (UCLA), Gabe Rivera (Texas Tech), Art Shell (University of Maryland Eastern Shore), Mark Simoneau (Kansas State), coach R.C. Slocum (Texas A&M), Scott Thomas (Air Force), Jeff Wittman (Ithaca College [N.Y.]) and John Wooten (Colorado).
Donnelly was one of seven members of the NFF Division College Hall of Fame Class that includes the NCAA Football Championship Subdivision, Divisions II, III and National Association of Intercollegiate Athletics (NAIA).
Donnelly directed APSU to the 1977 OVC football championship during his two-year Governors stint before building his alma mater, Middle Tennessee, into a then 1-AA football powerhouse. He compiled a 154-94-1 (.620) career record, going 14-7 in two seasons (1977-78) at Austin Peay and 140-87-1 in 20 seasons (1979-98) at Middle Tennessee. He became the first NFF College Football Hall of Fame member at both schools.
He led Austin Peay to the 1977 Ohio Valley Conference title with a 6-1 league record, 8-3 overall that season. At his alma mater, MTSU, he led the Blue Raiders to nine Top 20 regular-season finishes, seven NCAA I-AA (now FCS) playoff appearances and a 31-game home winning streak from 1987-93. He won or shared the OVC title five times and is the only coach in OVC history to win a conference title at two different schools.
He later became athletics director at his alma mater.