Brenda Radford Reelected Trustee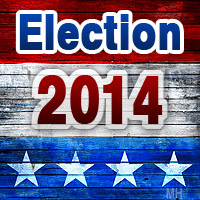 Montgomery County, TN – Clarksville-Montgomery County voting for the Tennessee State Primary and County general elections was light. Around 11,000 people early voted and on Election Day, Thursday, August 7th, only 8,105 came out to vote.
With 9480 votes, Jim Durrett was elected the new Montgomery County Mayor. Incumbent Carolyn Bowers had 7654 votes and Curt Mize came in at 2295.
In the highly contested Montgomery County Sheriff's race, John Fuson was elected with 11,020 votes. Tyler Barrett had 4,519 votes, with Bret Murray getting 1,809, while Dexter Mines had 1,612.
In the Trustee race, Brenda Radford was reelected with 9,799 votes. Her contender, Brandi Bryant gathered 8,848 votes. Erinne Hester was elected Assessor of Property with 10,617 votes. Tim Jarrett received 5,855.
Tim Barnes was elected Juvenile Court Judge with 12,331 votes with Merriel Bullock-Neal receiving 5,830.
For Register of Deeds, Connie Gunnett won with 12,421 votes. Joe Sweeten received 4,553.
Montgomery County Commission Results
Name
Votes
County Commission District 1
John Gannon
470
County Commission District 2
Charles Keene
1010
Ben Stanley
492
County Commission District 3
Ed Baggett
694
Scott Comperry
356
Layne Gebers
285
Greg Gilman
620
County Commission District 4
Mark Riggins
1217
County Commission District 5
Robert Gibbs Jr.
459
County Commission District 6
Dalton Harrison
592
Arnold Hodges
752
County Commission District 7
Brandon Butts
813
Robert Lewis
448
County Commission District 8
Ronald Sokol
218
County Commission District 9
John Genis
211
County Commission District 10
Martha Brockman
351
County Commission District 11
Joe Creek
404
County Commission District 12
Robert Nichols
290
Nick Robards
269
County Commission District 13
Audrey Mallory Tooley
261
Walker Woodruff
189
County Commission District 14
Sam Houston
268
Tommy Vallejos
462
County Commission District 15
David Harper
778
Robert Huffman
535
County Commission District 16
Loretta Bryant
239
Wallace Redd
384
County Commission District 17
Jason Hodges
329
County Commission District 18
Monroe Gildersleeve Jr.
325
County Commission District 19
Martha Brockman
351
County Commission District 20
Jerry Albert
1125
County Commission District 21
Larry Rocconi Jr.
1240
School Board Results
Name
Votes
School Board Member District 1
George Giles
1353
School Board Member District 3
Willie J. Freeman
964
School Board Member District 5
Jimmie M. Garland
983
Carmen Annette Gentry
663
School Board Member District 7
Josh Baggett
3999
Circuit Court Judge Results
Circuit Court Judge Part I District 19
Ross H. Hicks – Independent
Independent
23,890
Circuit Court Judge Part II District 19
Bill Goodman – Independent
Independent
16,058
Kate Dyer – Independent
Independent
10,156
Circuit Court Judge Part III District 19
John H. Gasaway – Independent
Independent
9,939
Ben Dean – Independent
Independent
9,457
Danny Brollier – Independent
Independent
8,635
Tennessee Governor Results
Republican Primary
Bill Haslam – Republican
565,497
Mark Coonrippy Brown – Republican
43,745
Donald Ray McFolin – Republican
22,755
Basil Marceaux, Sr. – Republican
13,014
Democratic Primary
Charles V. "Charlie" Brown – Democratic
94,149
Wm. H. "John" McKamey – Democratic
58,488
Kennedy Spellman Johnson – Democratic
55,264
Ron Noonan – Democratic
17,815
United States Senate Results
Republican Primary
Lamar Alexander – Republican
328,315
Joe Carr – Republican
269,021
George Shea Flinn – Republican
34,421
Christian Agnew – Republican
11,152
Brenda S. Lenard – Republican
7,834
John D. King – Republican
7,692
Erin Kent Magee – Republican
3,332
Democratic Primary
Gordon Ball – Democratic
87,041
Terry Adams – Democratic
85,009
Gary Gene Davis – Democratic
41,948
Larry Crim – Democratic
24,572
United States House of Representatives District 7 Results
Republican Primary
Marsha Blackburn – Republican
62,657
Jacob Brimm – Republican
11,884
Democratic Primary
Daniel Cramer – Democratic
19,327
Credo Comlan Amouzouvik – Democratic
4,617