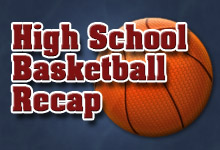 Clarksville, TN – The new year brings resolutions, colder weather and the second half of the local high school basketball season. Competition on the court intensifies as the teams primarily play district opponents.
The healthiest team who makes the fewest mistakes will be the regular season champion and have momentum for the post season tournaments.
Here is how the boys teams have performed so far.
Team Recaps
The Kenwood Knights (12-4) are charging back to the top of the district. They have only lost four games with a tough non-district schedule that included top ranked Creek Wood and Ensworth. They are on a five-game winning streak that includes a 63-53 win over the Northwest Vikings Tuesday night. The Knights are currently undefeated in district play with wins over the Clarksville High Wildcats, Henry County Patriots, Springfield Yellow Jackets and the West Creek Coyotes.

The Clarksville High Wildcats (6-8) have been up and down the first half of the season. They are below .500 and have been unable to put two wins together back-to-back so far. They had a rough holiday break with three losses in the Father Ryan Willie Brown Christmas Classic, but they broke up the losing streak with a win, 69-59, over the Coyotes Tuesday Night. Despite their inconsistency, the Wildcats are currently second in the district. They are one of four teams tied two games behind the Knights.

The Northeast Eagles (6-8) got off to a fast start winning six of their first nine games. However, the tide turned in mid December and the team has lost five straight games. Their most recent loss was to the Yellow Jackets, 46-61. It was one of only two losses in district play. Like the Wildcats, they are tied at 3-2 with three other teams.

The Northwest Vikings (9-8) have matured immensely since last season. After losing their first four games, they have won nine of their last 13. Four of those games have been decided by two points. They won five of six games over the holidays at three different tournaments. However, they lost to the Knights, 53-63, Tuesday night, their second straight loss. The Vikings are one of four teams sitting two games behind the Knights in the district.

The Springfield Yellow Jackets (9-7) are the last of four teams tied at 3-2 behind the Knights in district play. The Yellow Jackets have won five of their last six games and are currently on a four game winning streak. They have scored 60 points in those four wins. Their most recent win was against the Eagles, 61-46. They have district wins over the Hawks and the Coyotes as well.

The Henry County Patriots (5-7) are hoping to rebound from their first half of the season. They have only won two games since the beginning of December and are on a two-game losing streak. The Patriots have struggled offensively, scoring 50 or less points in seven of their games. They are .500 in district play above only the winless Hawks and Coyotes.

The Rossview Hawks (8-5) are three games above .500 and have won their last three games including two wins in their Christmas Classic. However, the Hawks have failed to win in district play. The Hawks are ranked among the top defenses in the state, but have scored more than 50 points only twice so far this season.

The West Creek Coyotes (3-14) have the talent to compete with anyone, but seem to find ways to lose games. They have yet to win against any district opponent. After a five-game losing streak, they have won two of their last five games. Their most recent win was against Hume Fogg, 58-54, in the Cougar Christmas Classic.

The Montgomery Central Indians (10-3) are a top contender in their district. They have lost only three games and are undefeated (6-0) in district play. After their only back-to-back losses, they started a two-game win streak with wins in the Tiger/Wildcat Classic during the holiday break. The only obstacle for the Indians are the top ranked Creek Wood Red Hawks.

The Clarksville Academy Cougars (4-9) have only one district win so far, a one-point victory against Nashville Christian. After losing two games in the Rebel Christmas Classic, they picked up just their fourth win of the season against Greenbrier, 62-41. Tuesday, they lost to Houston County, 56-67, and will need help to get out of the bottom of their district (1-4) if they continue to struggle.

District 10-AAA Standings:

Kenwood 5-0
Clarksville 3-2
Northeast 3-2
Northwest 3-2
Springfield 3-2
Henry County 2-2
Rossview 0-4
West Creek 0-5



About Marlon Scott
Marlon Scott is a freelance journalist and writer. He graduated from Austin Peay State University in 2011 with a B.S. in Communications, majoring in Communication Arts with a concentration in print and web journalism.

His writing career began as a sports writer for The All State, the APSU student newspaper, in 2006. He continued working for the paper until his graduation, serving in various positions including Sports Editor and Editor-in-Chief.

In 2010, Scott contributed stories and photographs as well as designed and served as Editor-in-Chief for the monograph, Civic Art of Clarksville: The stories behind the pieces.

Scott has also produced 60 stories for The Leaf Chronicle.

You can find him on twitter @theMarlonScott and on Facebook
Sections
Sports
Topics
Clarksville Academy, Clarksville Academy Basketball, Clarksville Academy Cougars, Clarksville Academy Cougars Basketball, Clarksville Academy High, Clarksville Academy High Basketball, Clarksville Academy High Cougars, Clarksville Academy High Cougars Basketball, Clarksville Academy High School, Clarksville Academy High School Basketball, Clarksville Academy High School Cougars, Clarksville Academy High School Cougars Basketball, Clarksville High, Clarksville High Basketball, Clarksville High School, Clarksville High School Basketball, Clarksville High School Northwest Vikings, Clarksville High School Wildcats, Clarksville High School Wildcats Basketball, Clarksville High Wildcats, Clarksville High Wildcats Basketball, Clarksville Northeast, Clarksville Northeast Eagles, Clarksville Northeast High Eagles Basketball, Clarksville Northeast High School, Clarksville Northeast High School Eagles, Clarksville Northeast High School Eagles Basketball, Clarksville Northwest High, Clarksville Northwest High School, Clarksville Northwest High School Vikings Basketball, Clarksville Northwest High Vikings, Clarksville Northwest High Vikings Basketball, Clarksville TN, Clarksville Wildcats Basketball, District 10-AAA, District 10-AAA Basketball, District 10-AAA Basketball Standings, Henry County, Henry County Basketball, Henry County High, Henry County High Basketball, Henry County High Patriots, Henry County High Patriots Basketball, Henry County High School, Henry County High School Basketball, Henry County High School Patriots, Henry County High School Patriots Basketball, Henry County Patriots, Henry County Patriots Basketball, Kenwood, Kenwood Basketball, Kenwood High, Kenwood High Basketball, Kenwood High Knights, Kenwood High Knights Basketball, Kenwood High School, Kenwood High School Basketball, Kenwood High School Knights, Kenwood High School Knights Basketball, Kenwood Knights, Kenwood Knights Basketball, Montgomery Central, Montgomery Central Basketball, Montgomery Central High, Montgomery Central High Basketball, Montgomery Central High Indians, Montgomery Central High Indians Basketball, Montgomery Central High School, Montgomery Central High School Basketball, Montgomery Central High School Indians, Montgomery Central High School Indians Basketball, Montgomery Central Indians, Montgomery Central Indians Basketball, Northeast, Northeast Eagles, Northeast Eagles Basketball, Northeast High, Northeast High Eagles, Northeast High Eagles Basketball, Northeast High School, Northeast High School Eagles, Northeast High School Eagles Basketball, Northwest, Northwest High, Northwest High School, Northwest High School Vikings Basketball, Northwest High Vikings, Northwest High Vikings Basketball, Northwest Vikings, Rossview, Rossview Basketball, Rossview Hawks, Rossview Hawks Basketball, Rossview High, Rossview High Basketball, Rossview High Hawks, Rossview High Hawks Basketball, Rossview High School, Rossview High School Basketball, Rossview High School Hawks, Rossview High School Hawks Basketball, Springfield, Springfield High, Springfield High School, Springfield High School Yellow Jackets, Springfield High School Yellow Jackets Basketball, Springfield High Yellow Jackets, Springfield High Yellow Jackets Basketball, Springfield Yellow Jackets, Springfield Yellow Jackets Basketball, West Creek, West Creek Basketball, West Creek Coyotes, West Creek Coyotes Basketball, West Creek High, West Creek High Coyotes, West Creek High Coyotes Basketball, West Creek High School, West Creek High School Coyotes, West Creek High School Coyotes Basketball