#8/8 Tennessee (6-1)  vs. Virginia Tech (6-1)
Sunday, December 6th, 2015 | 2:01pm ET (1:01pm CT)
Knoxville, TN | Thompson-Boling Arena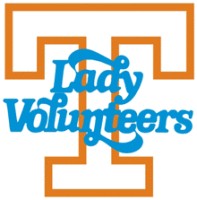 Knoxville, TN – The #8/8 Lady Vols (6-1) wrap up their eight-game home stand with a match-up against Virginia Tech (6-1) at Thompson-Boling Arena on Sunday. Tipoff is slated for 2:00pm ET (1:00pm CT), and the game will be broadcast live on SEC Network.
Cara Capuano (PxP) and Carolyn Peck (Analyst) will describe the action on the SEC Network/WatchESPN. Fans can hear the Lady Vol Network broadcast on stations across the state as well as via a live stream worldwide with Mickey Dearstone calling the action.
Tickets for the game can be purchased online via www.UTTIX.com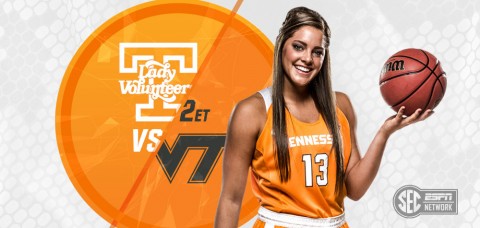 The #8/8 Lady Vols (6-1) host their eighth of eight-consecutive home games to open the season, as Virginia Tech (6-1) visits Thompson-Boling Arena at 2:01pm ET on Sunday. The Lady Vols will try to extend a spree of 44-straight home wins over unranked foes.
The Lady Vols will meet their second ACC foe of the season, as they previously defeated Syracuse on November 20th, 57-55. Tickets are available at www.UTTix.com
It will be SUNDAY FUNDAY. Visit the pre-game KIDS KORNER located on the concourse behind Section 117 at Gate F for free face painting, crafts, coloring, games and more fun. JR. VOLS DAY – Not a current Jr. Vol member? Register for the Jr. Vols Kids Club at jrvols.com & receive exclusive opportunities for Jr. Vol members only.
DJ and LVFL Cait McMahan will be on hand as the house DJ on Sunday.
Warlick, Elzy Cut Teeth In Blacksburg
Tennessee head coach Holly Warlick and associate head coach Kyra Elzy each had stints at Virginia Tech in their respective coaching journeys. Warlick spent two seasons in Blacksburg after getting her first coaching position as an assistant for Carol Alfano from 1981 to 1983.
Elzy, meanwhile, got her first basketball job as an administrative assistant on Bonnie Henrickson's staff at VT in 2001-02.
About The Tennessee Lady Vols
Despite several close games, Tennessee has a 14.3 scoring margin (70.4-56.1) through seven contests. UT's 85 points vs. East Tennessee State was the squad's most since hitting 102 in the season-opener vs. Central Arkansas. The 49 points the Lady Vols surrendered to ETSU were the fewest since allowing 47 to UCA in the 2015-16 lid-lifter.
Tennessee has four players scoring in double figures, including Diamond DeShields (14.1), Mercedes Russell (13.0), Te'a Cooper (12.1) and Bashaara Graves (11.8). Graves is the only player among that group who played for the the squad last season.
Five Lady Vols have double-figure assist totals this season, led by DeShields with 22. Four players have 12 or more steals, paced by DeShields with 18. Seven players are averaging 20 or more minutes per game, led by Russell at 32.4 minutes per contest.
UT played the East Tennessee State game with three injured players sitting out. Jaime Nared (broken left hand), Kortney Dunbar (sprained ankle) and Jasmine Jones (head injury) are listed as day-to-day. A fourth, Nia Moore, did not play. Moore's return from a rib injury continues to be slow.
Tennessee is averaging 9,623 in attendance through seven home dates.
About The Virginia Tech Hokies
Virginia Tech comes to Knoxville with a 6-1 record and a four-game winning streak after beating Penn State (3-4) in University Park, PA, on Thursday night, 64-59. The contest was part of the Big Ten/ACC Challenge. The Lady Vols faced Penn State in the second game of the season and triumphed, 74-66, on November 18th in Knoxville.
Vanessa Panousis scored 16 points, Hannah Young tossed in 13 and Chanette Hicks added 10 for Va. Tech vs. PSU on Thursday night. Panousis hit four free throws and Sidney Cook knocked down a pair of charity shots in the final 1:06 to seal the road win for the Hokies. A 5-foot-7 junior, Panousis leads VT in scoring at 12.4 per game, followed by 5-6 freshman guard Chanette Hicks at 10.1.
Like Tennessee, Virginia Tech has nine players scoring more than three points per contest. VT averages eight three-pointers per game, led by Panousis, who is 23-of-52 (.442) this season. Young is 18-of-46 (.391).
The Hokies are coached by Dennis Wolff, who is 49-80 in his fifth year in Blacksburg and 326-295 overall in his 22nd year of coaching.
Series Notes
Tennessee holds a 7-0 advantage in the all-time series with Virginia Tech.
These programs are meeting for the first time since March 20th, 1999, when #2/2 UT claimed a 68-52 victory over the #13/15 Hokies.
That win came in the NCAA East Regional semifinal in Greensboro, NC, with Chamique Holdsclaw (27) and Tamika Catchings (15) combining for 42 points in that contest.
The Lady Vols are 3-0 vs. the Hokies in Knoxville, last playing Va. Tech at Thompson-Boling on Jan. 20, 1994.
A #1/1 UT squad won that game, 88-51, over unranked VT.
Tennessee has held Virginia Tech to 55 or fewer points in six of the the seven games these teams have played.
The Lady Vols, meanwhile, have scored between 64 and 68 in three of the past four encounters.
UT, though, has averaged 82 points in its three home games vs. VT.
Tennessee is 108-22 vs. ACC schools through the Syracuse game on November 20th.
Broadcast Information
TV/Online – SEC Network
Play by Play: Cara Capuano
Analyst: Carolyn Peck
Producer: Andrew Green
Radio – Lady Vol Network
Play by Play: Mickey Dearstone
Online/Mobile
www.UTsports.com
Free audio stream only
www.WatchESPN.com
Free video stream to registered cable subscribers