Tennessee Lady Vols (13-7/4-3 SEC) vs. #5/4 South Carolina Gamecocks (18-1/8-0 SEC)
Monday, January 30th, 2017 | 5:02pm CT
Columbia, SC | Colonial Life Arena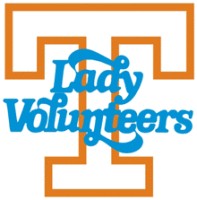 Columbia, SC – Tennessee hits the road for the second consecutive game on Monday night in search of its third win over a top-10 team the season, as the Lady Vols face #5/4 South Carolina at Colonial Life Arena.
The game tips off at 5:02pm CT and will be televised on ESPN2. It will also be available online through WatchESPN. Visit WatchESPN.com or download the WatchESPN app to view the game on a computer or mobile device. Dave O'Brien (PxP) and Doris Burke (Analyst) will describe the action between the Lady Vols and the Gamecocks.
Fans can also tune into their local Lady Vol Network station to catch Mickey Dearstone describing the action.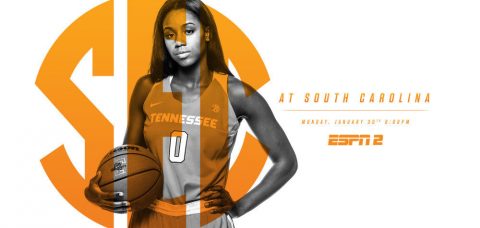 RV/RV Tennessee vs. #5/4 South Carolina
#RV/RV Tennessee (13-7, 4-3 SEC) heads to the Palmetto State for a "Big Monday" showdown after securing a key league road victory at Florida on Thursday night, 84-75.
The Lady Vols will face a #5/4 South Carolina squad (18-1, 8-0 SEC) that has run off 12 straight wins since falling at Duke, 74-63, on December 4th.
The Gamecocks' latest win in that streak came at Georgia on Thursday night, as USC hammered out a 62-44 victory in Athens.
Tip-off for the 54th meeting between these programs is slated for 5:02pm CT on Monday in Colonial Life Arena in Columbia. ESPN2 will have the telecast.
The match-up will pit a Tennessee squad that now is 4-5 on the road this season vs. a USC unit that has compiled a 10-0 mark in Columbia in 2016-17.
South Carolina has won its last 15 games at home and has streaks of 24 straight SEC regular season wins, 30 SEC home victories in a row and 30 consecutive victories vs. league foes, including SEC regular season and SEC tourney action.
Tennessee enters having won three of its last four games, including home victories over #6/6 Notre Dame (71-69) and Vanderbilt (91-63) as well as a road triumph over Florida (84-75).
The win at Florida halted a two-game road losing streak (Ole Miss, Auburn) in league play.
UT is in the midst of a stretch where it plays three of four games on the road before closing with four of its final six regular season games at home.
Broadcast Information
Dave O'Brien (PxP) and Doris Burke (Analyst) will describe the action for the Tennessee-South Carolina broadcast on ESPN2. The match-up is part of the network's Big Monday presented by eBay coverage.
All of the games included in the SEC Network (SEC Network, SECN+) package and the ESPN package (ESPN, ESPN2, ESPNU) will be available through WatchESPN, accessible online at WatchESPN.com, on smartphones and tablets via the WatchESPN app, and streamed on televisions through Amazon Fire TV, Apple TV, Chromecast, Roku, Xbox 360 or Xbox One to fans who receive their video subscriptions from affiliated providers.
Mickey Dearstone will handle the call for the IMG College/Lady Vol Network radio/online broadcast. Airtime is 30 minutes prior to tip-off on network stations.
Tennessee In SEC Play
UT is 371-61 in SEC regular-season games, winning 18 championships through the years and capturing SEC tourney titles on 17 occasions.
During the Holly Warlick era, Tennessee is 54-17 in league games, making Warlick the top-ranked active SEC coach in terms of winning percentage in league play at .761.
South Carolina's Dawn Staley is the next coach behind Warlick at .679, followed by UK's Matthew Mitchell at .653.
In only her fifth year as a head coach, Warlick already ranks fifth in total league wins among active SEC coaches and has won regular season titles in 2013 and 2015, and a tourney crown in 2014.
Sizing Up The Lady Vols
Tennessee ranks #15 in the most recent NCAA Women's Basketball RPI.
The Lady Vols stand #3 in the latest NCAA Toughest Schedule Report.
UT is receiving votes in both the AP (30th) and USA Today Coaches (30th) Polls.
The NCAA Division I Women's Basketball Championship Sport Committee revealed its first of three top-16 rankings in seed order on Jan. 23.
While UT is not among the 16 teams, it has beaten #7 Notre Dame (71-69), #12 Stanford (59-51) and #15 Kentucky (72-65). UT lost to #2 Baylor (88-66), #4 Mississippi State (74-64) and #10 Texas (72-67).
The latest edition of Charlie Creme's Bracketology has the Lady Vols in Seattle as a No. 7 seed facing #10 seed Creighton in the first round of the NCAA Lexington Regional.
UT has played more ranked teams than any other SEC school (6) and has the second most wins over ranked teams (3) and second most over top-10 teams (2) in the league.
South Carolina is 5-0 vs. ranked teams, while UT is 3-3, Kentucky is 2-2, Texas A&M is 2-0 and Mississippi State is 1-1. USC is 4-0 vs. top-10 teams, while UT is 2-2.
The Series vs. South Carolina
UT enters Monday's contest with a 47-6 advantage in the series, including 19-2 in Columbia, 21-2 in Knoxville and 7-2 at neutral sites.
South Carolina has won the last three meetings, including twice in 2014-15.
Tennessee is 5-2 vs. USC during the postseason and is 1-0 in overtime, taking a 79-73 extra-frame decision over the Gamecocks in the Palmetto State on February 15th, 1996.
For the fifth-consecutive game, South Carolina will enter as the higher ranked team.
Holly Warlick is 2-3 vs. the Gamecocks since taking over as head coach at UT prior to the 2012-13 season.
Warlick suffered her first loss to Dawn Staley and company on February 23rd, 2015, when USC prevailed, 71-66, in Columbia.
Three seasons ago, #10/9 Tennessee and #4/5 South Carolina met in the regular season finale in Knoxville, and the Lady Vols rolled to a 73-61 win on Senior Day for Meighan Simmons.
After defeating South Carolina, the regular season SEC champs at 14-2, the 13-3 Lady Vols went on to claim the 2014 SEC Tournament title in Duluth, GA.
Warlick picked up the first SEC victory of her head coaching career in Columbia on January 3rd, 2013, as her #12/13 Lady Vols went into Colonial Life Arena and took down #18/15 USC, 73-53.
The Lady Vols went 1-1 vs. South Carolina in 2011-12, suffering their first loss to the Gamecocks since Jan. 23, 1980 (56-52 in Columbia), when UT head coach Holly Warlick was a senior point guard for the Big Orange.
Warlick's 1979-80 UT squad bounced back to win two follow-up games vs. USC that season, and she finished her playing career 4-1 vs. the team from the Palmetto State.
Tennessee lost to South Carolina, 64-60, on Feb. 2, 2012, in Knoxville, but rebounded to defeat USC in the 2012 SEC Tournament semifinals in Nashville, 74-58, en route to its 16th SEC postseason championship.
Until the 2011-12 setback, Tennessee had won 40-straight in the series.
About the South Carolina Gamecocks
South Carolina is led by the inside duo of 6-5 junior A'ja Wilson (16.9 ppg., 7.6 rpg.) and 6-4 senior Alaina Coates (13.7 ppg., 11.1 rpg.).
That duo gets help on the outside from big guards 6-0 Allisha Gray (13.6 ppg.) and 6-2 Kaela Davis (12.4), who transferred from North Carolina and Georgia Tech, respectively.
Davis (35) and Gray (24) lead the team in three-pointers made, while point guard Bianca Cuevas-Moore is next at 21.
The Gamecocks shoot .460 as a team and out-rebound opponents by 9.2 per game.
South Carolina's closest SEC games thus far have been three-point wins over Georgia (66-63) and Mississippi State (64-61), both at home.
Head coach Dawn Staley is in her ninth year in Columbia and sports at 206-77 record. She is 378-157 in her 17th year as a head coach.
South Carolina won at Texas (76-67), a team Tennessee lost to in December, 72-67, in Austin.
The Ties That Bind
South Carolina assistant coach Nikki McCray-Penson played at Tennessee from 1991-95. The two-time U.S. Olympic gold medalist, WBCA All-American and SEC Player of the Year has been at USC since May 2008.
In 1990, Staley and her Virginia team knocked off the Lady Vols in the NCAA Elite Eight (79-75 in OT) to prevent Tennessee from playing in a Final Four on its home court at Thompson-Boling Arena.
In 1991, Tennessee exacted a measure of revenge, defeating the Cavaliers and Final Four Most Outstanding Player Staley (70-67 in OT) to win the NCAA Championship in New Orleans.
Tennessee's Diamond DeShields and South Carolina's Allisha Gray were teammates at North Carolina in 2013-14 before they both transferred.
DeShields and the Gamecocks' Kaela Davis (who was committed out of high school to Tennessee for a time) were teammates at Norcross High School as freshmen before Davis transferred to Buford. At Buford, Davis was teammates with former Lady Vol Andraya Carter.
DeShields (Norcross/Norcross H.S.), Davis (Norcross/Buford H.S.), Gray (Sandersville/Washington Co. H.S.) and additional Lady Vols Te'a Cooper (Powder Springs/McEachern H.S.), Kamera Harris (Hampton/Dutchtown H.S.) and Schaquilla Nunn (Fayetteville/Fayette Co. H.S.) all hail from the Peach State, making it six players in the game (4 UT/2 USC) from Georgia.
Jolette Law hails from South Carolina, graduating from Wilson High School in Florence before playing collegiately at Iowa.
Three of SEC's Top Bigs Meet in Columbia
Monday night's match-up will feature UT's 6-6 center Mercedes Russell facing off vs. the inside tandem of A'ja Wilson (6-5) and Alaina Coates (6-4) of South Carolina.
Coates (12), Russell (11) and Wilson (6) rank first, third and seventh in double-doubles this season among SEC players.
Coates ranks first in the SEC in career double-doubles with 54, followed by Wilson (25, t2nd) and Russell (22, 5th).
In league play, Wilson is stands sixth in scoring (17.8), Russell is seventh (17.3) and Coates is 22nd (12.4).
On the boards, Coates is first at 11.5, Russell is tied for fifth (9.6) and Wilson ranks seventh at (9.5).
Wilson (.600) and Russell (.561) are third and fourth in field goal percentage.
Wilson is third in blocked shots (2.0), while Russell stands fifth (1.7) and Coates ranks sixth (1.6).
Big Guards Face Off on Monday
One-time high school teammates Diamond DeShields and Kaela Davis have historically been high scorers for their teams.
DeShields leads UT at 17.5 ppg. for all games and paces all league players at 20.3 ppg. for SEC games this season.
Davis is averaging 12.4 ppg. overall and 10.6 ppg. in SEC play but scored 19.2 ppg. in ACC play during her sophomore season at Georgia Tech in 2014-15 before transferring to South Carolina.
The Last Time These Teams Met
Diamond DeShields scored 21 points and Bashaara Graves had a double-double in No. 24/RV Tennessee's 62-56 loss to No. 3/2 South Carolina on February 15th, 2016, at Thompson-Boling Arena.
The Lady Vols (15-10, 6-6 SEC) and the Gamecocks (24-1, 12-0 SEC) combined for a physical and exciting contest with several trips to free-throw line. Tennessee went 17-of-22 (77.3 percent) from the stripe and South Carolina shot 22-of-30 (73.3).
Tennessee enjoyed a 43-30 rebounding advantage, marking just the fourth time this year that a team has out-rebounded South Carolina.
DeShields scored 15 of her 21 points in the second half and finished 7-of-17 on the night with four rebounds and two assists. Graves tallied 13 points and 10 boards, marking her sixth double-double of the season and the 27th of her career.
South Carolina's A'Ja Wilson dominated the game with 25 points on 8-of-15 shooting from the floor and a 9-of-11 effort on free throws. Khadijah Sessions had 13 points and Tiffany Mitchell added 12 points.
The Gamecocks led by as much as 13 points in the fourth quarter, but Tennessee battled back with an 11-4 run over the final minute. DeShields knocked down a 3-pointer at the buzzer.
The Last Time They Met In Columbia
In a clash between the last two undefeated teams in SEC play, #6 Tennessee battled #2 South Carolina to the final seconds, but the Lady Vols lost 71-66, in Columbia on February 23rd, 2015, the last time these squads met in the Palmetto State.
Tennessee (23-4, 13-1 SEC) saw its 20-game win streak vs. SEC opponents come to an end, as it lost for the first time in more than a year to a conference foe. The last loss came to Kentucky on February 16th, 2014, in Knoxville, 75-71.
South Carolina (26-1, 14-0 SEC) extended its home-court win streak to 31 games and beat Tennessee for just the second time in its last 45 meetings. The Gamecocks were just 3-47 all-time vs. the Lady Vols coming into the game and only 1-19 in Columbia.
As the lone undefeated team in the league, the Gamecocks took control of the race for the regular-season conference title with two games left. They ended up tying UT for the title after losing to UK.
Junior Bashaara Graves led Tennessee with 20 points and seven rebounds. Senior Cierra Burdick tallied 16 points and grabbed 10 boards. Sophomores Jordan Reynolds and Andraya Carter each added 10 points.
South Carolina was led by Aleighsa Welch, who posted a double-double with 19 points and 14 rebounds. Tiffany Mitchell scored 16 points and Elem Ibiam scored all 12 of her points in the first half for the Garnet and Black.
Gamecocks Fight Back Georgia, 62-44
No. 5/4 South Carolina pulled away from Georgia in the fourth quarter to notch a 62-44 victory over the Lady Bulldogs in Athens Thursday night and remain unbeaten in SEC play.
Junior forward A'ja Wilson totaled 19 points and 11 rebounds to record her sixth double-double of the season, while junior guard Allisha Gray tallied 11 of her 18 points in the final period.
The Gamecocks moved to 18-1 overall and 8-0 in league action with the win, and Georgia dropped to 10-10 and 2-5 in conference play following the loss.
South Carolina's 18-5 run in the fourth quarter turned a four-point Gamecock advantage into a 55-38 lead with 2:43 left to play in the game. Junior guard Allisha Gray scored 11 points during the crucial stretch.
Carolina held Georgia to just one 3-pointer for the night and boasted a 45-38 rebound advantage. The Gamecocks also tallied eight blocks and scored 13 points off 18 Lady Bulldog turnovers.
Lady Vols Persevere at Florida, 84-75
Diamond DeShields posted an all-around performance to lead Tennessee to an 84-75 road win over Florida at Exactech Arena in Gainesville on Thursday night.
DeShields finished with 27 points on 9-of-13 shooting, five rebounds, three assists and three steals.
It marked her fifth 20+ scoring effort in the past eight games. She now has six such games in 2016-17 and 30 in her career.
Jaime Nared had another strong performance, scoring 16 points and grabbing seven boards. Mercedes Russell and Alexa Middleton also got into double digits, totaling 14 and 11 points, respectively.
Tennessee (13-7, 4-3 SEC) picked up its second conference road win of the season with the wire-to-wire victory over Florida (10-10, 1-6 SEC).
Ronni Williams led the charge for the Gators, finishing with 31 points on 10-of-18 shooting. Haley Lorenzen chipped in 17 points, 11 rebounds and three blocks on the night.
Coming Up on the Schedule
Following the trip to South Carolina, the Lady Vols will return home for the annual Live Pink, Bleed Orange game, which brings awareness to the fight against breast cancer.
The match-up will take place at 6:00pm CT on February 2nd, as LSU comes to town for a contest that will be broadcast online via SECN+.
South Carolina, meanwhile, hits the road for Kentucky, where it will battle the Wildcats at 6:00pm CT on Thursday.