Clarksville mourns passing of man who led Fire Department from 1985-99
Clarksville, TN – Fire Chief Gordon Eugene Keel, who served the citizens of Clarksville for 47 years as a firefighter and Fire Department leader, died Tuesday, October 24th, 2017, at his home in Port Royal, TN. He was 87.
Clarksville Fire Rescue Chief Mike Roberts, who was hired, trained and promoted into department leadership by Chief Keel, spoke with fondness and respect for his mentor on Wednesday.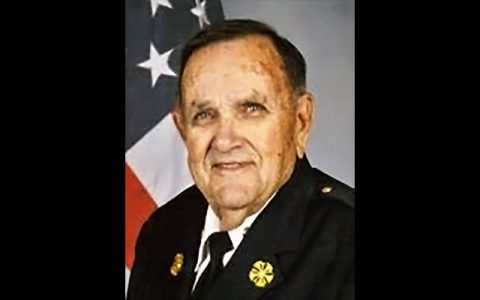 "He was a firefighter's firefighter, straight-forward and to the point," Roberts said. "Chief Keel was a great leader, and one of the best men I ever met. He was the kind of guy who commanded respect."
Roberts said Chief Keel had a lasting impact on the Clarksville Fire Department, which now is known as Clarksville Fire Rescue. Chief Keel had a hand in hiring more than 70 of today's 235 members of the department.
Chief Keel also introduced modern air packs for all staff called to a fire scene, and purchased the first four-door fire trucks, which allowed all the firefighters to travel inside the cab without having to hang onto the outside of the truck. He also introduced a promotional testing system to improve the professionalism and quality of the staff, and was Chief when the department joined the Tennessee Commission on Firefighting, a statewide skills certification program.
"Chief Keel is remembered as a first-class public servant, who worked long and hard and with great success for the citizens of Clarksville," Clarksville Mayor Kim McMillan said. "I extend my sincere condolences to his family and friends, and his extended family of Clarksville firefighters."
Chief Keel was born in 1929 in Stewart County and later enlisted in the U.S. Marine Corps, where served in the Korean War. He was the recipient of the Korean Service Medal, the Presidential Unit Citation, and the Purple Heart.
He joined the Clarksville Fire Department in 1952, and followed in the footsteps of his father, Robert Gordon Keel, who also was Clarksville Fire Chief. Gordon Eugene Keel rose through the ranks and was appointed Fire Chief in 1985, serving until his retirement in 1999.
A Celebration of Life for Chief Keel will be at 1:00pm Monday, October 30th, 2017 at First Baptist Church of Clarksville. He will be buried at Greenwood Cemetery amid full Clarksville Fire Rescue and Marine Corps honors.
His family will receive friends from 4:00pm to 8:00pm Sunday at McReynolds-Nave & Larson Funeral Home, and from 11:00am until the service Monday at First Baptist Church.
Chief Keel was a member of the First Church of the Nazarene and the Clarksville Moose Lodge. He also was a 32nd Degree Mason, a past Commander in Chief of the VFW. He also was an avid fisherman.
He was preceded in death by his father and mother, Mallie Vaughn Keel; his first wife, Mary S. Keel and step son, Ricky S. Winn. Survivors include his wife, Sherry Winn Keel; daughter, Veda Holt (Daniel); sister, Glenda Lewis (Ted); grandchildren, Chris Conatser (Stephanie) and Lisa Conatser; great grandchildren, Taylor Linder, Brady Conatser, and Cody Stephens; children by marriage, Randy Winn (Linda), Barry Winn (Melissa), Henry Winn (Betty), and Marcia Clark (Nathan); nine step grandchildren and fourteen step great grandchildren.
Pallbearers will be Chief Mike Roberts, Danny Perry, Steve Miner, Ray Williams, Charles Ransdell, C.W. Stokes, Howell "Buff" Albright, and Vernie Hill. Honorary pallbearers will be Sam Moseley, Jack Vaughn, and members of the Clarksville Fire Rescue Honor Guard.