#7 Tennessee at Long Beach State
December 17th, 2017 | 4:00pm CT
Long Beach, CA | Walter Pyramid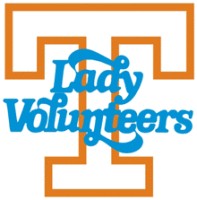 Knoxville, TN – No. 7/7 Tennessee (10-0) is in the midst of an eight-day West Coast trip, beginning with a Sunday contest vs. Long Beach State (2-7) at Walter Pyramid in Long Beach, CA. Tip time is slated for 2:00pm PT (4:00pm CT).
The Lady Vols returned to the top 10 in both the AP and USA TODAY Coaches Polls this week, rising to No. 7/7 from No. 11/13 last week after knocking off No. 2/4 Texas last Sunday in Knoxville, 82-75.
The Big Orange women are back in the top 10 for the first time since the third poll of the 2015-16 season, when the Lady Vols were rated No. 4/5 on November 23rd. The triumph over Texas was Tennessee's seventh at home this season and ninth in a row at Thompson-Boling Arena after closing out the 2016-17 with a pair of victories on the Summitt.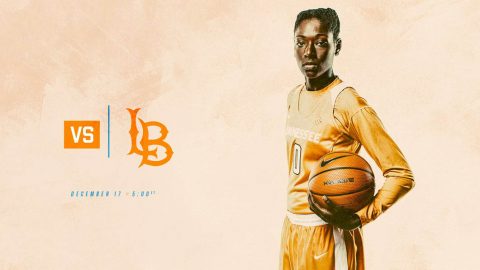 The Lady Vols will be aiming to go 11-0 for only the eighth occasion in school history and for the first time during the Holly Warlick era.
The last time Tennessee began a season 11-0, the Lady Vols extended the streak to 18 games before finally falling during the 2005-06 season en route to a 31-5 overall record.
Long Beach comes into the game after edging Grand Canyon on the road, 65-63, on December 7th. The 49ers' only other victory came against Arizona in Tucson on November 28th, by a score of 80-72. That win brought an end to a five-game season-opening losing streak.
Jay Holloway, the radio voice of the Long Beach State 49ers women's team, will be the voice you hear describing the action for the Tennessee-LBSU online broadcast on Beach Vision.
Mickey Dearstone is handling the call for IMG College/Lady Vol Network radio/online broadcasts for the 19th season. A link to the live audio stream can be found on each game's Hoops Central page or the Lady Vol schedule on UTSports.com.
Air time for games on the Lady Vol Radio Network generally occurs 30 minutes prior to tip-off.
Sunday's air-time won't follow that timeline, however, as the Lady Vols' game will air immediately following the conclusion of the UT men's game vs. North Carolina.
Coming Up On The Schedule
Following the Long Beach State contest, UT will head north and play Stanford in its second match-up of the West Coast swing.
Tip time for the Lady Vols and Cardinal is slated for 6:00pm PT (8:00pm CT), and the game will be televised by the Pac-12 Networks.
Tennessee will conclude a three-game string of road games at Kentucky on December 31st (Noon, Rupp Arena, SEC Network).
The Lady Vols will next play at home on January 4th, as Auburn comes to Thompson-Boling Arena for UT's first game of 2018 and the second game of the SEC schedule. Tip time is 6:00pm CT, and the game can be seen on SEC+ (WatchESPN).
Tennessee Reset
At 10-0, the Lady Vols are in the midst of their longest winning streak since reeling off 11 in a row from December 3rd, 2014 to January 15th, 2015.
Holly Warlick's team is No. 9 in the latest NCAA RPI.
Tennessee was named the NCAA Women's Basketball Team of the Week on Monday.
UT went 2-0, cruising past Troy, 131-69, and outlasting No. 2/4 Texas, 82-75. The win over Texas was the highest ranked team the Lady Vols had beaten on their home floor since taking down Stanford at Thompson-Boling Arena in 2010.
Senior forward Jaime Nared was named the U.S. Basketball Writers Association Ann Meyers Drysdale National Player of the Week, the SEC Player of the Week and the College Sports Madness National and SEC Player of the Week.
Nared averaged 25.0 points, 9.5 rebounds and 3.5 steals while shooting 47 percent from the field and 79 percent from the line last week.
The Big Orange women have won eight of 10 games by double-digit margins, including by 43 vs. Central Arkansas and 53 vs. Alabama State and 62 vs. Troy in three of their last four games.
They've scored 100 or more points three times in a season for the first time since doing so in 2010-11. UT hasn't had more than three 100+ games in a campaign since hitting that mark four times in 2000-01. The Big Orange record for 100-point efforts in a year is seven in 1987-88.
Holly Warlick has started the same five players every game thus far. That quintet includes Jaime Nared and Rennia Davis at the forward positions, Mercedes Russell at center and Evina Westbrook and Meme Jackson at guard.
The last time Tennessee opened a season with a starting five and utilized the same quintet this long was in 2007-08, when Pat Summitt chose the lineup of Candace Parker, Angie Bjorklund, Nicky Anosike, Shannon Bobbitt and Alexis Hornbuckle to report for the opening tip the first 11 games of that campaign. UT went 10-1 in that span and went on to win the NCAA title with a 34-3 record and the SEC title with a 14-0 mark.
UT has four players averaging double figures in scoring, including seniors Jaime Nared (17.6) and Mercedes Russell (17.2), and freshmen Rennia Davis (12.8) and Anastasia Hayes (12.1).
Russell has led Tennessee in scoring five times, while Nared has done so four times, and Davis and Hayes tied for honors on one occasion.
Russell has scored in double figures in every game, while Hayes and Nared have done so eight times and Davis has hit 10 or more in seven games.
Holly Warlick's squad has led at the half of all 10 games, including a double-digit margin in seven of those.
Tennessee has outscored its opponents in the points-in-the-paint category in nine of 10 games, averaging a 46.6 to 29.4 difference.
The Lady Vols bested their foes in second chance points eight times and tied another time. UT averages 17.4 second chance points, while its opponents tally 10.6.
UT Statistical Nuggets
Tennessee ranks No. 3 nationally and leads the SEC, pulling down 50.2 rebounds per game, with Jaime Nared (9.3), Mercedes Russell (8.6) and Rennia Davis (8.2) leading the way.
UT's school record for season rebound average is 46.9, set in 1992-93.
The team is No. 1 nationally in defensive rebounds per game, grabbing 35.
The Big Orange women have won the battle of the boards in every game, forging a +12.7 advantage on the glass that ranks No. 9 nationally.
The squad from Rocky Top has shot a higher percentage than nine of 10 opponents (not Marquette) and stands at 48.9 for the season. That rate ranks Tennessee No. 11 nationally and second in the SEC.
Mercedes Russell continues to shoot at an extremely high percentage, connecting on 67.0 percent of her shots (73 of 109). She leads the SEC with that accuracy and ranks No. 4 nationally.
The Lady Vols are No. 1 in the NCAA in free throws attempted (280) and No. 1 in free throws made (193).
Anastasia Hayes ranks No. 7 in free throw attempts (79) and No. 11 in free throws made (56).
The Lady Vols are No. 9 in scoring margin (27.6) and No. 7 in scoring offense (88.7).
That per game average would rank third-best in UT annals if the season ended today.
Tennessee ranks No. 7 in three-point field goal defense (.221).
With four double-doubles, Rennia Davis is tied for No. 35 in the nation (first among freshmen) and already stands ninth all-time among Lady Vol freshmen.
A Look At Last Week
Tennessee outscored its two opponents last week, 106.5 to 72.0.
Eight Lady Vols averaged double figures in points, including Jaime Nared (25.0), Kortney Dunbar (17.0), Mercedes Russell (14.0), Rennia Davis (12.5), Cheridene Green (12.0), Evina Westbrook (11.5), Meme Jackson (10.0) and Anastasia Hayes (10.0).
Six Lady Vols averaged 8.0 rebounds or better, led by Nared (9.5), Russell (9.0) and Green (9.0). Others at or above eight were Davis (8.5) as well as Dunbar and Jackson (8.0).
Cheridene Green led UT, which shot 51.3 percent from the field, in field goal percent at 71.4 percent for the week (10-of-14). Kortney Dunbar shot 70 percent (7-of-10).
Fearless Freshmen
Freshmen Rennia Davis and Evina Westbrook have started every game for Tennessee, and classmate Anastasia Hayes has been the team's first sub of choice.
Davis and Hayes are UT's third and fourth-leading scorers at 12.8 and 12.1 points per game, and Davis is the team's third-leading rebounder (8.2 rpg.). Westbrook is the team's sixth-highest scorer at 8.0 ppg. after netting a career-high 15 vs. Texas.
They rank four, five and nine in the SEC among freshmen scoring, while Davis is second in rebounding.
Hayes has gotten to the free throw line an average of 7.9 times per game, hitting 56 of 79 for 71 percent. She ranks seventh nationally for free throw attempts and 11th for makes.
Freshman Evina Westbrook has recorded at least six assists in four games and is leading UT with an average of 4.9 dimes per game while adding 8.0 points and 2.7 rebounds. Hayes is second at 4.3 assists per contest. They had career highs of 12 and nine vs. Troy, with Westbrook's total tying for seventh best ever at UT and matching Ariel Massengale's freshman record.
Westbrook (4.9), Hayes (4.3) and Davis (1.9) rank second, third and 10th in assists per game among SEC rookies.
Hayes (1.6), Davis (1.2) and Westbrook (1.0) stand second, third and eighth among SEC freshmen in steals.
The fourth rookie, center Kasiyahna Kushkituah, returned after missing the UCA and Alabama State games with a left lower extremity injury and tallied six points, five rebounds and two blocks in 18 minutes vs. Troy. She is third among SEC freshmen in field goal percentage (.625).
Getting Defensive
Tennessee faced foes who entered scoring 91.8 (Troy) and 93.0 (Texas) points per game and held those squads to 69 and 75, respectively.
Troy hit only 29 percent from the field vs. UT, while Texas shot 36.8 percent.
Tennessee ranks 12th nationally and No. 1 in the SEC in field goal percentage defense at 33.3. The Lady Vols are seventh nationally and first in the SEC in three-point field goal percentage defense at 22.1.
On the season, Holly Warlick's squad has held opponents to an average of 61.1 points per game, with six foes failing to score more than 60 and only two scoring above 70 (Marquette, 99, in OT, and Texas, 75).
Tennessee set a school record for fewest points allowed in a second half, giving up only 10 to Central Arkansas on November 30th.
All 10 of those points came in the third quarter, as the Lady Vols shut out the Sugar Bears in the final stanza, marking the first time UT had "pitched a shutout" in a quarter.
UCA finished with 34 points for the game, marking the 10th-lowest total ever scored by a Tennessee foe.
UT's forced Central Arkansas and Alabama State into 24 and 23 turnovers, respectively. Those totals are the highest this season.
The Series vs. LBSU
Senior Jaime Nared scored 23 points and recorded 13 rebounds to lead No. 11/13 Tennessee to a signature win over No. 2/4 Texas in front of a crowd of 9,651 on December 10th at Thompson-Boling Arena
After another strong start in front of their home fans, the Lady Vols (10-0) never trailed during the game and held the Longhorns (7-1) to 36 percent shooting. Fueled by clutch rebounding and aggressive defense, Tennessee answered every Texas run to hang on down the stretch and earn its first home win over a top-two ranked opponent since beating No. 2 Stanford in 2010. It also halted a three-game losing skid to the Longhorns.
The Lady Vols opened the game on a 6-0 run and limited Texas to two points through the opening seven minutes of the game. The Longhorns were also held to just four field goals, as Tennessee finished the quarter ahead, 16-11. The 11 points were the fewest Texas has scored in a quarter this season. Mercedes Russell led the Big Orange offensively, shooting 3-for-6 for six points.
Russell finished with 15 points and 12 rebounds for her fourth double-double of the season and 34th of her career. Evina Westbrook added a career-high 15 points of her own on 5-for-11 shooting in the winning effort. Ariel Atkins led the Longhorns offensively, shooting 6-for-14 with 21 points.
Last Meeting Between UT & LBSU
No. 8 Long Beach State put four players in double figures to overcome an eight-point lead at the half by No. 4 Tennessee and beat the Lady Vols, 62-58, at University Gym on Dec. 19, 1989.
Dana Wilkerson dropped in 14 points, with Angie Lee contributing 12 and Trise Jackson and Penny Moore adding 10 each to the cause.
Daedra Charles had a double-double of 19 points and 12 rebounds for UT, but no one else could get going offensively in a game that saw two Lady Vols foul out and another in jeopardy.
Tennessee dominated the boards, 57-41, it but committed 25 turnovers and was whistled for 28 fouls. LBSU, consequently, went to the free throw line 27 times, connecting on 16 of them.
Long Beach State Reset
Long Beach State returned only five letterwinners and two starters from last year's Big West Conference championship team that made the NCAA Tournament.
There are eight newcomers to the team, including seven freshmen
LBSU also has a first-year head coach, as Jeff Cammon came onboard after Jody Wynn was hired at Washington to replace Mike Neighbors.
The 49ers were 23-11 a year ago, losing by one, 56-55 at No. 8 Oregon State in the second round of the NCAA Tournament.
This year's team is led by 5-foot-8 freshman guard Shanaijah Davison, the team's only double-figure scorer at 14.6 per game.
With Cammon tinkering with his lineup during the early going, eight different players have started, and not one player has reported to the jump circle for all nine games.
Long Beach State opened the year with three straight at home. After six away from the Walter Pyramid, the squad returns to its home court vs. UT.
LBSU is being outscored 71.6 to 61.6 and outrebounded, 40.9 to 35.0, thus far.
LBSU Last Time Out (LB 65, GC 63)
Long Beach State trailed by as many as six points early before rallying for a 65-63 victory at Grand Canyon University in Phoenix on December 7th.
Freshman center Emma Merriweather had 23 points and 12 rebounds, and Cecily Wilson added 14 points and 13 boards to lift a young 49ers squad to its second win of the season.
After shooting only 30.8 percent in the opening stanza to trail 17-11, LBSU finished at 46.3 percent and outscored GCU in the final three periods to get the two-point win.
LBSU overcame 20 turnovers by playing team ball (18 assists on 25 baskets) and winning the battle on the boards, 43-32, as well as points in the paint (32-14).