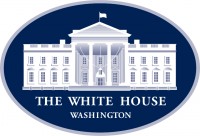 Washington, D.C. – New data from the U.S. Bureau of Labor Statistics' (BLS) monthly employment situation report confirms that the historically strong U.S. labor market has continued to expand into 2020.
The report's Establishment Survey finds that the economy added 225,000 jobs in January, crushing market expectations of 158,000 jobs. Including upward revisions to November and December, average monthly employment growth over the past year was a healthy 171,000 jobs.
The sectors that saw the largest gains last month were education and health services (+72,000), construction (+44,000), and leisure and hospitality (+36,000).
This month's report included BLS' annual revisions to the Establishment Survey. These revisions showed that 514,000 fewer jobs were added during the year ending in March 2019 than were previously reported.
These revisions do not mean that jobs were lost, but rather that they were previously overestimated. But due to strong job growth in January, the economy has still added 7 million jobs since President Trump's election. In the 38 months since the election, the economy has created at least 100,000 jobs in 34 of those months and has added jobs every single month.
Sustained job creation drives up Americans' wages, as the past year and a half saw the strongest earnings gains since the recession. Average hourly earnings grew 3.1 percent year-over-year, marking the 18th consecutive month of growth of 3 percent or more. Wages rose even faster for production and non-supervisory workers, who saw 3.3 percent year-over-year growth. Under President Trump, workers' wages have grown faster than their managers' wages—the opposite result than under the previous administration.
The separate Household Survey shows that the unemployment rate ticked up to 3.6 percent in January, remaining near its lowest level since May 1969. January marks the 23rd consecutive month that the unemployment rate was at or below 4 percent—the longest streak in five decades. The unemployment rate remains well below the Congressional Budget Office's final pre-election projection of 5.0 percent and 1.1 percentage points lower than its level when President Donald Trump was elected in November 2016.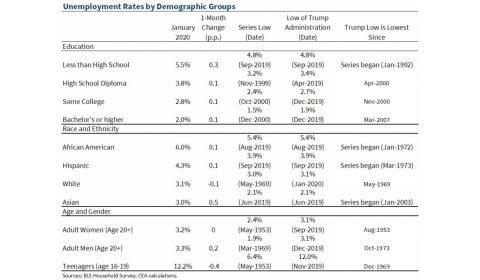 Historically disadvantaged groups are benefiting the most from today's tight labor market. In 2019, the unemployment rates for African Americans, Hispanic Americans, and Asian Americans all hit record lows (see table). Those without a high school degree and people with disabilities also set record-low unemployment rates last year.
The primary reason for the slight uptick in January's unemployment rate was an increase in labor force participation from workers coming off the sidelines to look for work and find jobs. Over the past three months, the average share of new workers who came from outside of the labor force was 73.2 percent.
In January, the labor force participation rate rose to 63.4 percent—its highest level since 2013. Importantly, the prime-age (25-54) labor force participation rate also rose to 83.1 percent in January, which is 1.8 percentage points above its rate in November 2016.
Changes in labor force participation that appear small in magnitude have important effects on the job market. For example, the increase in the prime-age labor force participation rate under President Donald Trump translates to 2.2 million additional prime-age workers in the labor force. Beyond labor force participation increasing, the employment-population ratio for prime-age workers rose 0.2 percentage points to 80.6 percent in January—its highest level since May 2001.
This influx of workers signals increased confidence in the economy and improved job prospects. The January reading of the Conference Board Consumer Confidence Index increased to 131.6, a 31 percent increase from the reading the month before President Trump's election. Furthermore, the ratio of respondents who say jobs are "plentiful" compared to those who say jobs are "hard to get" is more than 4:1.
After a record-setting 2019, the U.S. economy started off 2020 with another strong jobs report. As happened last year, in January, job gains beat expectations, wages grew above 3 percent, and unemployment rates remained at or near historic lows.