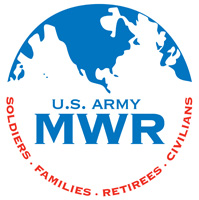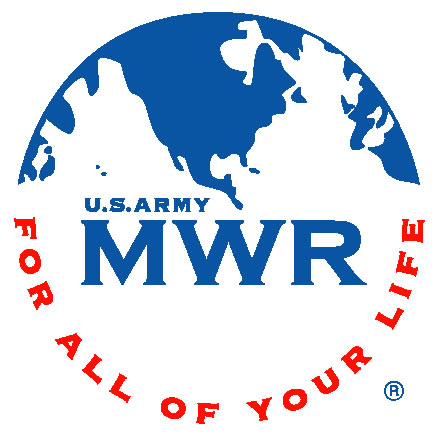 Fort Campbell, KY – As our troops return stateside it is important that we welcome them home and say thank you for all that they have sacrificed. To do just that Family and MWR, 95.5-FM WSM and the Fort Campbell Federal Credit Union are kicking off the 2011 Independence Day weekend with performances from some of the most beloved country artists and everyone is welcome to attend.
On July 2nd, performances from Darryl Worley, Randy Owen, Mark Wills, Teddy Gentry, and Buddy Jewell will surely provide you and your Family with a toe tapping good time as the artists perform on the Budweiser Stage at the Division Parade Field. The concert kicks off at 4:00pm and is free to attend, so bring your lawn chairs and blankets for an amazing show.
Through five albums and seventeen chart hits, Darryl Worley has produced one of the most impressive and wide-ranging catalogs in contemporary music, all the while not wavering in his support for those who put their lives on the line for democracy.
Randy Owen and Teddy Gentry are two of the members from the group Alabama and are members of the Country Music Hall of Fame. As solo artists, they continue bringing their Livin', Lovin', Rockin' and Rollin' sounds to fans all over the world.
Mark Wills has numerous hits under his belt already – "Jacob's Ladder," "Don't Laugh At Me," "I Do (Cherish You)" and his seven-week number one smash, "19 Something," to name just a few.  In addition, he has sold millions of albums. He lights up when you ask about his trips overseas to entertain the troops in Iraq and Afghanistan. Supporting the troops is just one of the many causes to which Mark Wills dedicates his time and effort.
Buddy Jewell burst onto the country music scene in 2003 when he won the coveted title of USA Network's first ever "Nashville Star". A true crowd favorite from the premiere episode to the finale, TV audiences and critics alike fell in love with Buddy Jewell's gentility, enthusiasm and true musical passion. Having shared the stage with the likes of Trace Adkins, Brooks and Dunn, and Clint Black, Buddy Jewell is a well-rounded performer, a true entertainer, and an absolute crowd pleaser.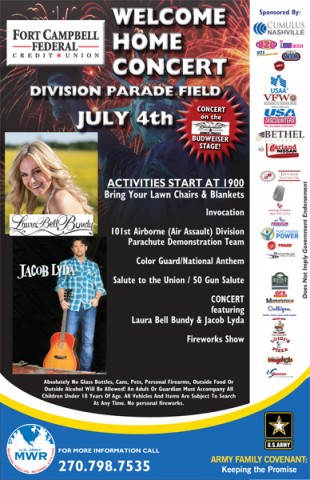 The fun continues on July 4th with artists Laura Bell Bundy and Jacob Lyda performing on the Budweiser Stage at the Division Parade Field during the Independence Day festivities beginning at 7:00pm. The audience will be captivated by Jacob Lyda's richly textured honky-tonk vocal style that stems directly from his background, and equally impressed with country girl, Laura Bell Bundy, whose musical highway spans from Nashville to New York's famed Broadway. Stick around for the traditional 4th of July fireworks.
The Fort Campbell Federal Credit Union (FCFCU) Welcome Home Concerts are sponsored by Fort Campbell Federal Credit Union, Cumulus Broadcasting Media, Budweiser, USAA, VFW, Bethel University, Garland Nissan, USA Discounters, Purchasing Power, Daymar Institute, Phoenix University, Mathews Nissan, Freedom Furniture and Electronics, MILES, Mugshots By Dana, US Food Service of Paducah, Luigi's Pizza, Griller's Choice, Trane Company, Mainstream Heating and Cooling, Culligan, GFS Marketplace, and Hometown Suites. Mention of sponsors does not imply government endorsement.
Absolutely no glass bottles, cans, pets, or personal firearms. Outside food and outside alcohol will not be allowed. An adult or guardian must accompany all children under 18 years of age. All vehicles and items are subject to search at anytime. No personal fireworks!
Visitors should obtain gate pass at Gate 7 with proof of valid driver's license, vehicle registration and insurance.
For more information about the MWR, Cumulus Nashville and FCFCU Welcome Home Concerts, please call the Family and MWR Public Relations Office at 270-798-7535.