Austin Peay Lady Govs at SIU Edwardsville
Monday, January 23rd, 2012 | Tipoff: 7:00pm (CT)
Location: Edwardsville, IL | Arena: Vadalabene Center (4,000)

Edwardsville, IL – Austin Peay concludes its trip through Illinois with a 7:00pm, Monday contest at SIU Edwardsville, the league's newest member. Both teams enter the contest following losses, Saturday. The Lady Govs suffered an 80-46 loss at Eastern Illinois while SIU Edwardsville fell to Murray State, 67-59.
It will be third meeting all-time between the two squads, Austin Peay winning at home during the 2008-09 season and SIU Edwardsville winning its home contest last season. The Cougars enter the contest fifth in the league standings but will not be eligible to participate in the OVC Tournament – one year remains on their transition to full NCAA Division I status.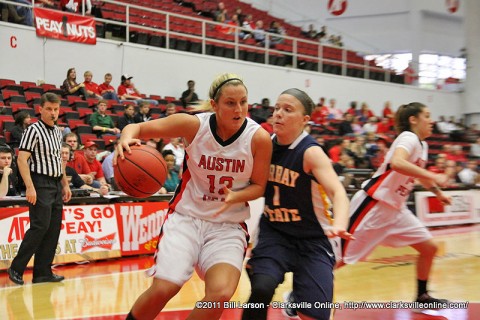 Austin Peay had nine players available for Saturday's contest at Eastern Illinois as freshman Shira Buley was cleared to play. Austin Peay opened the game making 47.8 percent of its shots in the opening 12 minutes and led 26-22 with 7:40 remaining. The Lady Govs made one of their final 12 shots and committed seven turnovers in the half's final 7:40.
For the second consecutive game, Austin Peay shot a season-low from the floor. The Lady Govs made only 29 percent (18-of-62) from the floor in the contest – they shot 29.1 percent against Eastern Kentucky, last Monday. APSU is shooting 29.1 percent (34-117) from the floor in its last two contests.
The 34-point loss at Eastern Illinois was the Lady Govs largest margin of defeat in an OVC contest since January 14th, 1993. It is the second consecutive season APSU has lost by more than 30 points at Eastern Illinois. One game after combining for 38 of the team's points in a loss to Eastern Kentucky, APSU's freshmen were held to 10 points at Eastern Illinois.
Austin Peay was out-rebounded (32-53) for the eighth consecutive game and 17th time this season. The Lady Govs managed a tie in turnovers (16-16) at Eastern Illinois and have not lost a turnover battle in their last five games.
About SIU Edwardsville
SIU Edwardsville sits fifth in the OVC regular-season race entering Monday's contest. The Cougars dropped a 67-59 decision to Murray State, Monday, to end a two-game win streak. SIUE opened OVC play with back-to-back wins against Jacksonville State and Tennessee Tech before dropping consecutive contests against league-leading Eastern Illinois and UT Martin. The Cougars only lost to Eastern Illinois by three points at the Vadalabene Center, January 9th.
SIU Edwardsville is a very balanced offensive club with no player averaging more than 10 points per game. However, the Cougars top four scorers are separated by seven points: Michaela Herrod (178 pts, 9.9 ppg), Raven Berry (176 pts, 9.8 ppg), Katie Hempen (175 pts, 9.7 ppg) and Jazmin Hill (171 pts, 9.5 ppg). Berry leads the team with 8.4 rebounds per game, including 3.4 offensive rebounds per contest.
Fast Break Points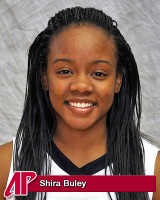 Injury Update: The injury bug has hit the Lady Govs hard in recent weeks. Freshman guard Shira Buley returned to action, Saturday, after missing two games due to a concussion. Junior forward Meghan Bussabarger suffered a concussion in a practice prior to the Eastern Kentucky contest and will not be available for either game of the Lady Govs Illinois road trip.
The recent injuries have forced the Lady Govs to use their 12th different starting lineup combination this season. Those 12 combinations are the most used by a Division I team this season, only Colorado State has put forth at least 10 different lineups this season.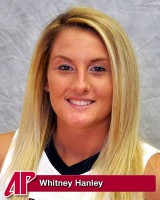 Senior guard Whitney Hanley became the 14th Austin Peay women's basketball player to reach the 1,000-point plateau with her 21-point performance at Lipscomb, November 14th. Her 1,310 career points is eighth on the Lady Govs all-time scoring list and she needs 15 points to move into seventh on the list – a spot currently held by Paige Smith (1.324 pts, 1999-03).
Hanley saw her school-record streak of consecutive made free throws stopped at 25 when she missed her first free throw at Tennessee State, December 29th. She made her final three attempts. She broke the record, previously held by Brooke Armistead (24 consecutive FTM), with a 4-of-4 effort against Alabama A&M, December 21st.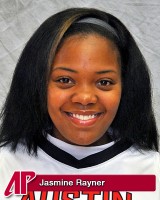 Senior forward Jasmine Rayner became the 15th Lady Govs player to reach the 1,000-point plateau with an eight-point outing against Eastern Kentucky, January 16th. She currently sits 14th on the scoring list, entering Monday's game with 1,018 career points. Rayner will need 101 points to move past head coach Carrie Daniels who holds down the 13th spot with 1,118 career points.
Austin Peay returns its four leading scorers from last season's team: Hanley (12.2 ppg), Rayner (10.5 ppg), junior forward Meghan Bussabarger (8.0 ppg) and sophomore guard Nicole Olszewski (8.0 ppg).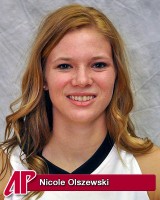 Hanley was named to the Preseason All-OVC team after receiving second-team All-OVC honors last season.
Austin Peay is 47-54 (.461) in regular-season OVC play under Daniels.
The Lady Govs are 23-24 (.489) in January under Daniels.
An Austin Peay Win Would
Make it 3-3 in 2012… end its three-game losing streak. Be its first victory at the Vadalabene Center. Improve Daniels' record to 69-110 overall, including a 48-54 record in OVC play… make the Lady Govs 421-581 overall since 1976-77.
An Austin Peay Loss Would
Be its fourth consecutive loss… make it 3-10 away from the Dunn Center this season. Keep it winless at the Vadalabene Center (0-2). Drop Daniels' record to 68-111 overall, including a 47-55 record in OVC play. Make the Lady Govs 420-582 overall since 1976-77.
Last Time Out
Austin Peay Lady Govs at Eastern Illinois
January 21st, 2012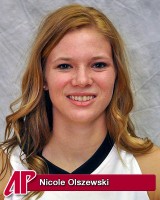 Charleston, IL – For 12 minutes Austin Peay State University women's basketball team kept pace with Ohio Valley Conference leading Eastern Illinois, but it was the final 28 minutes that proved its demise en route to an 80-46 loss, Saturday night, at Lantz Arena.
Austin Peay (5-15, 2-5 OVC) led 26-22 after Nicole Olszewski's three-pointer with 7:40 remaining in the opening frame. At that point, the Lady Govs were shooting 47.8 percent (11-of-23) from the floor and had committed just two turnovers.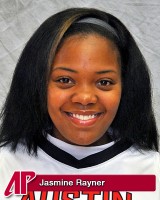 However, the Lady Govs closed the half making one of their final 12 shots and committing seven turnovers in the final 7:40. Eastern Illinois (14-4, 5-0 OVC) used that drop off to close the period on a 21-2 run and took a 43-28 lead
into halftime.
Austin Peay was unable to recover from the poor end to its first half and had a lackluster second half. The Lady Govs suffered through a shooting drought of over six minutes and the Panthers expanded their lead to 32 points with a 13-0 run that put the game out of reach. Austin Peay made only 22.2 percent (6-of-27) of its shots in the second frame.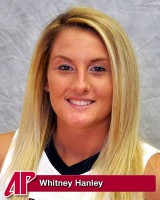 Jasmine Rayner led the Lady Govs with 13 points. Whitney Hanley added 11 points – none in the second half. Nicole Olszewski added nine points and added team highs in rebounds (five) and assists (four). No other Lady Govs player had more than three points.
Jordyne Crunk led Eastern Illinois with a game-best 19 points. Ta'Kenya Nixon added 12 points.
Lady Govs Last Meeting With SIU Edwardsville
November 26th, 2010
Edwardsville, IL – Junior guard Whitney Hanley was a one-woman show, but it was not enough as Austin Peay State University women's basketball team dropped a 72-60 non-conference decision to SIU Edwardsville, Friday night at the Vadalabene Center.
Hanley recorded the Lady Govs first double-double this season, leading the team with 20 points, 12 rebounds and six assists in her 39-minute outing. She was 8-of-19 from the field, including 2-of-9 from three-point range.
However, Austin Peay (1-5) could not shake a lack of production from its frontcourt, which was led by senior Dalila Thomas' 12-point effort. The Lady Govs were dominated in the paint where the Cougars posted a 34-24 advantage.
SIUE sophomore center Raven Berry led the effort with season-bests in scoring (18) and rebounding (11).
Austin Peay got off to a quick start and led 6-2 four minutes into the contest.
But SIU Edwardsville (1-4) scored 13 of the game's next 15 points to take a 13-8 lead with 11:38 remaining and would not trail again. The Lady Govs would keep the margin in single digits the rest of the half and closed back within two points, 30-28, with 36 seconds remaining but entered halftime trailing 33-30.
The Cougars scored the second half's first 11 points to put the game out of reach. Austin Peay went without a field goal until sophomore Meghan Bussabarger banked in a layup with 15:06 remaining to end the drought, APSU trailing by a 44-32 margin.
The Lady Govs would make one valiant effort to cut the deficit, piecing together a 12-5 run. Senior guards Salem Richardson and Brooke Faulkner made consecutive field goals – Faulkner's from three-point range – to cut the lead to seven points, 53-46 with 9:52 left.
But SIU Edwardsville ended the threat with eight straight points to build a 15-point, 63-48, advantage and they would not be threatened again.
The Cougars' Sydney Stahlberg also filled out the box score, scoring a careerhigh 20 points, grabbing 10 rebounds, dishing out four assists and grabbing a career-high six steals. Jazmin Hill led SIUE's scoring effort with a career-high 25 point outing.
Carrie Daniels Show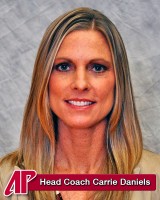 The Carrie Daniels Show airs at 6:00pm, each Wednesday, live from Edwards Steakhouse on Franklin Street in downtown Clarksville.
Hosted by Brian Rives for the fourth consecutive season, the show will air live on WVRY 105.1 FM and be simulcast over the internet at LetsGoPeay.com.
Next Game
Lady Govs Host OVC's Top Scoring Squad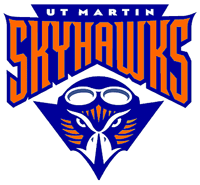 Austin Peay returns home for a visit from UT Martin – the OVC top-scoring squad – in a 5:15pm, Saturday contest at the Dunn Center. The second-place Skyhawks are averaging 87.0 points per game in league action, including an 84-61 victory at Eastern Kentucky, Saturday.
The two squads have split their regular-season series the past two seasons, the home team winning each of the last four games. Austin Peay won a 69-61 decision in Clarksville last season.