Austin Peay vs. Virginia Tech
September 8th, 2012 • 12:30pm CT
Blacksburg, VA • Lane Stadium/Worshem Field (65,632)

Blacksburg, VA – In the last three years Austin Peay has played Big 10 (Wisconsin) and Big East (Cincinnati) programs for the first time in University history. This weekend the Governors will play an Atlantic Coast Conference school for the first time when they travel to Blacksburg, VA, to face Virginia Tech.
Kickoff will occur 12:34pm, CDT from Lane Stadium, considered one of most difficult places in the country to play for visiting teams. For a second straight week, APSU will have a game broadcast by ESPN3. John Sadak and John Gregory will have the call while Rontina McCann will serve as sidelines reporter.
The No. 15/18 Hokies are coming off a 20-17 overtime victory against Georgia Tech, Monday night, while the Governors are attempting to bounce back from a season-opening 49-10 loss at Western Kentucky. Without question, Virginia Tech will be the most successful program the Governors have played in its football history.
Since leaving Murray State after the 1986 season, Frank Beamer has developed a juggernaut at Virginia Tech, a program that was dominant in the Big East in its short stay in that conference and now one that annually sits atop the ACC. Under Beamer, Tech football has reeled off 19 consecutive bowl appearances, four ACC titles, five ACC Coastal Division crowns, three Big East Conference titles, two "major" bowl victories, six BCS appearances and an appearance in the national championship game.
Beamer has the most wins (252) of any active coach at the Football Bowl Subdivision level and the second most wins (210) of a coach at one school.
This year's Virginia Tech team is reminiscent of previous successful Hokies teams-an offense built around an outstanding quarterback (Logan Thomas) and a stifling defense. At 6-6, 260 pounds, Thomas, an All-America candidate, provides a dual-threat as both a runner and passes.  He had 230 yards passing and 40 rushing against Georgia Tech, Monday.
The defense, meanwhile, is led by end James Gayle, who had 12.5 tackles for loss a year ago.
Junior Cody Journell, who booted the game-tying and game-winning field goals against Georgia Tech, is one of the few scholarship kickers in recent times that has kicked for the Hokies.
The Governors, meanwhile, will seek to rebound from a disappointing season-opening performance at Western Kentucky, also a FBS school. Defensively, the Govs hope to shore up coverage and tackling issues that saw the Hilltoppers amass nearly 600 yards total offense.
Offensively, the Govs revamped offensive line hopes to do a better job of protecting senior quarterback Jake Ryan, who completed just two passes a week ago while being sacked twice.
In his first start, senior running back Wesley Kitts recorded his career's second-100-yard rushing performance that included a 68-yard TD run, the Govs' first score.
Senior kicker Stephen Stansell needs just one field goal to tie Tom McMillan (33) for career boots.
The contest will be a homecoming for APSU assistant coach Marcus Gildersleeve, who played wide receiver and special teams for the Hokies from 1996-98.
Worth Noting
This is Austin Peay's 76th season of college football, including nine non-scholarship seasons (1997-2005).
Virginia Tech represents the first Atlantic Coast Conference (ACC) team the Govs have played in school history. The previous two seasons the Governors played their first Big 10 (Wisconsin, 2010) and Big East (Cincinnati, 2011) schools, respectively, in program history.
Austin Peay has not won a game against an I-A/FBS school since September 5th, 1987 when the Govs defeated Kansas State, 26-22, in Manhattan, Kan. Since then they have lost 13 straight to the upper NCAA Subdivision. They are 0-5 since rejoining scholarsip football (2006) and the OVC (2007), with losses to Middle Tennessee, Wisconsin, Cincinnati, Memphis and Western Kentucky.
Austin Peay has enjoyed only 18 winning seasons in 75 years of football and only two winning seasons since the turn of the century–a 7-5 mark in 2002 as a non-scholarship program and a 7-4 record in 2007 in
Rick Christophel's first season.
After owning a school-record 26 seniors in 2009, the Govs had half that many (13) in 2010. This season the Govs have 15.
Fifth-year seniors Antwaun Majors, Jake Ryan, Preston Frye, Preston Rouse and Zac Burkhart are in graduate school after receiving their degrees either in May or August.

APSU head coach Rick Christophel (1971-74) was the first of three brothers who migrated from Reading, Ohio, to play quarterback at Austin Peay. Randy Christophel played quarterback at APSU from 1975-78 while Rob played the position from 1981-82.
For a second straight week the opposing head coaches will be alums of their respective schools. Rick Christophel played for APSU (1971-74) while Frank Beamer played at Virginia Tech from 1966-68, graduating in 1969. In fact, Christophel will go against three straight head coaches this season who also are alums of their respective schools. In Week 3, the Govs will play Tennessee State, with head coach Rod Reed (1984-88) having played linebacker for the Tigers.
This will be a homecoming for Austin Peay wide receivers coach Marcus Gildersleeve, who played wide receiver and was a special teams performer for the Hokies from 1996-98.
APSU vs. Virginia Tech: Setting The Scene
The Series: First meeting
Last Meeting: N/A
Govs Game Captains: Wesley Kitts (offense), Anthony Marion (defense), Stephen Stansell (special teams)
The Govs rejoined the Ohio Valley Conference for football in 2007 after returning to scholarship football in 2006. The Govs finished tied for seventh in the OVC a year ago with a 2-6 league mark and 3-8 overall. The Govs are picked to finish ninth in 2012.
Meanwhile, Virginia Tech joined the Atlantic Coast Conference in 2004 and has won four league championships–that came after three Big East titles in the late 1990s. Virginia Tech has earned bowl appears in 19 straight seasons and has at least 10 wins in the last eight seasons. The Hokies are 65-10 in September over the final 19-years-plus, including 26-5 during the month over the past seven seasons
Offensive Notes
Austin Peay enters the game with a streak of scoring in 74 straight games. The last time APSU was shutout was by Drake, 54-0, September 24th, 2005.
APSU finished the 2011 season ranked 13th in the FCS in sacks allowed per game (1.0). It is the second straight year the Governors were ranked in the Top 15 in fewest sacks allowed per game. They were 8th in 2010. However, with a revamped offensive line in the season opener, senior quarterback Jake Ryan was pressured constantly, being sacked twice. Ryan finished the game 2 of 10 for just 11 yards.
The Governors lost a trio of veteran starters from the starting offensive line. Although they returned 38 career starts coming into the season, only guard Chris Hartman (14 career starts) was a full-time starter at his position. In fact, senior Jacob Langston, who had 18 career starts entering the opener at Western Kentucky, made his first career start at center, replacing three-year starter Tim Schmid at center. Junior tackle Ben Stansfield (6) and tackle Kyle Harrison (1) have the other starts, but Harrison missed the game with an undisclosed medical condition.
When Austin Peay finished with just 11 yards (2-of-11) passing against Western Kentucky, it was APSU's fewest passing yards since it had five yards vs. Eastern Kentucky, November 14th. 1992, during the Roy Gregory Era.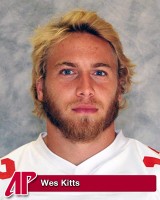 Despite completing just two passes for 11 yards against Western Kentucky, senior quarterback Jake Ryan moved up to third all-time in pass completions with 292 and fifth in passing yards (3,202). Jesse Kellogg left APSU the all-time completions leader with 504 while Brian Baker ended with 5,587 passing yards–both marks set during its non-scholarship years.
Making his first career start, senior running back Wes Kitts rushed for 104 yards against Western Kentucky, his second career 100-yard rushing performance. He had 107 against Cumberland, September 10th, 2010.
Wesley Kitts' 68-yard third-quarter run tied a career-long for the senior. It matched the 68-yard TD run, also a TD, he had against Cumberland, September 2nd, 2010.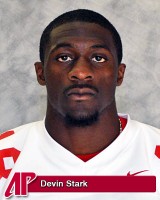 Wide receiver Devin Stark was named preseason second-team All-America offense by the FCS Senior Bowl. Stark also was named to the 2012 College Football Performance Awards (CFPA) Watch List for FCS receivers. In addition, he was selected preaseason All-OVC by website College Sports Madness while senior tight end Ashlon Adams was named third team.
Senior wide receiver Devin Stark finished 2011 with 53 receptions on the season, the most by a Gov since Lanis Frederick grabbed 77 in the 2006 season. His 53 catches ranked third in the OVC for total receptions a year ago.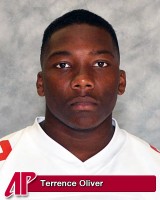 Devin Stark's seven TD receptions in 2011 were the most by a Govs receiver since Frederick had seven in 2006. Those tied for the sixth-most TD catches in school history.
Running back Wesley Kitts served as the third-string backup for two seasons to Terrence Holt and Ryan White and the back up to White a year ago. He finished the 2011 season with 495 yards, averaging 5.9 yards per carry. He owned the Govs' longest TD run of 37 yards.
Senior wide receiver Devin Stark had 53 catches a year ago, but the next closest returning receiver as far as catches are concerned is junior Terrence Oliver, who had 15. Sophomore Jamaar Embry had 11 catches as a freshman.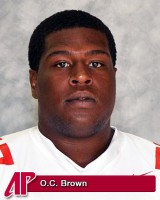 Despite catching only two passes against Western Kentucky, senior receiver Devin Stark moved into 11th place all-time in career receptions with 77. He broke a tie with current APSU secondary coach Paul Derrick, who played receiver from 2001-04 during the Govs' non-scholarship era.
When wide receiver/running back Terrence Oliver looked up in the second quarter, good friend, former prep teammate and now roommate O.C. Brown was blocking for him. In 2009, Brown was the primary subject of the Academy Award-winning documentary "Undefeated" while at Manassas High School with Oliver also make appearances in the production.
Austin Peay led the OVC in time of possession in 2011, holding the ball an average of 31:33 minutes per game.
Defensive Notes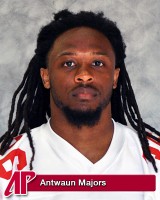 Although all are not listed as starters on the 2012 depth chart, Austin Peay returns nine on defense from 2011. Gone are the graduated safety Amius Smith and cornerback Sheldon Wade, who left the program.
Although the Governors defense is more experienced in 2012, the depth chart still reveals much youth. In fact, only three seniors, safety Antwaun Majors, tackle Anthony Marion and linebacker Darrick Dillard were listed on the two-deep entering the season.
Austin Peay returns 11 of its top 12 tacklers from the 2011 season, including three Govs–free safety Antwaun Majors (88), linebacker Josh Carroll (75) and linebacker Darrick Dillard (52)–with more than 50 tackles.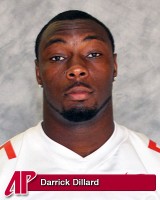 Senior safety Antwaun Majors not only was APSU's tackles leader (88) in 2011, but finished eighth in the OVC, averaging 8.0 per game.
A former walk on, senior safety Antwaun Majors has had 80 or more tackles in each of the last two seasons, finishing with 84 tackles in 2010 and 88 in 2011.
Strong safety Antwaun Majors picked up where he left off a year ago by being credited with a team-high 10 tackles against Western Kentucky. He also had the Govs' only sack.
After using 2011 as a redshirt year, junior safety Jeremy Ross showed little rust against Western Kentucky. He was responsible for the Govs' only defensive turnover, a diving second-quarter interception. He also shared a tackle for loss.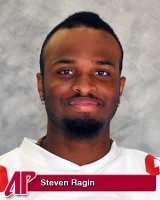 Junior cornerback Steven Ragin finished tied for second in the OVC with with three interceptions.
Austin Peay defenders recorded nine double-digit tackle performances in 2011, with six coming from players returning in 2012. Senior Antwaun Majors collected four of them, including a 14-tackle performance against Tennessee Tech while the other two came from linebacker Darrick Dillard (11 tackles versus Tennessee Tech) and safety Johnathan Shuler, who had 11 stops at Murray State.
Senior safety Antwaun Majors was named preseason first-team All-OVC by Phil Steele Magazine in its Fall 2012 Preview. Majors, who led Austin Peay in tackles last season with 88, was the Governors only first-team selection.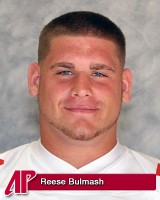 Junior defensive lineman Reese Bulmash was named second-team preseason All-OVC by the Phil Steele publication. Bulmash again is expected to anchor the Govs' interior defense in 2012. After gaining much experience in 2010, the Marietta, GA, native moved into the starting lineup in 2011, being credited with 21 tackles, including 2.5 for loss.
Antwaun Majors was named second-team preseason All-OVC by the website College Sports Madness. Junior linebackers Josh Carroll and Rip Rowan were named third-team preseason All-OVC.
After playing two seasons as a defensive end, Iosua Siliva, of Vailoa, America Samoa, has shifted over to defensive tackle.
Special Teams Notes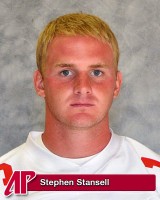 Senior kicker Stephen Stansell enters the game needing just two field goals made to pass Tom McMillan (33) to become the school's all-time leader in that category.
Senior Stephen Stansell also is ranked third all time in point-after-touchdowns made with 72.
Senior kicker Stephen Stansell was the only OVC kicker to be perfect in point-after-touchdown attempts in 2011. He ended the season 22 of 22. In his career he is 72 of 74 (97.3 percent) in extra-point attempts, ranking No. 1 in career extra-point percentage.
Stansell likes kicking against Tennessee State. A year after earning OVC Specialist of the Week and College Football Performance Awards Place-Kicker Co-Performer of the Week after a four field-goal performance against Tennessee State in 2010, he earned the OVC award again by connecting on three field goals against the Tigers in 2011, including game winner with 3:07 left.
Stansell has both a new holder and snapper in 2012. After Nick Newsome served as APSU's long snapper for four seasons, the Govs have turned to redshirt sophomore Michael Dunphy in 2012. In addition, back-up kicker and long snapper Walter Spears now is serving as holder for Stansell after Jake Ryan handled much of the duties a year ago.
Back at punter is sophomore Ben Campbell, who is exclusively playing the position after also being a tight end in 2011. Campbell averaged 37.6 yards per punt in 2011. He had five punts better than 50 yards. In the opener at WKU, he averaged 40.4 yards per punt.
Two seasons after losing All-America kick return specialist Terrence Holt, APSU still is seeking a replacement for kickoff and punt returns. Freshman J.J. Rutledge showed some of those abilities at Western Kentucky. He had a 54-yard kickoff return during the night.