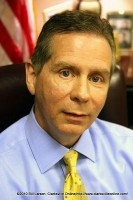 Nashville, TN – Tennessee Department of Labor & Workforce Development Acting Commissioner Burns Phillips announced that the 108th General Assembly passed legislation that continues the funding of unemployment benefits for spouses of military personnel who leave their jobs to transfer to a new assignment.
Funding for the program for the current fiscal year was nearly exhausted, prompting the legislative action.
"We're pleased the General Assembly approved appropriation for this benefit to trailing spouses for the remainder of this fiscal year as well as for the fiscal year beginning July 1st, 2013," said Phillips. "This action shows support of our military families and we hope lessens the stress that goes with active duty transfers."
Voluntarily quitting a job usually makes a worker ineligible for unemployment benefits; however, this legislation expands eligibility for those spouses who are included in a permanent change of station order to a new location. This expansion does not adversely affect an employer's experience rating, that is, his taxes are not increased.
Last year's legislative session passed the bill allocating $278,000 in state funds for unemployment benefits to civilian spouses who leave employment because of a military move. The administration's amendment passed earlier this month provides a non-recurring supplemental amount of $130,000 through June 30, 2013. The amendment also makes available a recurring addition of $150,000 for a total of $428,800 through June 30th, 2014.
At the time the bill was passed this year, 87 claimants had applied for unemployment insurance under this provision, with 78 having been approved and nine denied; the denials were mostly the result of transfers outside the country, which are an exception to the eligibility law. The service member's permanent change of station order to a new location must be within the United States, its territories, or Canada.
Rep. Joe Pitts (D-Clarksville) was the sponsor of this important legislation in 2012.  "I am grateful to Governor Haslam for including the funding for this law in his 2013-14 budget," said Pitts.  "Long term, I intend to meet with Commissioner Phillips to discuss some ideas to stabilize funding so our trailing military spouses will not be subject to appropriations at budget time. I will also draft legislation for the next session to make this benefit a permanent line item in the budget."
Virtual School Caps bill passed
In 2011, the Tennessee General Assembly passed a bill allowing a for-profit company to set up and operate an on-line school for grades K through 8.   The result was a school, established through the Union County, TN School District that had an abysmal first year resulting in only 16% of their students considered proficient in state testing.  The Commissioner of the Tennessee Department of Education denied the school's request to add a grade for the upcoming school year due to their results.
The firestorm created by this on-line juggernaut resulted in legislation proposed by Governor Haslam that placed a limit of 1500 enrollees for the first year any new on-line school is open and allows the Commissioner to direct the local school district to close a failing on-line school.
"The proposal by the Governor was a good first step toward reining in a failed experiment," said Pitts.  "We have put this existing school, and other on-line schools, on notice that continued failure will not only harm students but result in their closure."
Bill to replace the GED passed and sent to Governor for signature
House Bill 387 sponsored by Dennis Powers (R-Jacksboro) and co-sponsored by Rep. Joe Pitts passed the House and Senate unanimously and is headed to the Governor for his signature.  This legislation authorizes the Tennessee Department of Labor and Workforce Development to make recommendations relative to assessments that lead to the award of a high school equivalency credential.
"The cost of taking the GED will more than double in 2014, putting it out of reach for many Tennesseans," said Pitts. "I applaud Rep. Powers and the Department for joining with 41 other states to create a lower cost, more stable alternative to the current GED and the gouging of our citizens with this unconscionable price increase."
Bill addressing annexation places a one year moratorium on cities in the state
House Bill 475/Senate Bill 279 which would have required that the annexation of territory by a municipality be subject to approval by a majority of the persons residing in the territory that will be annexed, as described below.
Generally, under present law, a municipality may extend its corporate limits by annexation of adjoining territories, by ordinance, when petitioned by a majority of the residents and property owners of the affected territory, or upon its own initiative when it appears that the prosperity of the municipality and territory will be materially retarded and the safety and welfare of the inhabitants and property endangered.  The ordinance may not become operative until 30 days after final passage thereof.
This bill specifies that the ordinance would not become operative "until approval of such annexation by a majority of qualified voters who reside in the territory proposed for annexation," instead of "until 30 days after final passage thereof."  Now there is a state-wide, except for three counties with consolidated governments, moratorium on annexation for a period of one year.
"I voted against this measure because it places an undue burden on cities in our state that follow the rules of annexation, and attempts to fix a problem that doesn't exist statewide," Pitts said.  "While a small number of cities in our state may have difficulty in the annexation process, the city of Clarksville and others are following established state law."
If you have questions about any item above or other issues of concern, please call me at 615.741.2043, or email me at .