Clarksville, TN – Short in-state trips against major schools University of Memphis and Vanderbilt University balanced against an impressive mid-major corps of opponents will highlight the 2013-14 Austin Peay State University men's basketball schedule, released July 10th.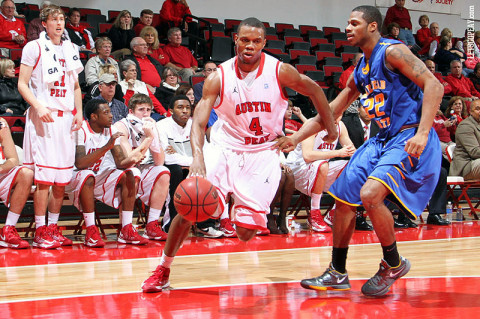 The Governors 30-game schedule will feature a 14-game home slate plus their now annual exhibition contest against Central Missouri (November 4th). APSU will open the regular season at home, Friday, November 8th, against Oakland City before facing one of their season's toughest road games, November 14th, when it travels to Memphis.
After that contest, the Governors will play host to one-time rival and Missouri Valley foe Southern Illinois, November 19th, at home. This is only the second time since the turn of the century the two teams have played—the Govs lost at SIU in 2010 in the opening game of the Chicago Invitational Challenge. It is the first time the Salukis will visit Clarksville since December 17th, 1994.
A tourney trip to Central Michigan—scheduled before APSU hired Derek van der Merwe from the CMU athletic administration to be its new athletics director—will see the Governors play three games in three days the weekend (November 21th to 23rd) prior to Thanksgiving.
The Govs will conclude November with a contest at Youngstown State—a return of the Penguins ESPN BracketBuster contest of 2012—two days after Thanksgiving. That will be the start of four straight Govs' contests against mid-major opponents.
Austin Peay will open December with a home game against East Tennessee, December 4th. It will be the first of a home-and-home series with the former Ohio Valley Conference rival (the second game will be in Johnson City, TN on December 21st). The two teams have not met since the 2005-06 season.
The Governors will return last season's game with Samford when they travel to Birmingham, AL for a December 7th contest before playing host to Liberty, December 14th. It will be a return engagement of last February's final BracketBuster contest, a victory that helped propel the Flames to the Big South tourney title and NCAA appearance.
The Govs then will take a mid-major break to travel to Nashville, facing Vanderbilt, December 17th, before playing host to Lipscomb two days later. The Govs will wrap up pre-conference play with the return contest at East Tennessee before concluding 2013 with NAIA foe Dalton State, December 30th, which will be the Govs' last non-conference contest.
In fact, the OVC slate basically will mirror last season's schedule, with APSU opening at home this against UT Martin, January 2nd and playing Southeast Missouri, January 4th. The Govs opened last season on the road against those two opponents but in reverse order. In addition, the East Division teams APSU played on the road last year will come to Clarksville in 2013-14 and vice-versa.
APSU next will play three straight OVC road games, the first against Murray State, January 11th. The Govs follow by playing three straight home contests against Jacksonville State (January 23rd), Tennessee Tech (January 25th) and Murray State, February 1st.
The Govs will make their second trip to Nashville for two consecutive games against 2013 OVC tourney champ Belmont (February 6th) and Tennessee State (February 8th) before playing three of the next four games at home. In fact, the Governors' February 22nd contest against Eastern Kentucky, considered the preseason favorite by most polls, will conclude the Govs' home slate.
APSU will end OVC regular-season play on the road at Southeast Missouri (February 27th) and UT Martin (March 1st). The OVC tourney again will be played in Nashville at Municipal Auditorium, beginning Wednesday, March 5th. The tourney title game will be played Saturday, March 8th.
"We have a good mix of strong mid-major programs with a pair of high in-state majors in Memphis and Vanderbilt," APSU coach Dave Loos said. "They are both games that our fans reasonably can get to.
"We also are pleased to be bringing SIU to Clarksville for the first time in a while, Lipscomb, Liberty and to be playing a home-and-home with ETSU. I really like the balance we have and we hope that schedule will help us get ready for OVC play once we get to January."
2012-2013 APSU Governors Basketball Schedule
Date

Opponent

Location

Time (CT)

Mon, Nov 04
Central Missouri (Exh.)
Clarksville, Tenn.
TBA
Fri, Nov 08
Oakland City
Clarksville, Tenn.
TBA
Thu, Nov 14
Memphis
at Memphis, Tenn.
TBA
Tue, Nov 19
Southern Illinois
Clarksville, Tenn.
TBA

Central Michigan Tournament

Thu, Nov 21
TBA
at Mount Pleasant, Mich.
TBA
Fri, Nov 22
TBA
at Mount Pleasant, Mich.
TBA
Sat, Nov 23
TBA
at Mount Pleasant, Mich.
TBA
Sat, Nov 30
Youngstown State
at Youngstown, Ohio
TBA
Wed, Dec 04
East Tennessee
Clarksville, Tenn.
TBA
Sat, Dec 07
Samford
at Birmingham, Ala.
TBA
Sat, Dec 14
Liberty
Clarksville, Tenn.
TBA
Tue, Dec 17
Vanderbilt
at Nashville, Tenn.
TBA
Thu, Dec 19
Lipscomb
Clarksville, Tenn.
TBA
Sat, Dec 21
East Tennessee
at Johnson City, Tenn.
TBA
Mon, Dec 30
Dalton State
Clarksville, Tenn.
TBA
Thu, Jan 02
UT Martin *
Clarksville, Tenn.
TBA
Sat, Jan 04
Southeast Missouri *
Clarksville, Tenn.
TBA
Sat, Jan 11
Murray State *
at Murray, Ky.
TBA
Thu, Jan 16
SIU Edwardsville *
at Edwardsville, Ill.
TBA
Sat, Jan 18
Eastern Illinois *
at Charleston, Ill.
TBA
Thu, Jan 23
Jacksonville State *
Clarksville, Tenn.
TBA
Sat, Jan 25
Tennessee Tech *
Clarksville, Tenn.
TBA
Sat, Feb 01
Murray State *
Clarksville, Tenn.
TBA
Thu, Feb 06
Belmont *
at Nashville, Tenn.
TBA
Sat, Feb 08
Tennessee State *
at Nashville, Tenn.
TBA
Thu, Feb 13
Eastern Illinois *
Clarksville, Tenn.
TBA
Sat, Feb 15
SIU Edwardsville *
Clarksville, Tenn.
TBA
Wed, Feb 19
Morehead State *
at Morehead, Ky.
TBA
Sat, Feb 22
Eastern Kentucky *
Clarksville, Tenn.
TBA
Thu, Feb 27
Southeast Missouri *
at Cape Girardeau, Mo.
TBA
Sat, Mar 01
UT Martin *
at Martin, Tenn.
TBA

2014 Ohio Valley Conference Men's Basketball Championship
(Municipal Auditorium)

Wed, Mar 05
First Round
at Nashville, Tenn.
TBA
Thu, Mar 06
Quarterfinals
at Nashville, Tenn.
TBA
Fri, Mar 07
Semifinals
at Nashville, Tenn.
TBA
Sat, Mar 08
Championship
at Nashville, Tenn.
TBA
* OVC Conference Games