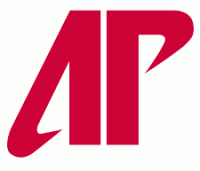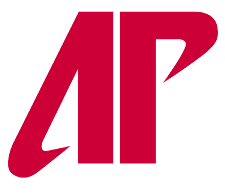 Brentwood, TN — Austin Peay State University saw 92 student-athletes recognized by the Ohio Valley Conference as part of its annual academic achievement awards, July 25th.
The OVC annually recognizes those student-athletes who excel in the classroom. The league's Medal of Honor recognizes those student-athletes with the highest cumulative grade-point average in their conference-sponsored sport.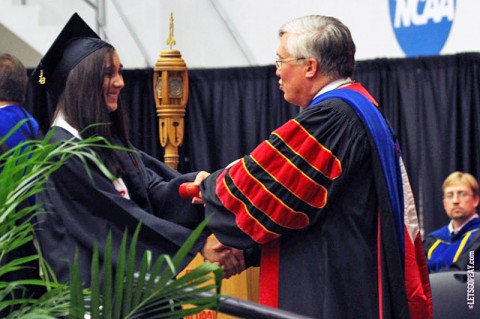 The OVC also recognizes student-athletes' classroom achievements with the Commissioner's Honor Roll which requires a minimum 3.25 cumulative grade-point average during the academic year. Those individual honors are named in conjunction with the OVC's announcement of the Institutional and Team Academic Achievement Awards.
For the recently completed 2012-13 academic year, Austin Peay saw 17 student-athletes receive the prestigious OVC Medal of Honor, each posting a 4.0 GPA during the year. It was the third such honor for football's Ben Stansfield, women golf's Tabitha Beard, track and field's Molly Basch and volleyball's Calyn Hull.
The OVC Medal of Honor recipients also were among 92 APSU student-athletes who were named to the league's Commissioner's Honor Roll.
"The continuing academic achievement of our student-athletes is a pillar of Austin Peay athletics," said Austin Peay Athletics Director Derek van der Merwe. "I believe Sonya (Bain) and Michelle (Noland) in our Student-Athlete Academic Service Office deserve a lot of credit for providing our student-athletes all the resources necessary for their academic achievement."
The OVC announced a record 209 student-athletes received the Medal of Honor for the 2012-13 season. It also recognized a record 1,225 student-athletes on the OVC Commissioner's Honor Roll.
Ohio Valley Conference Individual Academic Awards

OVC Medal of Honor Recipients
Jennifer Nwokocha, Women's Basketball
Josh Carroll, Football
Iosua, Siliva, Football
Ben Stansfield, Football
Gavin Willisson, Football
Tabitha Beard, Women's Golf
Jazzmine Chandler, Women's Soccer
Jocelyn Murdoch, Women's Soccer
Abbie Cline, Softball
Sean Bailey, Men's Tennis
Dimitar Ristovski, Men's Tennis
Aleksas Tverijonas, Men's Tennis
Ornella DiSalvo, Women's Tennis
Molly Basch, Women's Track & Field
Calyn Hull, Volleyball
Liz Landon, Volleyball
Hillary Plybon, Volleyball
OVC Commissioner's Honor Roll
Baseball
Brett Carlson
Zach Hall
Reed Harper
Kyle Schlatter
Men's Basketball
Thomas Greer
Joseph Harms
Matt Hasse
Women's Basketball
Meghan Bussabarger
Kaitlyn Hill
Amber Howard
Lauren Maki
Leslie Martinez
Jennifer Nwokocha
Nicole Olszewski
Shelby Olszewski
Kristen Stainback
Lauren Yarbrough
Men's Cross Country
Genaro Martinez
Women's Cross Country
Chantelle Grey*
Alexis Eldridge*
Alyssa Molnar
Football
Hunter Branch
Josh Carroll
Kyle Harrison
Wesley Kitts
Antwaun Majors
Adam Noble
Preston Rouse
Trey Salisbury
Iosua Siliva
Walter Spears
Stephen Stansell
Ben Stansfield
Elijah Swift
Gavin Willisson
Men's Golf
Alasdair MacLennan
Trey Tarpley
Women's Golf
Holly Batey
Tabitha Beard
Rachel Deaton
Megan Mueller
Jessica Cathey
Soccer
Natalia Ariza
Tatiana Ariza
Jazzmine Chandler
Nikki Filippone
Emily Kink
Sara Kluttz
Jocelyn Murdoch
Corey Osborn
Claire Pultz
Andy Quiceno
Laurena Robinson
Stephanie Weider
Softball
Morgan Brewer
Courtney Brower
Abbie Cline
Lauren de Castro
Amanda DeVries
Abigail Guest
Misti Maki
Taylor Mills
Shelby Norton
Melanie Pavel
Jessica Ryan
Men's Tennis
Sean Bailey
Andrew Kerr
Dimitar Ristovski
Iago Seffrin
John Storie
Aleksas Tverijonas
Women's Tennis
Alison Carre
Andra Cornea
Ornella DiSalvo
Vanessa Tavares
Skylar Wall
Women's Track & Field
Erika Adams
Molly Basch
Alexis Eldridge*
Jasmine Foster
Chantelle Grey*
Calyn Hull*
Breigh Jones
Liz Landon*
Natalie Olberding
Kymmalett Ross
Amanda Wikenholm
Volleyball
April Adams
Cami Fields
Calyn Hull*
Liz Landon*
Aubrey Marsellis
Hillary Plybon
Alex Sain
Jada Stotts
Samantha Strother
* – student-athlete was a winner in multiple sports, but was only counted once in APSU total