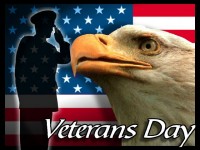 Clarksville, TN – Clarksville-Montgomery County gathered together in front of the Montgomery County Courthouse yesterday to honor our veterans, as well as those who are still serving their country.
Military service is one of the highest forms of patriotism and with our close proximity to the Fort Campbell Army post Clarksville-Montgomery County is home to a significant veteran population. They are part of the fabric of our community.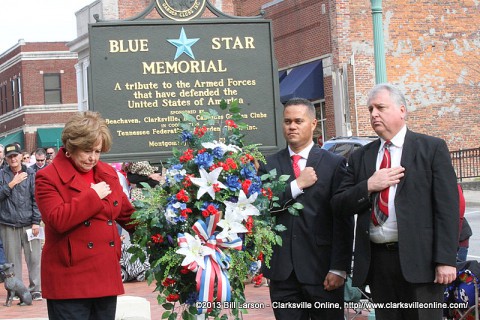 The ceremony held before the Veterans Day Parade paid a special tribute to the "Our Greatest Generation," our World War II veterans, and they were well represented at the ceremony; and in the parade.
Members of the 20th Armored Division Association were in town celebrating the final reunion of their association, and were honored to have been selected to serve as honorary parade grand marshals for the 2013 Veterans Day Parade.
This band of combat veterans began the military careers in 1943 and 70 years ago helped to build Camp Campbell eventually became Fort Campbell.
During World War II, the 20th Armored Division served in the European Theater of Operations and earned a Presidential Unit Citation for combat operations north of Munich, Germany in 1945. The 20th Armored Division is also remembered for their liberation of the infamous Dachau Concentration Camp.
The 20th Armored Division was one of only two Army divisions that were slated to invade Japan had the war continued.
The soldiers earned every bit of the honor shown to them.
Prior to the ceremony music was provided by Stella McKnight; and the Clarksville High School choir, which featured several members of the Clarksville High School JROTC.
Montgomery County Veterans Service Organization
Frank Mir, the Director of the Montgomery County Veterans Service Organization kicked off the ceremony.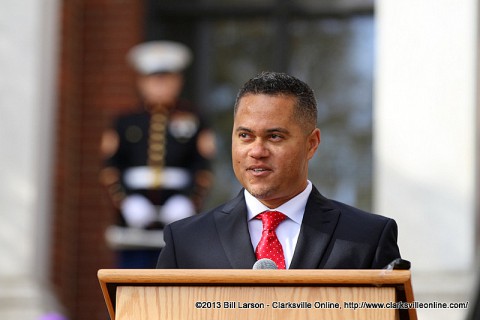 Stella McKnight delivered the national anthem.
Prayer
Pastor Willie Lyle of the Sango United Methodist Church delivered the invocation, and benediction.
Invocation
Benediction
Montgomery County
Montgomery County Mayor Carolyn Bowers delivered the official welcome, and closing remarks.
Welcome
Closing
City of Clarksville
Clarksville City Councilman Wallace Redd was on hand to represent Clarksville Mayor Kim McMillan who was unable to attend.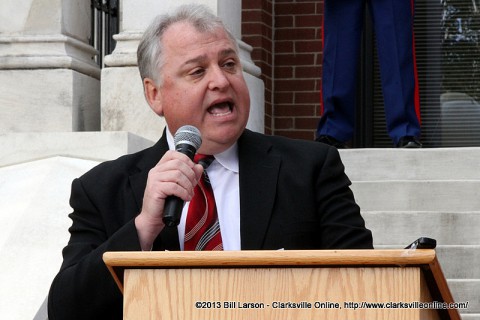 Guest speaker
The guest speaker was Sergeant First Class (Ret) Mary D. Ross, the Executive Director of Operation Standdown Nashville (OSDN) Inc.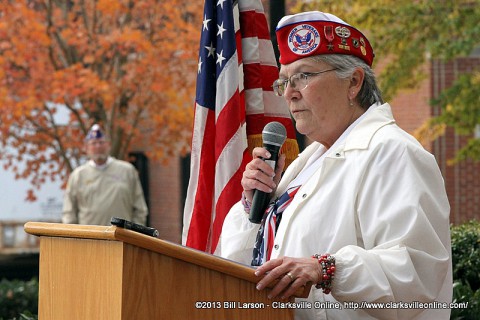 Following Ross's remarks Montgomery County Mayor Carolyn Bowers, MCVSO director Frank Mir, and Clarksville City Councilman Wallace Redd laid a wreath on the courthouse lawn before the Blue Star Memorial which is a tribute to the members of the Armed Forces who have defended the United States of America.
A member of the Marine Corps league then played a beautiful taps as the community as a whole paid their respects.
This ended the ceremony.
Then it was time for the parade. Around 100 civic and community organizations took part which was quite impressive. It's something to see as young people pay homage and respect on Veterans Day, it highlights what those who served including those who gave their all; were fighting to defend. And that my friend is the real meaning of Veterans Day.
About Mary D. Ross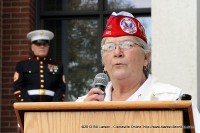 Mary D. Ross (U.S. Army Ret.) served in the U.S. Army from 1974 to 1995 and was deployed with the 2nd Brigade Combat Team of the 101st Airborne Division during Desert Shield and Desert Storm.
Ross has numerous Awards and decorations which include the Army Good Conduct Medal (Fifth Award), Bronze Star, Meritorious Service Medal (Fifth Award), Army Commendation Medal (Second Award), Army Achievement Medal, Army of Occupation Medal, National Defense Service Medal (Second Award), South West Asia Service Medal with Three Bronze Service Stars, Noncommissioned Officer's Professional Development Riven with 3, Army Service Ribbon, Overseas Service Ribbon (Third Award), Kuwait Liberation Medal, Marksman Marksmanship Qualification Badge with Automatic Rifle Bar, and Expert Field Medical Badge.
She retired in July 1995 at the rank of Sgt. 1st Class.
Since 2008, Ross has served as the Deputy Executive Director for Operation Standdown Nashville, Inc., A nonprofit organization that assists veterans in need with a special focus on training and supporting homeless veterans as they work themselves off the streets and back into the community as responsible and contributing citizens. Ross served as a volunteer with OSDN for more than 11 years before moving into the deputy executive director role, leaving behind a higher-paying career in order to serve her fellow veterans.
She also serves as the National Commander of the Women's Veterans of America, a Veteran Service Organization that advocates for all women veterans to ensure that they receive the same level of services and respect that is accorded to their brother veterans. She is a life member of VFW post 4895, AMVETS Post 1776, and a member of American Legion Post 5.
Ross of one of 11 women veterans who spent more than two months in more than 1000 hours renovating and furnishing house so it can be converted into Angels Landing, Tennessee's first transitional living shelter for homeless women veterans.
As part of the Women's Veterans Network Consumer Advisory Board, she worked on research design and helped raise more than $9000 in the creation of the Women's Veterans Wall of Honor, a pictorial traveling display depicting the history of women in the military. The wall also features 252 women veterans from Tennessee.
Ross was also at the core of a group of women veterans who spearheaded the establishment of a dedicated Women's Veterans Clinic within the VA Tennessee Valley healthcare system, and she obtained a grant through "Rebuilding Together Nashville" in order to assist a woman veteran and making home repairs she could not otherwise afford.
Ross serves as the Chairman of the Board of Directors for the Tennessee State Veterans Homes Board. She is a Member of the Tennessee Valley Healthcare System Veterans Advisory Board, and the United Tennessee Veterans Association.
In 2012 Ross was selected as the first Tennessee women veteran of the year at the inaugural Tennessee women's veterans Summit.
She is married to David L. Ross, U.S. Army retired and a veteran service officer with the Montgomery County veterans service organization.
Photo Gallery
Default Gallery Type Template
This is the default gallery type template, located in:
/home/clarksville/public_html/wp-content/plugins/nextgen-gallery/products/photocrati_nextgen/modules/nextgen_gallery_display/templates/index.php.
If you're seeing this, it's because the gallery type you selected has not provided a template of it's own.