Austin Peay Sports Information

Nashville, TN – Austin Peay State University junior guard Tiasha Gray has been named Ohio Valley Conference Defensive Player of the Year and First-Team All-OVC by a vote of conference coaches and sports information, announced at Tuesday night's Celebration of Women's Basketball at the Sheraton Music City.
The Clarksville native becomes the first Austin Peay player to earn Defensive Player of the Year honors since the award's inception following the 2008-09 season.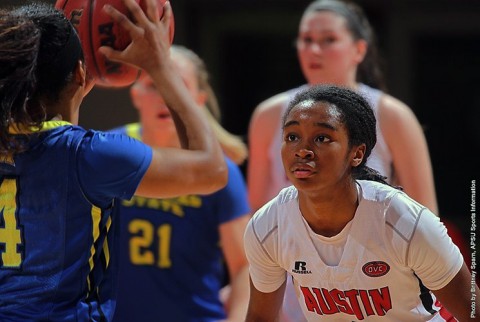 She leads the conference and the nation with 3.76 steals per game and her 109 total steals not only smashed the previous school record (85) set by Tracie Mason in 1989-90, but is third most in OVC history, behind only Eastern Kentucky's Angie Cox (113, 1991-92) and Teresa McNair (131, 2002-03).
Earning that honor automatically places Gray on the Women's Basketball Coaches Association (WBCA) Defensive Player of the Year nomination list.
"Tiasha has done a tremendous job engaging herself on the defensive end and that sets the tone for the whole team," said head coach Carrie Daniels. "Stops on the defensive end create opportunities on offense, and Tiasha epitomizes that for us. She has tremendous anticipatory skills of getting into the lane and getting her hands on the ball, and her first thought after a steal or rebound is, 'Get it and go,' which leads to opportunities for herself and others on the offensive end.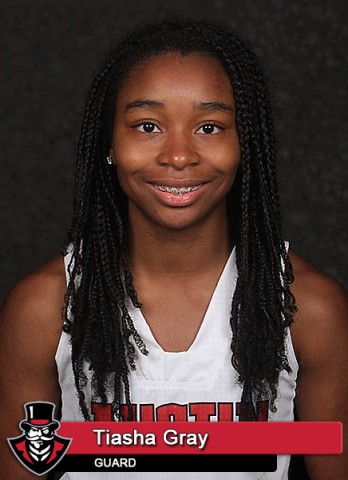 Gray is not just a defensive wunderkind, however. Austin Peay's point guard – who either assisted on or scored 51 percent of Austin Peay's field goals during the 2014-15 season – was second in the conference in scoring (21.3 ppg) and assists (5.6 apg), third in three-pointers made (69), ninth in three-point field-goal percentage (37.1 percent, fifth among athletes with 100 or more attempts), 10th in free-throw shooting (76.0 percent, seventh among athletes with 130 or more attempts), 15th in shooting (43.2 percent, eighth among athletes with 250 or more field-goal attempts) and 18th in rebounding (6.2 rpg, fifth among OVC guards).
Gray's numbers soared even higher in conference play, where she raised her scoring average (22.4 ppg), rebounding numbers (6.6 rpg), shooting (44.5 percent) and steals (4.1 spg). Not only that, but six of Gray's eight 30-point outings this season came against an OVC opponent.
On a national scale, Gray finished the regular season OVC as the nation's leader in steals, surpassing Weber State's Regina Okoye on the final day. She also ranked in the national Top-100 in scoring (15th), assists (21st), three-pointers per game (68th) and three-point field goal percentage (81st).
For some historical perspective, Gray's 30-point outings approach the career total for Austin Peay's all-time scoring leader Brooke Armistead – while Gray reached the mark eight times this season alone, Armistead scored 30 points or better 11 times in her entire Austin Peay career.
Her season point total (619) is third-highest in a single season and the second-best mark by an Austin Peay junior, eclipsed only by Armistead's program-record 687 points for the 2001-02 season. She also finds herself in Austin Peay's all-time single-season top-10 in assists (163, third), assists per game (5.6, third), field goals made (218, tied for fifth), three-point field goals made (69, fifth and second among juniors) and free-throws made (114, 10th).
"Every year she has continued to mature as a player," Daniels said. "She's worked extremely hard on her game and her shot. She's so confident and wants the ball in every clutch situation. At the same time, she's the kind of player that would trade every stat and honor for us to have more success as a team, and I know that's a huge goal for her. With her numbers, she's on pace to go down as one of the best to wear this uniform."
After earning adidas®/OVC Women's Basketball Player of the Week on three occasions in 2014-15, Gray becomes the 11th Lady Gov to earn a First-Team All-OVC spot, the first since Whitney Hanley in 2011-12. Six of the other 10 honorees have exited their Austin Peay career with at least one OVC Tournament Championship ring and no Lady Gov has earned a first-team honor without adding an OVC Championship during the course of their career since Shandra Maxwell in 1989-90.
Gray was joined on the first team by OVC Player of the Year Ashia Jones, of UT Martin, Eastern Illinois' Sabina Oroszova, Morehead State's Almesha Jones and SIU Edwardsville's Shronda Butts, who Gray will square off against in the OVC Tournament opening round, 2:00pm, Wednesday, at Municipal Auditorium. Murray State's Ke'Shunan James was named OVC Freshman of the Year, while UT Martin's Kevin McMillan won OVC Coach of the Year for a second time in his career.