UT Athletics Department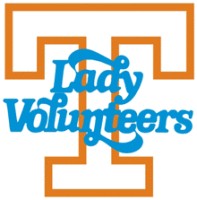 Knoxville, TN – Notre Dame, Baylor, Texas and Stanford headline a stout non-conference Tennessee women's basketball schedule that was released on Monday by fifth-year Lady Vol Head Coach Holly Warlick (108-34, .761).
Tip times and television network assignments will be available at a later date when that information is approved for release.
UT, which returns four starters from a team that finished 22-14 and rallied for the program's fourth NCAA Elite Eight appearance in five seasons, is ranked No. 11 in Charlie Creme's ESPN.com "Way-Too-Early Preseason top 25". The Lady Vols welcome back their top scorer in redshirt junior guard Diamond DeShields (14.3 ppg.) and top rebounder in redshirt junior center Mercedes Russell (8.3 rpg.).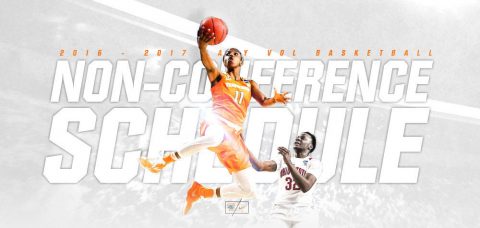 The Fighting Irish (No. 1), Lady Bears (No. 5), Longhorns (No. 6) and Cardinal (No. 10) stand among Crème's Top 10, with all but Texas set to visit Knoxville this season. Those four squads will certainly help UT again possess one of the nation's toughest schedules. A total of seven non-league opponents saw postseason action in 2015-16, including six NCAA berths and another team with WNIT experience.
Warlick's program faced the nation's toughest schedule last season, according to the NCAA, the second-hardest slate in 2014-15 and the No. 4 itinerary in 2013-14.
"We have put together another very challenging schedule that will test us, expose us to different styles of play and hopefully make us better as the year goes on," Warlick said. "We open up on the road against a good JMU program and have some really tough non-conference tests that follow, both at home and away from Knoxville."
We have some great games at home, which I know our fans will be excited about, and this is a schedule with seven of the 13 teams coming off postseason play a year ago. Opponents of that caliber should prepare us for talented teams we'll be facing when the SEC season rolls around.
The Lady Vols open their 2016-17 campaign on November 6th, as Carson-Newman comes to Thompson-Boling Arena for Tennessee's lone exhibition game. It will mark the 13th- straight year the Big Orange women have hosted the Lady Eagles in a preseason tilt.
Five days later, UT will open on the road for the third time in five seasons under Warlick. Her squad will travel to Harrisonburg, VA, to take on James Madison, a squad that went 27-6, won the Colonial Athletic Association last season and earned a berth in the 2016 NCAA Tournament. It will be the fourth meeting between the programs but first since the 1988 NCAA Tournament. UT leads 3-1 in the series.
Navy comes to Rocky Top on November 13th to serve as the guest for Tennessee's regular season home opener. It's the Big Orange's only contest in Knoxville among the first five games. The Mids finished an even 15-15 a year ago. That team, however, had only one senior member. UT and USNA will meet for the first time.
A three-game road trip commences soon afterward, as the Lady Vols head to Johnson City, TN to take on East Tennessee State on November 15th, followed by trips to University Park, PA, to meet Penn State on November 20th and Blacksburg, VA to face Virginia Tech on November 27th. Tennessee claimed home victories over the Buccaneers (16-14) and Nittany Lions (12-19) last season but dropped the encounter with the Hokies (18-14) at Thompson-Boling a year ago.
Tennessee State (12-16 a year ago) makes the trip over from Nashville on November 30th to close out the season's first month. The Lady Tigers are 0-4 overall vs. the Lady Vols, taking losses in Knoxville vs. Warlick-coached units in 2013 and 2014.
"James Madison is a tough team, and it will be a tough opening game for us on the road," Warlick said. "We hadn't played in that area in a while, and I also wanted us to be challenged early on the road to get our focus where it needs to be. We also have a three-game stretch in November where we are traveling and learning to play in difficult environments and situations.
"With four of our first five games on the road, we'll be outside our comfort zone. We can use that situation to come together and rely on one another to overcome challenges. The hardships and growth that come from that, in turn, should help us down the road, no matter the caliber of team we are playing."
Baylor (36-2) opens UT's December itinerary in Knoxville on the fourth day of the month as the first of three non-conference Elite Eight teams standing in Tennessee's path. The tilt is part of the SEC/Big 12 Challenge.
The Lady Bears, who last played UT in Waco during Holly Warlick's first season as head coach, have claimed five straight over the Big Orange and are back in Thompson-Boling Arena for the first time since 2011. Kim Mulkey returns one of the most physically-imposing front lines in the nation.
Seven days later, on December 11th, Tennessee heads to Austin to take on its second-straight 2016 Elite Eight squad in the Texas Longhorns. Karen Aston's squad went 31-5 last season, handing the Big Orange its second straight setback to the Burnt Orange, and is expected to contend for a Final Four berth in 2016-17.
The Lady Vols will then close out December with four in a row on The Summitt, starting with Appalachian State (10-20) on December 14th. The Mountaineers, who are 3-5 all-time vs. UT and haven't played the Lady Vols since 1999, are coached by former UT graduate assistant (2006-07) Angel Elderkin.
Another 2016 Elite Eight team, Stanford (27-8), returns to Thompson-Boling Arena and continues a long-running series with the Big Orange. The Cardinal muscled past Tennessee last season on the West Coast, 69-55, but suffered a 59-40 loss in Knoxville on December 20th, 2014, that ended a three-game SU winning spree. Coach Tara VanDerveer's club will bring a stronger unit to Knoxville this time around.
Troy (20-13), which made the NCAA Tournament a year ago after winning the Sun Belt tourney title, and UNC Wilmington (7-23) put a wrap on the December slate. UT beat the Trojans, 103-64, in Knoxville in 2013, while UNCW and Tennessee will face off for the first time.
Last year's ACC champ Notre Dame (33-2) comes to Knoxville on January 16th for Tennessee's final non-league battle of the regular season. The Lady Vols lead the all-time series, 20-6, but the Irish have had UT's number the past six meetings. Muffet McGraw's squad, which has become a frequent Final Four participant, will eye a return to that big stage after stumbling in the Sweet 16 a year ago.
"Outside of our conference, Baylor, Stanford and Notre Dame are three big teams on our home schedule," Warlick said. You throw in a road game at Texas, and that's already four top-10 opponents and four programs that typically go deep into the NCAA Tournament before you even consider the SEC portion of our schedule.
"It's an extremely-challenging non-conference schedule. As always, though, we just try to prepare our players for what they are going to face in league play and later on in the NCAA Tournament. That's why we play the kind of schedule we do."
2016-17 Non-Conference Schedule
Nov. 6 – Carson-Newman (Exhibition)
Nov. 11 – at James Madison
Nov. 13 – Navy
Nov. 15 – at ETSU
Nov. 20 – at Penn State
Nov. 27 – at Virginia Tech
Nov. 30 – Tennessee State
Dec. 4 – Baylor (SEC/Big 12 Challenge)
Dec. 11 – at Texas
Dec. 14 – Appalachian State
Dec. 18 – Stanford
Dec. 21 – Troy
Dec. 29 – UNC Wilmington
Jan. 16 – Notre Dame