Tennessee (11-9/4-4 SEC) vs. Kansas State (15-5/4-4 BIG 12)
Saturday, January 28th, 2017 | 1:00pm CT
Knoxville, TN | Thompson-Boling Arena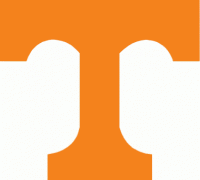 Knoxville, TN – Tennessee breaks from conference play and closes out its three-game homestand when it hosts Kansas State on Saturday as part of the SEC/Big 12 Challenge Presented by Sonic. Tipoff is at 1:00pm CT on ESPN2.
Saturday's game marks the second time in three seasons that Tennessee (11-9, 4-4 SEC) has faced Kansas State (15-5, 4-4 Big 12) in the SEC/Big 12 Challenge. The Wildcats visited Knoxville as part of the cross-conference showcase in 2014, with the Vols claiming a narrow 65-64 victory in that contest.
UT is 1-1 all-time in the SEC/Big 12 Challenge after falling at TCU last season.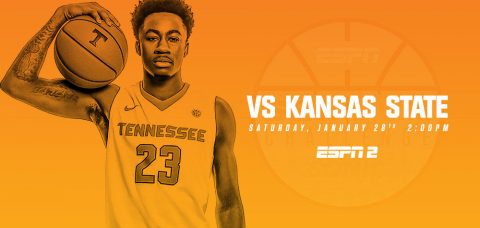 Tennessee is looking to finish out its three-game homestand unblemished and is coming off a thrilling upset victory over border rival and fourth-ranked Kentucky on Tuesday night.
Robert Hubbs III led the Vols with 25 points and seven rebounds and UT was able to hold off a late rally to defeat the Wildcats at Thompson-Boling Arena for the second-straight season.
His strong performance on Tuesday night pushed Hubbs' team-high scoring average to 15.2 ppg. He also ranks second on the team in rebounding at 5.0 rpg. True freshman Grant Williams, who finished with 13 points, six rebounds, six assists and four blocks against UK, owns a team-high 5.5 rpg average and is second on the team in scoring at 11.0 ppg.
Hubbs has proven himself as one of the more efficient scorers in the SEC. His .521 field-goal percentage ranks fourth in the league. Similarly, the 6-5 Williams owns a team-high 2.1 bpg average, which also stands fourth in the SEC.
K-State is playing its third road contest in four games and will be looking to bounce back from a 70-65 loss at Iowa State on Tuesday night. The Wildcats had five players finish in double figures in Ames, led by senior forward Wesley Iwundu's 15.
The Series
Overall: UT leads, 1-0
In Knoxville: UT leads, 1-0
In Manhattan: No meetings
Neutral Sites: No meetings
Current Streak: Tennessee has won one
Last Meeting: UT won, 65-64, in Knoxville, 12/6/14
Rick Barnes vs. Kansas State: 12-11
Rick Barnes vs. Bruce Weber: Weber leads, 4-3
A Win Would
Give the Vols a three-game win streak, tying for their longest of the season.
Improve UT's record in the SEC/Big 12 Challenge to 2-1.
Give Tennessee a 12-17 all-time record against current members of the Big 12 Conference.
Extend UT's active home win streak against non-conference opponents to six games.
About the Kansas State Wildcats
Kansas State (15-5, 4-4 Big 12) received votes in both major polls this week. Its official RPI stands at No. 42.
Picked to finish ninth in the 2016-17 Big 12 Preseason Poll, K-State has emerged as one of the surprise teams in the conference. The Wildcats currently sit in fifth place through eight league games.
K-State opened the season with a 12-1 record, earning non-conference wins over Boston College and Washington State before topping Texas in its Big 12 opener. The Wildcats earned their best win of the season to this point last week, topping then-No. 7 West Virginia 79-75 in Manhattan.
Kansas State is 3-3 in true road games this season, owning road victories over Saint Louis, Colorado State and Oklahoma State.
Four Wildcats are averaging double figures this season, led by sophomore guard Barry Brown's 12.7 ppg. Senior forwards D.J. Johnson — the team's leading rebounder at 6.4 rpg — and Wesley Iwundu each average 12.3 ppg and sophomore guard Kamau Stokes is putting up 11.6 ppg.
The same starting five have begun every game for K-State. That unit is averaging 58.8 ppg — more than 77 percent of the Wildcats' total scoring average (75.9).
K-State ranks second in the Big 12 in scoring defense, allowing only 64.7 ppg.
Saturday's game will mark the third road contest in four games for the Wildcats. Most recently, Kansas State suffered a 70-65 loss at Iowa State on Tuesday. K-State trailed by as many as 20 in the second half before using a 20-3 run to grab a 58-57 advantage with five minutes to play. Still, the Cyclones were able to regain the lead in the closing minutes and see out the game at the free throw line.
Five Wildcats finished in double figures, led by Iwundu's 15.
K-State is in its fifth season under head coach Bruce Weber. Weber, who led Illinois to a 37-2 record and an appearance in the NCAA title game in 2005, owns a 407-214 career record and a 94-59 mark in Manhattan. He led K-State to the NCAA Tournament in each of his first two years at the school, earning Big 12 Coach of the Year honors in 2013.
Vols' S.O.S. Second Nationally
Through the games of Jan. 26, statistical analyst Jeff Sagarin rated Tennessee's strength-of-schedule as the second-toughest in the nation.
Last Meeting with Kansas State
Tennessee's defense keyed a big non-conference victory, as the Vols took down Kansas State, 65-64, at Thompson-Boling Arena on December 6th, 2014, in the SEC/Big 12 Challenge.
Kansas State's Marcus Foster (game-high 23 points) nailed four 3-pointers in the final 57 seconds to nearly bring the Wildcats back after a 10-point deficit in the final minute. But the Vols held on for the one-point victory.
K-State committed 22 turnovers as the Vols came away with 12 steals. The 22 turnovers were the most by a Vols' opponent since North Carolina A&T had 34 in 2009. Tennessee also blocked nine shots.
UT senior Josh Richardson, now with the NBA's Miami Heat, led the Vols with 17 points. Junior Armani Moore stuffed the stat sheet with six points, five rebounds, a career-high five assists and a career-high five blocks. Freshmen Willie Carmichael III (transferred to Western Kentucky after the season) had the best game in his young career with nine points and six rebounds.
Kansas State was within five at 50-45 with 6:22 remaining, but the Wildcats missed their next three shots and turned the ball over three times in a span of two minutes as the Vols took advantage.
In holding K-State to 17 points at the half, the Vols had their best defensive first half since leading Presbyterian, 43-13, on December 18th, 2012.
SEC/BIG 12 Challenge History
The Big 12/SEC Challenge is in its fourth year. Tennessee is 1-1 in the event, as the Vols did not take part in the inaugural challenge.
Through three years, the SEC trails the challenge, 10-20.
This year's Vols-Wildcats matchup marks the second time in the past three seasons that the Volunteers have hosted K-State as part of the Challenge. The Wildcats visited Rocky Top for the 2014 Challenge, and Tennessee posted a 65-64 win on December 6th, 2014. That was the first time the programs ever met on the hardwood.
Last season, UT suffered a 75-63 defeat at TCU.
Tennessee's all-time record against current members of the Big 12 stands at 11-17. Second-year UT head coach Rick Barnes — who spent 17 seasons coaching in the Big 12 before transitioning to Knoxville prior to last season — owns a 157-94 record against current Big 12 teams and is 12-11 in his career against K-State.
Saturday, January 28th is a common bye date in conference play for both leagues. Teams from each conference will host five Challenge games.
K-State's Currie was Athletics Admin at Tennessee
Kansas State director of athletics John Currie has occupied that position since May 2009.
Prior to that, Currie worked more than 10 years in the Tennessee athletic department, rising to the title of executive associate AD (overseeing external operations, as well as the men's basketball program).
Currie received his master's degree in Sports Management from UT in 2003.
Suits & Sneakers
This year's Suits and Sneakers Awareness Week runs January 23rd-29th. Tennessee's staff is wearing sneakers for UT's home games vs. Kentucky and Kansas State.
Tennessee owns an 11-5 record in Coaches vs. Cancer "Suits and Sneakers" games, dating to the NABC/American Cancer Society initiative's launch in February 2004.
The Vols are 7-2 at home and 4-3 on the road when the coaching staff breaks out its fresh kicks.
The Coaches vs. Cancer mission is to increase cancer awareness and promote healthy living among students, faculty, school staff, fans and the community at large, through year-round awareness efforts, fundraising activities, and advocacy programs.
Assist/Turnover Ration Key to Vols' Results this Season
In Tennessee's 11 wins, the team has 195 assists and 122 turnovers (1.6 assist/turnover ratio).
Conversely, in UT's nine losses, the Vols have totaled only 95 assists while turning it over 140 times (0.7 assist/turnover ratio).
During Tennessee's current two-game win streak, the Vols are averaging 19.0 assists and only 8.0 turnovers per game. That's good for a 2.4 assist/turnover ratio.
Despite Personnel Losses, Bench Production Still Strong
Sophomore forward Admiral Schofield is averaging 23.5 minutes per game over UT's last four outings. Prior to that stretch, he was averaging just 11.2 mpg.
He is averaging 8.8 points per game in SEC play.
Prior to the start of league games, he was averaging just 3.5 points per game.
Schofield's 4.7 rebounds per game during SEC play rank third on the team. In pre-conference play, he was pulling down only 1.9 rpg.
Big Cat Hunter
Tennessee coach Rick Barnes has led two different programs to upset victories over top-five-ranked Kentucky teams.
In addition to Tuesday's 82-80 win over the fourth-ranked Wildcats, Barnes also led his third Clemson team to a 79-71 overtime win over third-ranked Kentucky in the 1996-97 season-opener at the RCA Dome in Indianapolis (November 15th, 1996).
Up Next for UT Vols
After finishing up its three-game homestand, Tennessee will spend the entirety of next week on the road, visiting Auburn and Mississippi State.
The Vols take on the Tigers at 8:00pm CT on Tuesday night before traveling to Starkville on Saturday for a 3:30pm tip with the Bulldogs. Both games will be televised on SEC Network.