APSU Sports Information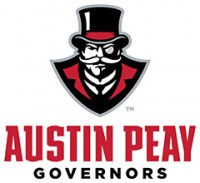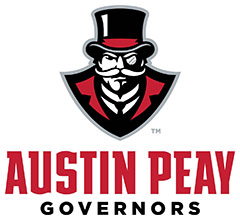 Clarksville, TN – Austin Peay State University (APSU) student-athletes set a department record with a 3.15 grade-point average for the Fall 2018 semester.
For the first time, Austin Peay student-athletes have posted a department-wide GPA of 3.0 or greater in three consecutive semesters. A record 209 student-athletes received academic recognition for the Fall 2018 semester, including 107 recognized on the dean's list. It's the third time 100 or more student athletes have been named to the dean's list.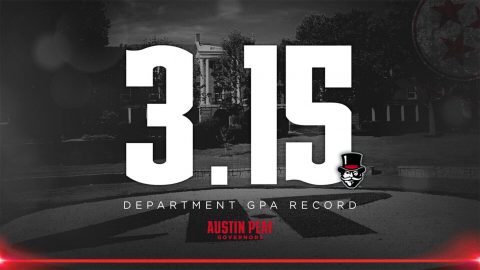 "I am so proud of our Governor student-athletes for what they've been able to accomplish academically," APSU Director of Athletics Gerald Harrison said. "These numbers demonstrate our commitment to the "Total Gov" concept. I love the fact we compete for Ohio Valley Conference championships, are good citizens of the Clarksville community and excel in the classroom."
"I would like to thank Katie Ethridge, Ryan Combs and Haley Jacobi in academic services for all they do to help our student-athletes achieve at the highest level in the classroom."
Thirteen of the Governors 15 varsity programs achieved at least a 3.0 team GPA, and five programs – men's cross country (3.28), football (2.76), men's golf (3.38), women's golf (3.80) and volleyball (3.68) – set program records for highest team GPA.
Women's tennis set the high point for all programs with a 3.90 team GPA with all seven team members making the dean's list, including four student-athletes with a 4.0 GPA. Men's tennis led the way on the men's side with a 3.73 team GPA, highlighted by eight dean's list members and three student-athletes with 4.0 GPAs.
The other varsity programs that earned a 3.0 GPA were: baseball (3.16), beach volleyball (3.52), women's basketball (3.23), women's cross country (3.13), soccer (3.37), softball (3.43) and track and field (3.15).
In addition to the department's varsity teams its cheer and dance programs saw 15 students named to the athletics director's honor roll and another seven earned APSU dean's list honors.
A complete listing of the Fall 2018 Athletics Director's Honor Roll follows. Individuals that were named to the Austin Peay dean's list and earned a 4.0 grade-point average also are noted. The athletics department will recognize all its student-athletes receiving academic honors during halftime of the Governors Jan. 24 men's basketball game against Tennessee State.
Established in 1990-91, the Athletics Director's Honor Roll recognizes the outstanding academic accomplishments of Austin Peay State University student-athletes. To earn recognition, student-athletes must be enrolled full time and achieve at least a 3.0 grade-point average for a semester.
Fall 2018 Austin Peay Athletics Academic Honor Roll
All student-athletes listed received academic recognition during the fall. Any student-athlete listed without notation were members of the Athletics Director's Honor Roll (3.0-3.499 GPA). Notations following a student-athlete's name indicate the following: (DL) – Austin Peay's Dean's List (Undergraduates with 12 hours earned and at least a 3.50 GPA); (4.0) – Posted a 4.00 GPA; + – student-athlete played multiple sports, is counted only once in department totals.
The following list is based on grades reported to the athletics department by the APSU Office of the Registrar on January 3rd, 2019.
BASEBALL
Gino Avros
Ben Baugh (DL)
Luke Brown
Andrew Flaherty
Harley Gollert (DL, 4.0)
Jaxon Herchenbach
Tyler Hubbard (DL)
Matt Joslin (DL)
Noah Ludy
David Martinez
Sebastian Martinez
John McDonald
Drew McIllwain (DL)
Brett Newberg (DL)
Parker Phillips (DL)
Jacques Pucheu
Max Remy (DL, 4.0)
Griffin Rivers

Josh Rye
Alex Sala
Cameron Shryock
Garrett Spain
Tyler Thompson
(DL)
Brandon Vial
(DL, 4.0)
Ross Walker
Tucker Weaver
MEN'S BASKETBALL
Jarrett Givens
Zach Glotta (DL, 4.0)
Steve Harris
Jabari McGhee
Matheus Silveira
Terry Taylor (DL)
WOMEN'S BASKETBALL
D'Shara Booker
Michaela Campbell
Nieja Crawford
Brianah Ferby
Arielle Gonzalez-Varner
Gabby Gregory (DL)
Keisha Gregory (DL)
Kelen Kenol
Kasey Kidwell (DL)
Maggie Knowles
BEACH VOLLEYBALL
MiMi Arrington +
Claire Darland +
Ginny Gerig (DL) +
Karli Graham (DL) +
Ciera Koons (4.0)
Nina Korfhage (DL) +
Brooke Moore (DL) +
Jenna Panning (DL, 4.0) +
Lucy Randall
Chloe Stitt (DL) +
Haley Turner (DL, 4.0) +
Caroline Waite (DL) +
MEN'S CROSS COUNTRY
Andrew Abel (DL)
Daniel Davis (DL, 4.0)
Wesley Gray (DL)
Hezron Kiptoo (DL)
Thomas Porter
Joseph Redman (DL, 4.0)
WOMEN'S CROSS COUNTRY
Alura Endres (AD)
Larin Harr (DL) +
Molly Howard (DL) +
Caroline Kiplagat (DL, 4.0) +
Emmaculate Kiplagat (DL) +
Maisie Lay +

Maddie Morstad
(DL) +
Keleah Shell
+
Mikaela Smith
(DL) +
FOOTBALL
Josh Alexander
Kyle Anderton
Justyn Baker
Evan Beddoe (DL, 4.0)
Garrett Bell (DL)
Logan Birchfield (DL)
James Bond
Elijah Brown
Juantarius Bryant
Malik Davis
Lorenzo Frazier
Matthew Gayle (DL, 4.0)
Jarrett Giacchino (DL, 4.0)
Byron Glass (DL)
Lennon Harris
Mason Harwell
Theron Hodges
Michael Hoover
Chris Hopkins (DL)
Coreon Jackson
Jake Kilby
Hunter Lane (DL, 4.0)
Austin Maloata
Bryan McCann (DL)
Jack McDonald
Prince Momodu
DJ Montgomery (DL)
Jeremiah Oatsvall (DL)
CJ Parker
Jay Parker
Cole Phillips
Trey Pruitt (DL)
Elijah Rawlins
Ryan Rockensuess (DL)
DeMilton Rocker
Rodney Saulsberry Jr.
Aquantis Saunders (DL)
Hunter Schmeisser
Gunnar Scholato
Nic Screnock (DL, 4.0)
Ethan Self
Corey Simmons
Josephus Smith
Gorel Soumare
Devin Stuart
Ahmaad Tanner
Devin Thompson
Lloyd Tubman
Pat Walker
Shaun Whittinghill
Bucky Williams

Emanual Williams
MEN'S GOLF
Michael Busse (DL)
Jay Fox (DL, 4.0)
Micah Knisley (DL)
Chase Korte
Austin Lancaster (DL)
Sam Lopez (DL, 4.0)
Jordan Rodriguez
Alex Vegh (DL, 4.0)
Garrett Whitfield (DL)
WOMEN'S GOLF
Riley Cooper (DL, 4.0)
Shelby Darnell
Taylor Dedmen (DL)
Ashton Goodley (DL, 4.0)
Taylor Goodley (DL, 4.0)
Reagan Greene (DL)
Andrea Presilla (DL)
Meghann Stamps (DL, 4.0)
SOCCER
Amber Bateman
Brice Bement (DL)
Rachel Bradberry (DL)
Goodwin Brown (DL)
Gwynevere Cardinal
Katie Costantino (DL)
Jade Dauriat (DL)
Meghan Dees (DL)
Ann Peyton Diffenbaugh
McKenzie Dixon (DL, 4.0)
Morgan Drawdy
Morgan Jackson
Claire Larose (DL)
Delanie McKeon (DL, 4.0)
Pamela Penaloza (DL)
Mary Parker Powell (DL)
Peyton Powell (DL, 4.0)
Gybson Roth
Jennifer Smith (DL, 4.0)
Shelby Stewart
Abby Therrell
Lindsey Todd
Ashley Whittaker
Caroline Wistrom
SOFTBALL
Kacy Acree
(4.0)
Victoria Eccleston
(DL)
Kelsey Gray
Kelsey Gross
(DL, 4.0)
Brett Jackson
(DL, 4.0)
Katie Keen
(DL)
Danielle Liermann
Kelly Mardones
Carly Mattson
Emily Moore
(DL, 4.0)
Lexi Osowski
(DL)
Morgan Rackel
(DL, 4.0)
Natalie Schilling
(DL)
Katelyn Smith
(DL)
MEN'S TENNIS
Oliver Andersson
Evan Bottorff (DL)
Anton Damberg (DL)
Christian Edison (DL, 4.0)
Timo Kiesslich (DL, 4.0)
Jacob Lorino (DL, 4.0)
Almantas Ozelis (DL)
Hunter Sanders (DL)
Chad Woodham (DL)
WOMEN'S TENNIS
Ana Albertson (DL)
Helena Kuppig (DL)
Danielle Morris (DL, 4.0)
Tatiana Lopez (DL)
Fabienne Schmidt (DL, 4.0)
Claudia Yanes Garcia (DL, 4.0)
Lidia Yanes Garcia (DL, 4.0)
WOMEN'S TRACK & FIELD
Savannah Amato (DL)
Morgan Bradley (DL)
Alura Endres
Nia Gibbs-Francis (4.0)
Jamyah Graham
Larin Harr (DL) +
Denia Hill-Tate (DL)
Dascha Hix (DL, 4.0)
Molly Howard (DL, 4.0) +
Allana Johnson (DL, 4.0)
Caroline Kiplagat (DL, 4.0) +
Emmaculate Kiplagat (DL) +
Maisie Lay +
Kori McDaniel
Maddie Morstad (DL) +
Sabrina Richman
Gretchen Rosch (4.0)
Keleah Shell +
Mikaela Smith (DL) +
Amelia Thiesing
Tymeitha Tolbert
Jackie Verseman (DL)
Lennex Walker (DL)
VOLLEYBALL
MiMi Arrington +
Logan Carger
Claire Darland +
Cecily Gable (DL, 4.0)
Ginny Gerig (DL) +
Karli Graham (DL) +
Nina Korfhage (DL) +
Brooke Moore (DL) +
Jenna Panning (DL, 4.0) +
Ashley Slay (4.0)
Chloe Stitt (DL) +
Kristen Stucker (DL, 4.0)
Kaylee Taff (DL, 4.0)
Haley Turner (DL, 4.0) +
Caroline Waite (DL) +
CHEER
Sierra Adams
Alyssa Amann (DL, 4.0)
Autumn Ashley (DL)
Jacob Graham
Courtney Johnson
Erica Knight
Alexis Liss
Kreighton Nelson
Kylie Simerly (DL)
Roy Spieckerman
Nicholas Sternloff
Jensen Stevens
Madison Stocks (DL)
Khari Turner (DL)
DANCE
Deja Adams (DL)
Kimberly Cunningham
Taylor Lynn (DL)
Autum Thomas
Destani Vaughan-Locklear
Rikyah Waller
Kyrstin Young