Clarksville, TN – With the fall tennis schedule winding down, the Austin Peay State University (APSU) women's tennis will take the court one last time in 2019 when they compete at the Intercollegiate Tennis Association Ohio Valley Regional, October 17th-22nd, which will be hosted by Middle Tennessee State University at the Adams Tennis Complex in Murfreesboro Tennessee.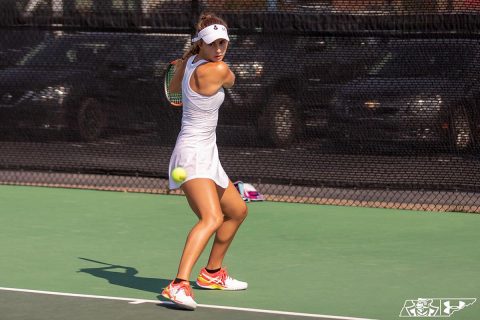 Two pairs of Governors will compete in the Main Doubles Draw which will kick off the tournament, Thursday. The Govs top duo of Fabienne Schmidt and Danielle Morris are set to take on Wright State's Jillian Milano and Luisa Pelayo.
Morris and Schmidt both competed with a different partner in doubles play at last season's ITA Ohio Valley Regional. Morris, paired with former Gov Helena Kuppig, lost her first round doubles match to a duo from Wright State. Schmidt, paired with former Gov Tatiana Lopez, received a first round by before defeating a pair of Memphis Tigers in round two; however they would fall to a duo from Tennessee in the Round of 16.
The second pair of Governors in the Doubles Main Draw is Ana Albertson and Aleks Topalovic. The Govs lone senior, Albertson, and Memphis-transfer, Topalovic, have never played together at Austin Peay.
The Main Singles Draw will see four Govs in action on the first day of the tournament. After being knocked out in the second round at last year's tournament, Schmidt will get things going against Purdue's Zala Dovnik. Last season, Albertson advanced to the second round of the B Flight Singles; this year, she will compete in the Main Draw, opening against Indiana' Lexi Kubas. Morris will take on Louisville's Dina Chaika in the Main Singles Draw, last season she advanced to the Round of 16 in the B Flight Singles.
Martina Paladini-Jennings is the final Governor in the Main Singles Draw. The sophomore-transfer from East Carolina will be matched up with Indiana's Xiaowei Hu in the first round. Toplavoic will be the Govs lone representative in the B Flight Singles, where she will take on Chattanooga's Grace Anne Dunavant in the first round.
With play set to begin Thursday morning, follow along on Twitter (@AustinPeayWTN) for scores and updates.
The Field
Austin Peay State University, Belmont, Butler, Chattanooga, Cincinnati, East Tennessee State, Indiana, IUPUI, Kentucky, Lipscomb, Louisville, Memphis, Miami-OH, Middle Tennessee State, Northern Kentucky, Purdue, Southeast Missouri State, Tennessee, Tennessee State, UT Martin, Wright State, Xavier, and Vanderbilt.
Day One Schedule
9:30 a.m. – Round 1 Main Doubles
9:30 a.m. – Round 1 B-Flight Doubles
11:00 a.m. – Round 1 B-Flight Singles
12:30 p.m. – Round 1 Singles Main
3:00 p.m. – Round 2 B-Flight Singles
5:00 p.m. – Round 2 Main Doubles
5:30 p.m. – Round 2 B-Flight Doubles
Day One Govs Matchups
Main Singles Draw
Fabienne Schmidt (APSU) vs. Zala Dovnik (Purdue)
Ana Albertson (APSU) vs. Lexi Kubas (Indiana)
Danielle Morris (APSU) vs. Dina Chaika (Louisville)
Martina Paladini-Jennings (APSU) vs. Xiaowei Hu (Indiana)
B Flight Singles
Aleks Topalovic vs. Grace Anne Dunavant (UTC)
Doubles Main Draw
Fabienne Schmidt/Danielle Morris (APSU) vs. Milano/Pelayo (Wright State)
Ana Albertson/Aleks Topalovic (APSU) vs. Burrows/Herrero (MTSU)