Austin Peay Women's Basketball vs. Morehead State
Saturday, February 18th, 2012 | Tipoff: 5:15pm (CT)
Clarksville, TN | Arena: Winfield Dunn Center (7,257)

Clarksville, TN – Austin Peay will look to build on its recent success when it hosts Morehead State in a 5:15pm, Saturday contest at the Dunn Center. Both teams enter the contest following Monday victories. The Lady Govs ended an eight-game losing streak with an impressive 85-72 victory at Murray State.
Morehead State posted only its second win in its last eight outings with a 79-60 victory against Jacksonville State. The Eagles visit Clarksville seeking a sweep of the regular-season series after posting a 74-67 victory, December 31st, in Morehead.
Austin Peay posted offensive season bests in scoring (85), field goals made (35), field-goal percentage (53.8), three-point field goal percentage (64.3) and assists (20) at Murray State. The three-point shooting effort was the program's fifth-best by percentage and best since the 2008-09 campaign. It was the second consecutive game APSU had set its season-high in field-goal shooting, just seven days after a 53.5 percent effort against Tennessee Tech.
Austin Peay recorded double-digit assists for the seventh consecutive game and is averaging 13.9 assists per game during that span. The Lady Govs did set one season low in the contest, attempting just eight free throws. Austin Peay won for the first time when four players scored 10 or more points, they were 0-5 in that situation this season.
The Lady Govs notched 12 steals against Murray State – its 16th double-digit steal outing this season. Whitney Hanley led all scorers with 22 points, her 14th 20-point outing this season. Kaitlyn Hill was held without a point or a rebound in the first half but went 8-of-12 from the floor in the second frame and finished with a career-high 19 points and four rebounds.
Leslie Martinez led Austin Peay with six assists, the second consecutive game she has been the team's assists leader, she also had a career-high 15 points. Shelby Olszewski made three three-pointers and finished with 11 points and five assists.
Lady Govs Go Pink Saturday
Austin Peay will once again partner with the Women's Basketball Coaches Association to heighten breast cancer awareness and raise money for research towards finding a cure for the disease. The Lady Govs will host their "Play 4Kay" event, formerly the WBCA Pink Zone, Saturday, against Morehead State. The event honors North Carolina State head coach Kay Yow.
Coach Yow's third recurrence of breast cancer in 2006 was the catalyst to the WBCA Pink Zone. Before her passing on January 24th, 2009, Coach Yow, along with her players, the WBCA and The V Foundation, achieved the feat of uniting thousands in the fight against women's cancers and since then the movement continues to grow and change lives each and every year during the month of February.
About Morehead State
Morehead State has won two of its last three outings, including a February 6th victory at third-place SIU Edwardsville, to help stem a stretch where it had lost six straight from January 19th-February 4th and dropped from second place to its current seventh position.
The Eagles largely have been a two-headed monster over their last eight games – Linda Dixon (18.4 ppg) and Courtney Lumpkin (21.8 ppg) accounting for nearly 60 percent of the team's 68.7 points per game in its last seven outings.  However, in their win against Jacksonville State, Monday, the Eagles saw four players score 10 or more points.
Crunch Time?
The race for the eighth and final spot in the upcoming OVC Women's Basketball Championship will come down to the regular season's final week. Austin Peay moved back into a tie for ninth (SIUE, the third-place squad, is not eligible for the postseason) with Southeast Missouri courtesy Monday's win at Murray State.
The Lady Govs and Redhawks will square off in the regular-season's final game. If they finish with identical records and split the regular-season series, Austin Peay currently would win the tiebreaker with wins against Murray State (twice) and Eastern Kentucky while SEMO's wins are against Austin Peay, Tennessee State and Jacksonville State).
Fast Break Points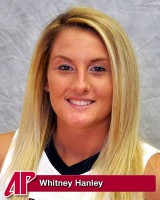 Senior guard Whitney Hanley is one of three OVC players (TTU's Tacarra Hayes and EIU's Ta'Kenya Nixson) to rank among the top 20 in scoring and rebounding and the top 15 in assists. She is the only player to rank among the league's leaders in those three categories as well as each of the league's three shooting percentage (FG, 3G, FT) categories.
Hanley became the 14th Austin Peay women's basketball player to reach the 1,000-point plateau with her 21-point performance at Lipscomb, November 14th. Her 1,441 career points is sixth on the Lady Govs all-time scoring list and she needs two points to become one of the top five scorers all-time, passing Amanda Behrenbrinker (1,442 points, 1994-98). She is 59 points away from the 1,500-point plateau – a mark only three Lady Govs have reached all-time.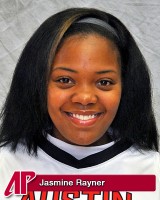 Senior forward Jasmine Rayner became the 15th Lady Govs player to reach the 1,000-point plateau with an eight-point outing against Eastern Kentucky, January 16th. She currently sits 14th on the scoring list, entering this game with 1,058 career points. Rayner needs 61 points to move past head coach Carrie Daniels who holds down the 13th spot with 1,118 career points.
Austin Peay is 48-59 (.449) in regular-season OVC play under Daniels.
The Lady Govs are 17-25 (.405) in February under Daniels.
An Austin Peay Win Would
Be its second consecutive win… be its third back-to-back wins this season… end its five-game home losing streak… be its third win at the Dunn Center (3-10)… improve Daniels' record to 70-115 overall, including a 49-59 record in OVC play… make the Lady Govs 422-586 overall since 1976-77.
An Austin Peay Loss Would
Give Morehead State a sweep of the regular-season series…  be its sixth consecutive loss at the Dunn Center, its longest home losing streak since the 1992-93 season… drop Daniels' record to 69-116 overall, including a 48-60 record in OVC play… make the Lady Govs 421-587 overall since 1976-77.
Last Time Out
Austin Peay Lady Govs vs. Murray State
February 13th, 2012
Murray, KY – Austin Peay ended an eight-game losing streak with an impressive 85-72 Ohio Valley Conference victory against Murray State, Monday night at the CFSB Center.
Leading by five points at halftime, Austin Peay broke the game open with a 22-6 run over a span of 5:30. Leslie Martinez sparked the outburst with back-to-back three-pointers. However, it was Kaitlyn Hill that did the heavy lifting with eight points, all in the paint, midway through the run. Martinez and Whitney Hanley ended the run with back-to-back jumpers and the Lady Govs led by 19 points, 66-47, with 13:13 left.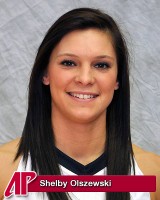 Murray State attempted to charge back after the Austin Peay rally. The Racers scored seven consecutive points and cut the lead to 13 points, 70-57, with 9:32 remaining but would not get any closer the game's remainder.
The Racers made the game's first basket – a three-pointer by Kayla Lowe – and led until the Lady Govs Shelby Olszewski tied the game with her own three-point at the 18:07 mark. Thirty seconds later Martinez hit her first three-pointer to give Austin Peay the lead and they would not trail again in the game.
Austin Peay's guards led the charge in the opening half as both Hill and Meghan Bussabarger sat most of the frame with foul trouble. Still the Lady Govs simply outshot the host Racers to build a five-point, 42-37, halftime advantage. Austin Peay's guards combined to make 11 of their 21 shots (52.3 percent) in the opening period to lead a 47.2 percent shooting effort. Murray State could not keep pace, making only 36.4 percent (13-of-33) of its shots.
The second half was the Hill show as the junior center scored all 19 of her points in the frame, going 8-of-12 from the floor and adding a 3-of-5 effort from the free-throw line. Hanley (12 points) and Martinez (eight) aided their teammate in the period as Austin Peay solidified its lead.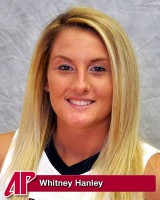 Hanley led all scorers with 22 points, making 9-of-17 from the floor. Martinez added 15 points and posted team highs in both rebounds (8) and assists (6). Shelby Olszewski chipped in 11 points and five assists.
Lowe led Murray State with 21 points, converting 6-of-12 from three-point range. Erica Burgess added 19 points.
Lady Govs Last Meeting With Morehead State
December 31st, 2011
Morehead, KY – A turnover-prone first half effort doomed Austin Peay in a 74-67 loss to Morehead State in OVC action at Johnson Arena.
Austin Peay trailed by three points, 17-14, with 9:53 remaining before the worst of its offensive woes hit. The Lady Govs would go scoreless over the next 5:32, missing four shots and turning the ball over six times on its nine possessions during that span.
Morehead State took advantage of Austin Peay's offensive problems, piecing together a 15-0 run to build a 32-14 lead with 4:21 remaining. The Lady Eagles continued to press their momentum the half's remainder, securing a 20-point, 43-23 halftime advantage.
Austin Peay attempted to turn the tables in the second half, turning to a full-court press late in the half. The increased defensive effort paid off as Morehead State committed 15 second-half turnovers and APSU scored 17 points off those giveaways.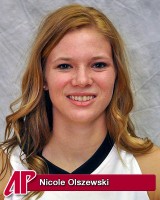 The Lady Govs made their big push with 5:15 remaining in the contest, scoring nine consecutive points. Senior Jasmine Rayner started the run with a layup and Austin Peay stole the ensuing in-bounds pass which led to a conventional three-point play by sophomore Nicole Olszewski. Morehead State couldn't get out of its own end on its next possession, freshman Shelby Olszewski picking off a throw and passing ahead to junior Meghan Bussabarger who scored the breakaway layup.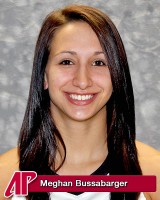 Austin Peay would have to wait a little longer to finish the run, Bussabarger scoring on a baseline jumper off a pass from Shelby Olszewski, getting Austin Peay to within eight points, 67-59, with 3:57 left. However, Bussabarger was hurt on the ensuing Morehead State possession and a timeout snafu followed that seemingly sapped the Lady Govs momentum. Austin Peay would get no closer than seven points the game's remainder.
Senior Whitney Hanley led all scorers with 21 points but was 7-of-22 from the floor. Bussabarger recorded her season's second double-double with a 15-point, 11-rebound effort that included four steals. Rayner scored her season's first double-double, finishing with 10 points and 10 rebounds.
Next Game
Austin Peay Lady Govs Close Road Slate at UT Martin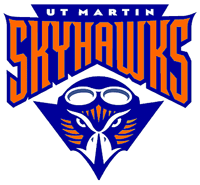 Austin Peay begins the regular season's final week when it travels to league co-leader UT Martin for a 5:30pm, Thursday contest.
The Skyhawks currently own an eight-game win streak, including an overtime victory against Eastern Illinois that helped them regain a share of the league lead. UTM is averaging 90.4 points per game during the win streak, including back-to-back 90-point outings.